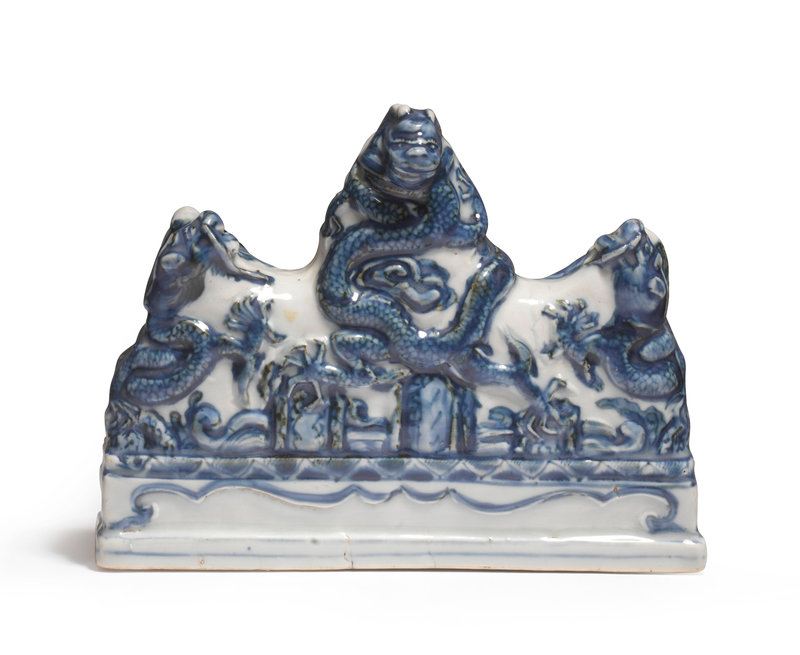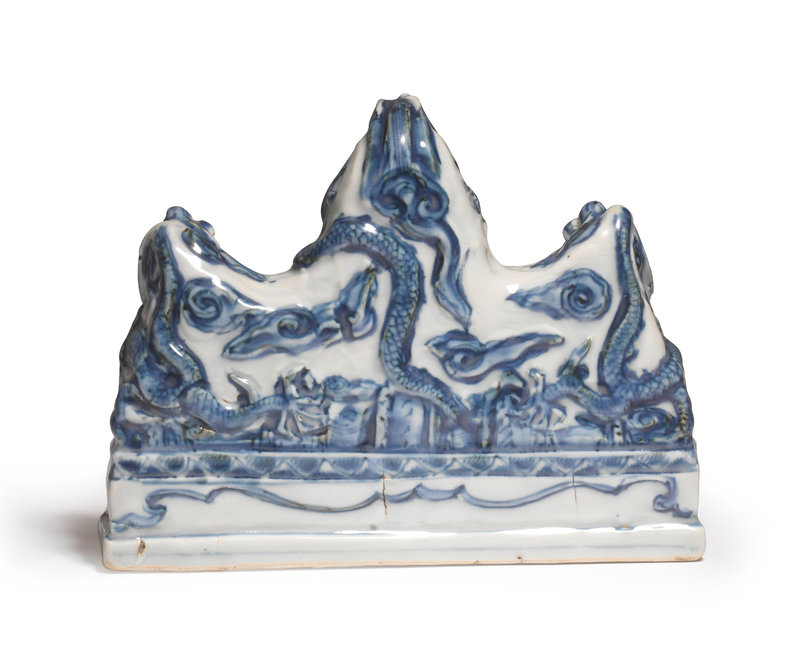 Lot 2. A rare blue and white 'dragon' brushrest, Wanli six-character mark and of the period (1573-1620); 17.5cm wide. Sold for £57,550. © Bonhams 2001-2023
Provenance: T.Y.Chao (1911-1999), Hong Kong
S.Marchant & Son, London, 12 June 1996.
Note: T.Y.Chao was a renowned shipping tycoon in Hong Kong and a world-famous collector of Chinese antiquities. He was born in a well-off family in Shanghai and practiced as a lawyer there between 1934 and 1941, but later became involved in import/export and shipping business. In 1948, he entered the shipping business in Hong Kong, becoming one of the three founders of Hong Kong's shipping industry.

Compare with two very similar blue and white three-peaked brushrests with moulded dragons in relief, Wanli six-character marks and of the period, illustrated in Chinese Ceramics in the Idemitsu Collection, Tokyo, 1987, nos.733 and 734. Another similar blue and white brushrest with dragons, Wanli six-character mark, is illustrated in Ming and Qing Chinese Arts from the C.P.Lin Collection, Hong Kong, 2014, p.125, no.37. Related blue and white brushrests but with five-peaks, Wanli mark and period, are also illustrated by J.Ayers, The Baur Collection, vol.II, Geneva, 1969, pl.A188; another blue and white brushrest, Wanli mark and period is in the Musée Guimet, Paris and is illustrated by D.Lion-Goldshmidt, Les Poteries et Porcelaines Chinoises, Paris, 1978, pl.XVI (E).

See a similar blue and white 'three-dragon' brushrest, Wanli mark and of the period, which was sold at Sotheby's Hong Kong, 7 April 2010, lot 1902.
Bonhams. THE MARSH COLLECTION ART FOR THE LITERATI (PART II), 2 November 2023, London, New Bond Street