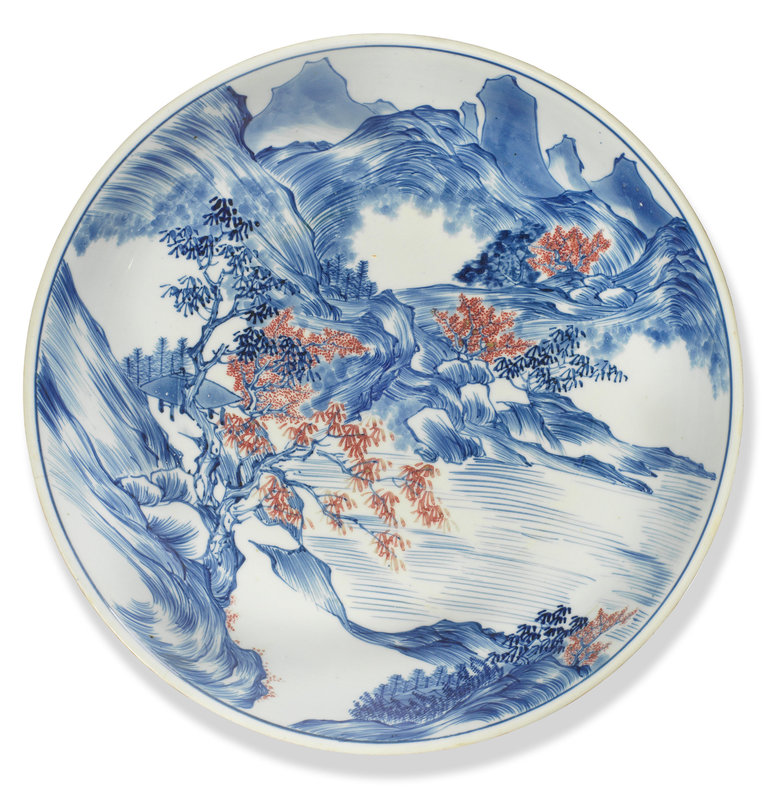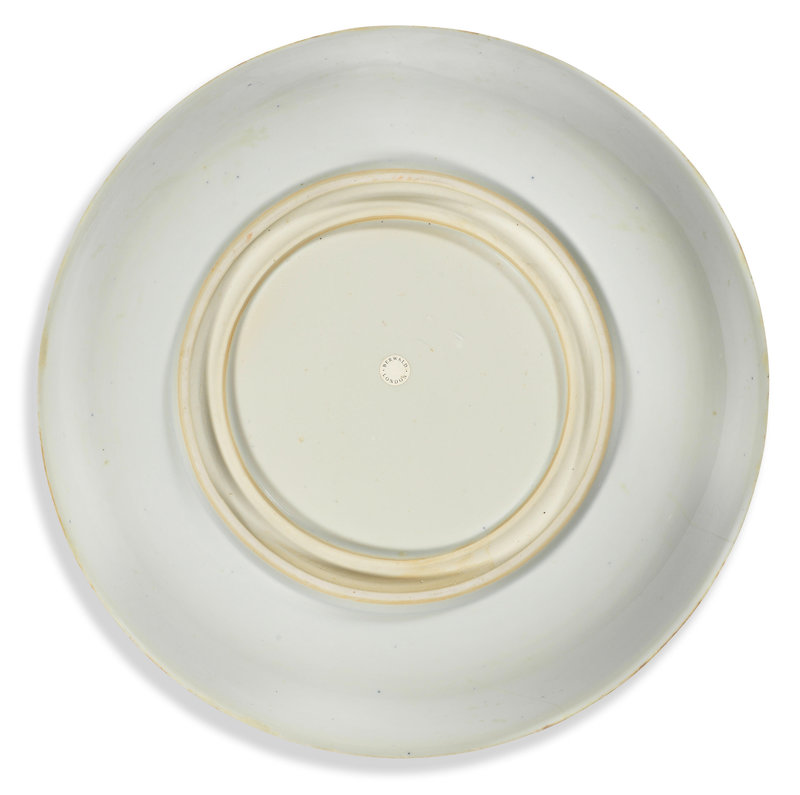 Lot 4. A blue and white and copper-red 'Master of the Rocks' saucer dish, Early Kangxi period (1662-1722); 33cm diam. Sold for £23,040. © Bonhams 2001-2023
Potted with deep rounded sides rising to a slightly everted rim, supported on a channelled foot, meticulously painted in vibrant tones of cobalt-blue with a rocky cliff on the left leading to a hut and gnarled wutong trees issuing copper-red leaves, the mountain range painted with characteristic 'hemp-fibre' strokes, curling around the lake, interspersed with mist executed with 'dots'.
Provenance: Berwald Oriental Art Ltd., London.
Note: The present dish is decorated with a landscape in the so-called 'Master of the Rocks' style. This style, which seems to have developed towards the mid-17th century in the final years of the Ming dynasty, continued to be popular in the early years of the Kangxi reign, with very few examples being made as late as the turn of the century. The 'Master of the Rocks' style was by no means limited to the brush of a single artist, and appears in a number of versions on porcelains from about 1640 to 1700. It was used on porcelains decorated in underglaze cobalt blue and also those decorated in underglaze blue and copper red, such as the present lot. There are even very rare examples where the style has been combined with famille verte enamels. The style itself is characterised by the use of 'hemp-fibre' strokes to produce rocky landscapes full of movement and drama, often combined with the use of fluid dots to depict scrub and foliage.

This development in porcelain painting reflected elements seen in the landscape painting of certain artists working on silk and paper. The use of 'hemp-fibre' brush strokes can be seen in the work of the famous late Ming dynasty literatus Dong Qichang (1555-1636), for example in his hanging scroll 'Autumn Landscape' in the Nü Wa Chai Collection illustrated by J.Cahill, Chinese Painting, Lausanne, n.d., p.150. The dramatic, almost writhing, rock forms as well as the 'hemp-fibre' brush strokes can also be seen in paintings such as 'Returning Home from Gathering Fungus' painted in 1628 by Wang Jianzhang (active 1628-1644), illustrated by S.Little, Chinese Porcelains of the Seventeenth Century: Landscapes, Scholars' Motifs and Narratives, New York, 1995, p.36, fig.2.

The influence of such paintings on the porcelain decorators at Jingdezhen was not necessarily direct. This style of painting was not only well-regarded, it also lent itself to translation into woodblock printing, and it is quite possible that it was through this medium that aspects of style, such as 'hemp-fibre' strokes were transmitted to the ceramic artists of Jingdezhen. See for example the 'hemp-fibre' brush stroke mountain landscape in the Mustard Seed Garden Manual of Painting, circa 1679, illustrated by T.Canepa and K.Butler, Leaping the Dragon Gate: The Sir Michael Butler Collection of Seventeenth-Century Chinese Porcelain, London, 2021, p.404.

For a blue and white brushpot with this 'Master of the Rocks' style landscape dish, Kangxi, see ibid., pp.406-417.

Compare also with a blue and white 'Master of the Rocks' dish, Kangxi, which was sold at Bonhams London, 6 November 2014, lot 111.
Bonhams. THE MARSH COLLECTION ART FOR THE LITERATI (PART II), 2 November 2023, London, New Bond Street