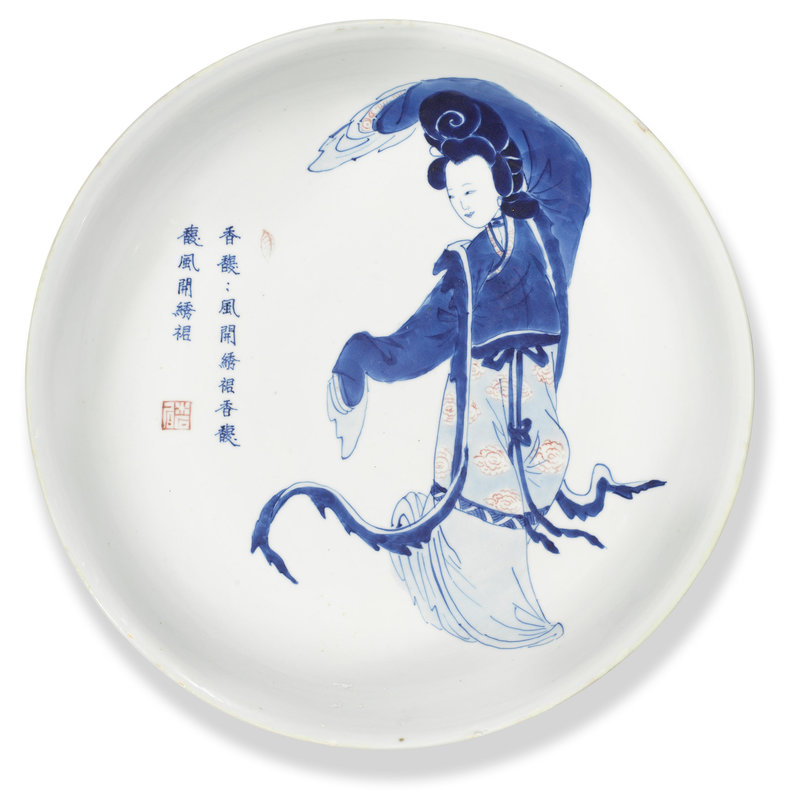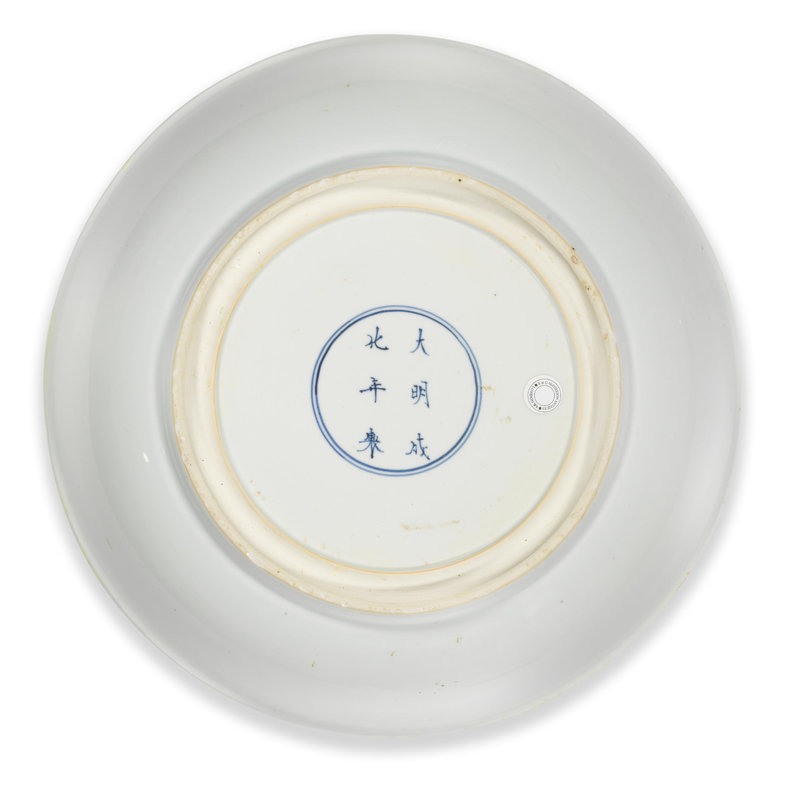 Lot 5. A large blue and white and copper-red 'Huansha ji' saucer dish, Chenghua six-character mark, Kangxi period (1662-1722); 35.5cm diam. Sold for £44,800. © Bonhams 2001-2023
Finely painted with a single lady clad in long flowing robes, the skirt with cloud-pattern in copper-red, her long sleeves and scarves trailing in the air, with high chignon bun above serene face gazing at a calligraphic inscription to the left with leaf and seal reading Mu shi ju, all supported on a channelled foot ring.
Provenance: Robert McPherson Ltd., London.
Note: The inscription reads:

香馥馥風開繡裙
香馥馥風開繡裙

Which may be translated as:

Fragrant aroma in the breeze that blows the embroidered skirt;
Fragrant aroma in the breeze that blows the embroidered skirt
It is somewhat unusual that a poetic inscription includes a repeated line. Together with the dancing lady, the repeated line acts as a chorus. Indeed, many of those looking at the dish at the time would have known instantly the story and the music associated with the drama from which the lines are taken: Huansha ji (浣紗記) or 'Laundering the Silken Yarn'.

Written by Liang Chenyu 梁辰魚 (b.1520), the play narrates the story of the femme fatale Xishi during the Warring States period (475-221 BC). The ancient state of Yue was defeated by Wu. Xishi, a legendary beauty, was laundering silken yarn in a stream, when she was taken to be presented to the victorious King of Wu, Fuchai as a ploy to distract him from affairs of state. The ploy succeeded with the King of Wu killing his best advisor Wu Zixu, for counselling against Xishi. The strength of Wu thus dwindled until Yue rose again and defeated King Fuchai, forcing him to commit suicide.

For a related example of a blue and white dish with a lady, Kangxi, see M.Butler, M.Medley and S.Little, Seventeenth-Century Chinese Porcelain from the Butler Family Collection, Alexandria, 1990, p.167, no.113; another related blue and white dish with a lady, Kangxi six-character mark and of the period, in the Palace Museum, Beijing, is illustrated in Qing Shunzhi Kangxi Chao Qinghuaci, Beijing, 2005, p.123, no.61. See also a related blue and white dish, Kangxi, illustrated by H.Garner, Oriental Blue and White, London, 1970, p.46, pl.D.

Compare with a related blue and white and copper-red dish with a lady and child, Kangxi, which was sold at Bonhams London, 3 November 2022, lot 9.