Nicolai Abildgaard (1743 - 1809), The Wounded Philoctetes, 1775. Oil on canvas, 123 x 175.5 cm. Statens Museum for Kunst © SMK Foto
COPENHAGEN.- Armed with gods, mythological creatures, coarse satire and a modern social outlook, he made his art a mouthpiece for reform in a time of unrest under absolute monarchy, social injustice and stifled freedom of expression. Despite his international orientation and multifaceted, powerful life's work, Abildgaard has long stood in the shadow of his student C.W Eckersberg and the more popular and mild-mannered Golden Age painters who followed. With a solid 150 works, this exhibition at the National Gallery of Denmark, marking the 200th anniversary of Abildgaard's death is the first major presentation of Abildgaard in Denmark since 1916. On exhibition 29 August through 3 January, 2010.
Nicolai Abildgaard (1743 - 1809), Adrastus Slaying Himself at the Tomb of Atys, 1774-75. Oil on canvas, 48 x 57.4 cm. ARoS Aarhus Kunstmuseum © SMK Foto
Court Painter and Revolutionary
While C.W. Eckersberg usually assumes the title of the father of Danish painting, Nicolai Abildgaard must be recognised as its undisputed forefather. Not only did he serve as Eckersberg's notoriously well-read and merciless professor at the Royal Danish Academy in Copenhagen, where he also taught other gifted pupils such as Bertel Thorvaldsen, Caspar David Friedrich and Philipp Otto Runge. With his international perspective, Abildgaard was also one of the first Danish artists to draw inspiration from the rest of Europe, which made a considerable imprint on his art and his political persuasion alike.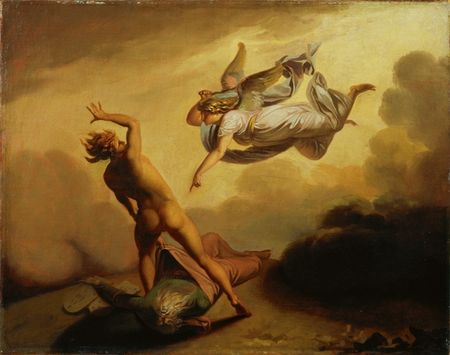 Nicolai Abildgaard (1743 - 1809), The Archangel Michael and Satan Disputing about the Body of Moses, C. 1782. Oil on canvas, 49.7 x 61.7 cm. ARoS Aarhus Kunstmuseum © SMK Foto
A figure ahead of his time, Abildgaard epitomised the romantic image of the artist as uncompromising loner walking his own path. Absorbed by the new and the dangerous emanating from Paris before and after 1789, Abildgaard early on became an artist of revolution and forward movement. His relationship to the Royal Court was, for the same reasons, one of tension. Nonetheless, he dutifully served for a number of years as court painter, including with his decoration of banquet hall in Christiansborg Palace – a feat of pomp and splendour that largely went up in flames in the fire that ravaged the royal palace in 1794. But even in this decoration, of which the exhibition shows the surviving works and preliminary sketches, Abildgaard demonstrated a subtle but critical rethinking of society's established power structure. And any infringement upon his artistic integrity would not be taken lightly. "I am not a pencil," was his remark to the court, when Abildgaard apparently felt himself to be too subject to orders regarding one of his many commissions. His social critique became all the more pronounced in a series of graphic works that Abildgaard produced under a pseudonym together with the engraver C.F. Clemens. The exhibition presents numerous examples of these satirical releases from the series Copenhagen Scene, in which Abildgaard, with a distinct flair for low comedy, exposed the regime and the privileged of society.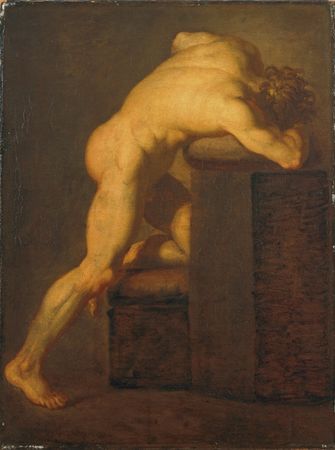 Nicolai Abildgaard (1743 - 1809), Standing nude, Rome, 1772-77. Oil on canvas. 68.1 x 51.7 cm. ARoS Aarhus Kunstmuseum © SMK Foto
Revolution Embodied – Classicism with an Edge
The exhibition at the National gallery of Denamrk manages to encapsulate both the breadth and the highlights of Abildgaard's work. With an emphasis on painting, the exhibition also incorporates drawings, graphics, and examples of his furniture production in one collective presentation for the first time. A recurring motif through the exhibition is Abildgaard's relationship to tradition and his constant attempt to break free of it in order to create a distinct artistic identity. His work is rooted in neoclassicism, and Abildgaard himself was exceptionally well-versed in the literary classics, which exerted a high degree of influence on his motifs. But in stride with the dawning trends abroad, Abildgaard's art also turned into an ongoing polemic against the neoclassical ideals emphasising the beautiful and harmonious in the image. In composition, colour, and choice of motif, Abildgaard's works are far from harmony and quiet dignity. Here one finds instead unrest, spectacle, pain and other intense emotions. The human body, in particular – which is the leitmotif throughout his entire work – became Abildgaard's preferred form for the expression of the grotesque, the violent, and the terrifying. As with his assiduous use of mythological and historical scenes, Abildgaard used the body as a symbol for notions such as power, pain, injustice and upheaval. This move also revealed an ambition to activate the viewer and insist on emotive response, opinion, and awareness of the surrounding society.
Nicolai Abildgaard (1743 - 1809), Klismos chair, C. 1790. Beech, gilt with canework seat, 76.5 x 58 x 69 cm. The Danish Museum of Art & Design © SMK Foto
With 150 works, this exhibition embraces Abildgaard's life work from his early years through to his late productions. The exhibition is as such a retrospective, but avoids typical chronological layout. The many works are instead presented in thematic clusters that illustrate Abildgaard's principle themes.
Nicolai Abildgaard (1743 - 1809), Richard III Awakening from his Nightmare, 1787. Oil on canvas, 38 x 29 cm. Nasjonalgalleriet, Oslo © SMK Foto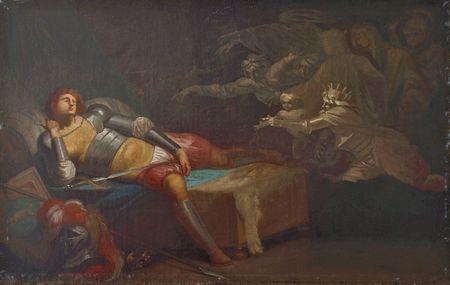 Nicolai Abildgaard (1743 - 1809), Richard III Before the Battle of Bosworth. From Shakespeare's Richard III, 1780-89. Oil on canvas, 39.5 x 61 cm. Randers Kunstmuseum © SMK Foto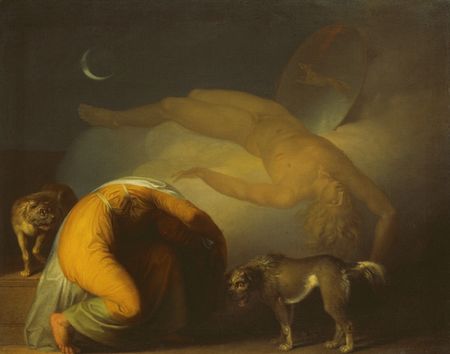 Nicolai Abildgaard (1743 - 1809), Culmin's Ghost Appearing Before His Mother, C. 1794. Oil on canvas, 63 x 78 cm. Nationalmuseum, Stockholm © SMK Foto
Nicolai Abildgaard (1743 - 1809), Pamphilus and his servant Davus. From Terence´s Andria, 1802. Oil on canvas, 157.5 x 128.5 cm. Statens Museum for Kunst © SMK Foto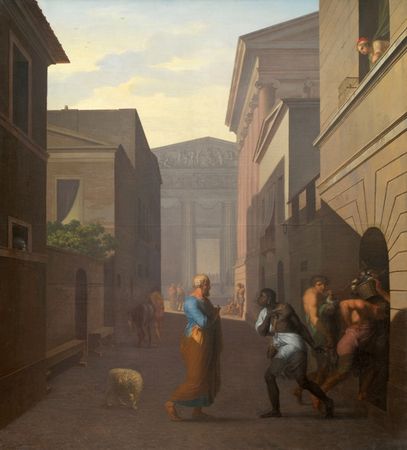 Nicolai Abildgaard (1743 - 1809), Simo and his former slave Sosia. From Terence´s Andria, 1803. Oil on canvas, 157.5 x 142 cm. Statens Museum for Kunst © SMK Foto
Nicolai Abildgaard (1743 - 1809), The Slave Davus and the Maid Mysis. From Terence's Andria, 1804. Oil on canvas, 157.5 x 142 cm. Statens Museum for Kunst © SMK Foto
Nicolai Abildgaard (1743 - 1809), Nightmare, C. 1800. Oil on canvas, 35.3 x 41.7 cm. Vestsjællands Kunstmuseum, Sorø © SMK Foto
Nicolai Abildgaard (1743 - 1809, Ossian, C. 1780-82. Oil on canvas, 42 x 35.5 cm. Statens Museum for Kunst © SMK Foto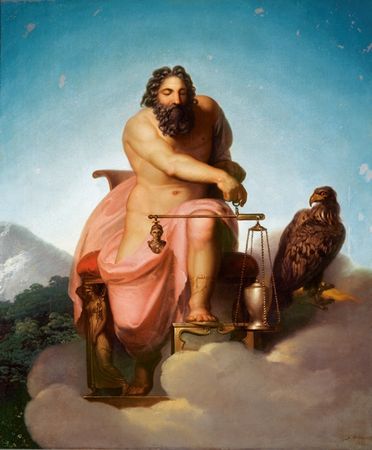 Nicolai Abildgaard (1743 - 1809), Jupiter Weighing the Fate of Man, 1793. Oil on canvas, 129.5 x 108 cm. Ribe Kunstmuseum © SMK Foto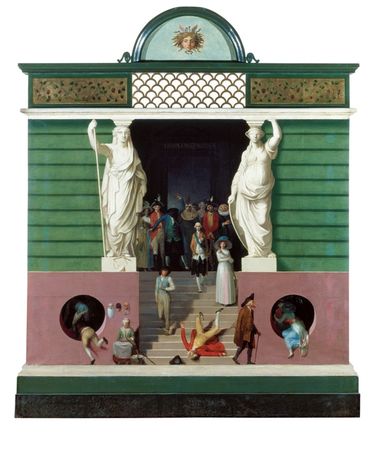 Nicolai Abildgaard (1743 - 1809), The Temple of Fortune, 1785. Oil on screen with tin plate, compounded of square pieces; semi-circular top with painted Medusa's head, 181 x 150 x 17 cm. The Museum of National History at Frederiksborg Palace © SMK Foto
Nicolai Abildgaard (1743 - 1809), Catherine the Great Departing this Earth, 1796-97. Pencil, pen, grey ink, brush, and grey washing in multiple hues. 221 x 221 mm . Statens Museum for Kunst © SMK Foto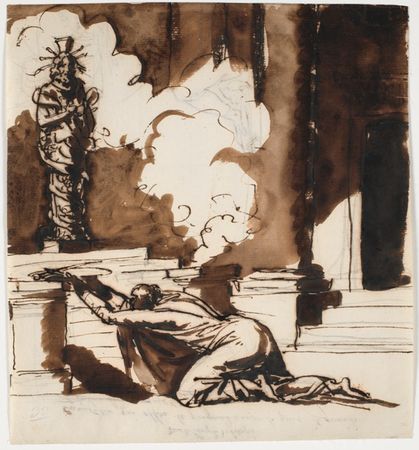 Nicolai Abildgaard (1743 - 1809), Caracalla Sacrificing the Dagger He used to Slay His Brother on the Altar of Serapis, 1743-1809. Pencil, pen, and brown and black ink, 238 x 219 mm. Statens Museum for Kunst © SMK Foto