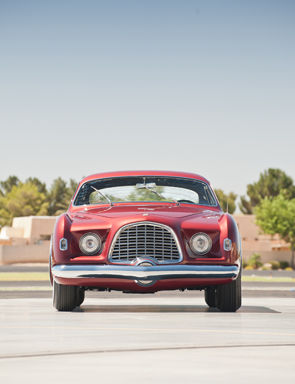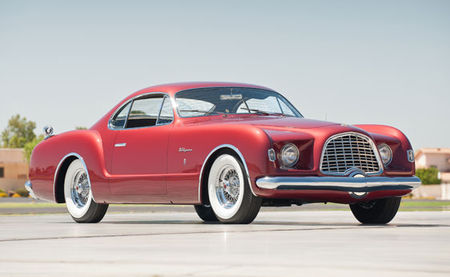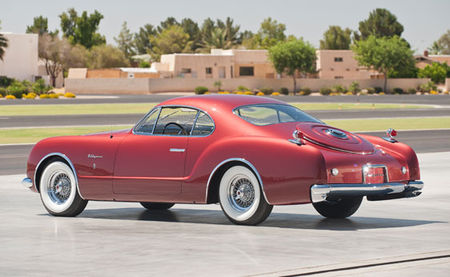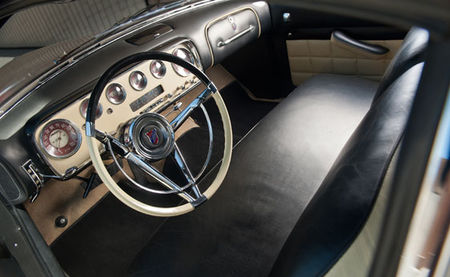 1952 Chrysler D'Elegance
BLENHEIM, ON.-
A design masterpiece by Virgil Exner and bodied by Ghia, this stunning 1952 Chrysler D'Elegance leads a host of sensational concept cars poised to cross
RM's Monterey
auction podium next month, August 19 – 20 in California. Hemi-powered on a shortened New Yorker chassis, this stunning concept debuted at the 1952 Paris Motor Show; its display was so well-received that Ghia built an additional 25 examples. Today resplendent in its red metallic paint with a black and cream leather interior, it is expected to achieve approximately $1,000,000 at RM's Monterey sale next month.
Among an exciting list of other unique concepts to be featured at RM Monterey: a striking, superbly-restored 1941 Chrysler Thunderbolt Concept Car known as 'the Copper Car' in reference to its copper retractable roof and lower body trim (Est. $900,000 - $1,200,000); and the record-breaking 1953 Dodge Firearrow III Concept Car, another Virgil Exner / Ghia masterpiece, driven to a closed-course speed record by Betty Skelton (Est. $700,000 - $1,000,000).
Representing more recent designs, the sale will also lift the gavel on a 2001 Ford Thunderbird Sports Roadster Concept Car (Est. $125,000 - $175,000), and a 2005 Ford Shelby GR-1 Concept Platform Model (Est. $150,000 - $200,000), both of which are offered by the Ford Motor Company with proceeds to benefit the Juvenile Diabetes Research Foundation.
280 hp, 354 cu. in. Chrysler Firepower Hemi OHV V-8, three-speed Torqueflite automatic transmission, independent front suspension by wishbone arms and coil springs, live rear axle with leaf springs, four-wheel hydraulic drum brakes. Wheelbase: 115"
- Launched at 1952 Paris Motor Show: first of 25 Ghia D'Elegance coupes
- Uprated to 354-cubic inch, 280-hp Hemi V-8 and Torqueflite transmission
- Red metallic paint, black and cream leather interior, fitted luggage
Starting with 1941's Newport Parade Phaeton and the 1941 Thunderbolt, a stunning retractable sports coupe, Chrysler flirted with fashionable concept cars for 20 years. The first cars hearkened back to the expensive customs of the 1930s, but after World War II an alliance was struck between Fiat and Chrysler, and it produced some remarkable designs.
In 1949, C.B. Thomas was president of Chrysler's Export Division and having dinner with Pinin Farina in Italy when they came up with the idea of Farina building a custom 1950 Plymouth. Eventually both Pinin Farina and Ghia were commissioned to build two versions of a Plymouth sedan code-named XX-500 on chassis which were sent to Turin. The results looked like variations on an Alfa Romeo 6C 2500 limousine and were powered by Plymouth's 97-horsepower, 217-cubic inch flathead six-cylinder.
However, they were beautifully made, at a price of $10,000 each, with unmistakable European flair. Pinin Farina had followed the design closely, while Mario Boano at Ghia thought he could improve it. Keller's instructions to him were simple: "Do what you think best." Ghia's tweaks may have made the difference, as he was hired to build Chrysler's classic concepts.
The Progression of Ghia Designs
Back in Detroit, Virgil Exner was Director of Advanced Styling at Chrysler and following K.T. Keller's instructions to remake Chrysler's image. Exner set out to design a bold new sports sedan, to be bodied in Italy as the first of Chrysler's five Ghia Specials. These still fascinate car collectors 60 years later.
The first Ghia project was the 1951 K-310: K for Keller, who gave the green light. A hot-rodded version of Chrysler's new 331-cubic inch Hemi V-8 produced over 300 horsepower. First a 3/8th-size clay model was built in Highland Park, then a plaster cast, which was shipped to Italy, where a full-size wooden buck was made, on which the body was formed. The K-310 seated five, with a 60-40 front seat, the continental spare was outlined on the trunk, and the car had 17-inch wire wheels. Finished in October 1951, the K-310 was shown at the Chrysler Building in New York City on November 2.
The second Ghia car was 1952's C-200, a six-seater convertible. It used much of the K-310's shape, which might be described as an Italian interpretation of an early 1950s American form. Quite elegant in light green and black, it was designed and built the in same sporty manner as the K-310, with a full instrument panel, padded dash, leather interior, well-fitted canvas top, V-8 power and new high-geared power steering. The C-200 was finished in eight months and shipped from Genoa to be launched on April 2, 1952 at the "Parade of Stars" auto show at the Waldorf=Astoria hotel in New York City.
It went on national tour with Chrysler's show, "New Worlds in Motion."
The third Ghia car was called the SS, for Styling Special, and with it, Exner hit his stride. Built in 1952, it's a recognizable long-hood, short trunk, close-coupled coupe – the configuration that defined high-speed European grand tourers though most of the 1950s. The car was generally devoid of chrome trim, with brightwork around the windows and one body strip dividing the colors above and below it, low down on the door and over the radiused wheel arches. There was no trunk lid, and any luggage had to be packed into the small rear seat.
The SS was a huge hit, so much so that C.B. Thomas ordered another one to be built for him in 1953. Unlike the first two Ghia cars, both the Styling Special and the Thomas Special are known to exist. Thomas's car is rather more conventional in form, a notchback coupe, with the same greenhouse but a normal trunk instead of a fastback.
Based on the enthusiastic response to these two concept cars, Chrysler's Paris distributor commissioned Ghia to build 400 of them in 1953 and 1954 but with more conventional aspects. Called the GS-1, these used the longer 125-inch wheelbase, with standard bumpers, chromed-rimmed headlights, chrome side-trim and a character line along the side. They were forbidden to be sold in the U.S., but at least one found its way here – for Jacob Chrysler.
D'Elegance
The stage was now set for the final two Ghia designs in this magnificent first series, the restrained De Soto Adventurer and the splashy Chrysler D'Elegance, which is the car on offer today.
The Adventurer bears many resemblances to the SS and Thomas Special, but Ghia shrank the bold fender lines so that the car resembles Pinin Farina's Simca 8 Sport and Facel's design for the French Ford Comete and Monte Carlo, which it preceded. However, all these cars are small, and the De Soto carries the proportions to full size, with extraordinary poise. It retains the shield shape bumper/grille but lacks any body trim save window surrounds and chrome-plated side exhausts. There are no chrome reveals around the wheel arches. Inside, it is a close-coupled four-seater with a handsome black leather interior with white piping and features a sporting dashboard with full instruments.
The car on offer is the Chrysler D'Elegance, chassis 321953, which concludes the spectacular first series of Ghia-bodied specials. Ghia continued to design show cars for Chrysler – there were four versions of the Dodge Firearrow, whose rotund form eventually morphed into the Dual Ghia, while the Fiat Supersonic shape was applied to the Plymouth Explorer and De Soto Adventurer II. There were even three examples of the still-born Chrysler Falcon, the company's version of the 1955 Ford Thunderbird, but concept designs were gradually drawn away from the elegant simplicity of the Italian firms to lavish versions of already over-the-top late-1950s Americana.
The 1953 Chrysler D'Elegance represents the end of the Italian period but with joyful touches of American exuberance, like the bright red metallic paint, chrome wire wheels and the spare, which can be released from under the metal cap on the trunk and hydraulically lowered to the ground. Gun-sight taillights are another bit of whimsy that found its way onto 1955 Chrysler Imperials, while the bold mesh grille found its way onto late-1950s Chrysler 300s. The most significant legacy of this car doesn't devolve to Chrysler at all. Giovanni Savonuzzi, who designed the D'Elegance for Ghia, downsized the close-coupled cabin almost verbatim when he created the Volkswagen Karmann Ghia Coupe in 1955. Virgil Exner was reportedly delighted.
Chassis 321953 is finished in a striking red metallic paint with black and cream leather interior. It is built on a New Yorker chassis, which was shortened 10 inches to 115 inches, and it is strictly a two-seater. The dash panel is perhaps the best of the Ghia designs, offset before the driver, with six large gauges with large speedometer on the left, large clock on the right and fuel, ammeter, oil and temperature gauges in the center. The dash-mounted gearshift is on the left, and there's a Chrysler push-button radio on the right.
This Chrysler D'Elegance's engine has been upgraded to a later 354-cubic inch Hemi V-8 with 280 horsepower – 100 more than originally offered – and a later Torqueflite transmission. Additional options include power windows and steering and Ausco-Lambert self-energizing disc brakes, which were fitted to a few Chrysler Town and Country and Imperial models in the late 1940s and early 1950s.
This car was so well received when it debuted in Paris in October 1952 that Ghia built an additional 25 examples, once again for Europe only, and a number of these do survive. However, this is the first example, and it is still a magnet for classic-car admirers wherever it appears. Few things are quite as tempting as a cross-cultural automotive hybrid, infused with American horsepower and a sexy Italian design. This Chrysler d'Elegance exudes such international character perfectly.