Albrecht Dürer: Portrait of a young woman with her hair, 1497, canvas, 56.3 x 43.2 cm © U. Edelmann - Städel Museum - ARTOTHEK
FRANKFURT. From 23 October 2013 to 2 February 2014, the Städel Museum will present Albrecht Dürer (1471–1528) – presumably the most important artist of the German Renaissance – in a comprehensive special exhibition. The show will encompass more than 280 works, including some 200 by Dürer himself. It will feature the German master's oeuvre in the full breadth and diversity of the artistic means of expression he employed. Panel and canvas paintings, drawings, prints made with various printmaking techniques, and books written and illustrated by Dürer will all be on view. Dürer's on-going exploration of the works of German, Netherlandish and Italian artist colleagues will be one of the central themes of this Old Master exhibition in Frankfurt, which will place his works and their emergence in their historical context. To this end, works by forerunners, contemporaries and pupils such as Martin Schongauer, Hans Baldung Grien, Hans von Kulmbach, Jacopo de' Barbari, Giovanni Bellini, Joos van Cleve or Lucas van Leyden will enrich this major exhibition project. Through this form of contextualization, light will be shed not only on the artistic quality of Dürer's oeuvre and the particular creative power it radiates, but also on the decisive contribution he made to the emergence of Northern European Renaissance art. The show will unite loans from many of the world's most prominent art collections, for example the National Gallery in London, the Museo Nacional del Prado in Madrid, the National Gallery of Art in Washington, the Paris Louvre, the British Museum in London, the Staatliche Museen zu Berlin, the Uffizi in Florence, the Rijksmuseum in Amsterdam and the J. Paul Getty Museum in Los Angeles.
"With its rich holdings of Late Medieval and Early Modern art, the Städel Museum is among the world's outstanding collections in this area. In our exhibition programme, we have placed particular emphasis on the Old Masters over the past years, as exemplified by ʻCult Image' (2006), ʻHans Baldung Grien' (2007), ʻCranach the Elder' (2007/08), ʻThe Master of Flémalle and Rogier van der Weyden' (2008/09) and ʻBotticelli' (2009/10). I am very pleased that this series is now being continued with a comprehensive special exhibition on Albrecht Dürer", Städel director Max Hollein commented.
"This major presentation at the Städel differs distinctly from comparable past exhibitions by showing Dürer's art in the context of its time. His artistic innovations, his theoretical investigations, and not least of all his skill in the marketing and staging of his oeuvre already made Dürer one of the most influential European artists during his lifetime. Our aim is to present this 'whole' Dürer in our exhibition", Prof Dr Jochen Sander, the show's curator, added.
Albrecht Dürer was born in Nuremberg in 1471. As a painter and trained goldsmith, he proved his skill in a wide range of media: a prolific panel painter, celebrated portraitist, master of the woodcut and revolutionary of the engraving technique, he carried out elaborate commissions for merchants, noblemen and emperors, while also designing works for execution in other artistic techniques and collaborating with glass, book and wall painters, sculptors and goldsmiths. Dürer moreover studied theoretical subjects, pursued scholarly and scientific questions, investigated nature and the human being and wrote and published teaching manuals on the knowledge he thus acquired. Stays in Northern Italy and the Netherlands broadened Dürer's artistic perspective while at the same time creating new markets for his work. His wife and his mother both helped him with the sale of his art and organized their distribution within the framework of fairs. Before long, Dürer was so successful that he founded a workshop, introduced his own "copyright", and commissioned travelling salesmen to sell his art beyond the borders of Nuremberg. Albrecht Dürer died in 1528 at the age of fifty-seven, presumably of malaria.
Spreading out over two floors and 1,000 square metres of surface area, the extensive exhibition at the Städel Museum has been divided into altogether fourteen thematically oriented sections which shed light on numerous facets of the life and work of Albrecht Dürer. The presentation begins on the ground floor with the early stage of the Nuremberg artist's career and his professional and family-related ties to the goldsmith's craft. Here, among other works, the painting of St Jerome Penitent (ca. 1497, National Gallery, London) and the Portrait of the Artist's Mother (ca. 1490, Germanisches Nationalmuseum, Nuremberg) – the earliest painting known for certain to have been executed by Dürer – are on view. The subsequent section on the artist's patrons among the nobility and middle class documents the high renown Dürer enjoyed during his lifetime with the aid of prominent commissioned works such as Drummer and Piper (ca. 1503/05, Wallraf-Richartz-Museum & Fondation Corboud, Cologne) or Mary as Mother of Sorrows (ca. 1495/98, Alte Pinakothek, Munich). The Apocalypse (1498/1511, Städel Museum), a work of printmaking being shown in its entirety in the exhibition, then testifies to the enormous technical – and thus artistic – leap Dürer's art brought about in the development of the woodcut medium. The following sections, entitled "Dürer´s studies of human proportion" and "Dürer in Italy" provide insight into Dürer's conception of the ideal depiction of the human body and his exploration of the work of Italian artists and art theorists which came about partly in conjunction with his travels. An impressive document of his in-depth studies of nudes and proportions is the Dresden Sketchbook (ca. 1507–1519 and 1523, Sächsische Landes- und Universitätsbibliothek Dresden), which has been placed on loan to the museum following extensive restoration. A digital media station offers visitors the unique opportunity to page virtually through the entire book. The studies on human proportions developed in the Dresden Sketchbook served as a basis for the articulated figures fashioned from pear and boxwood by the "Master IP" (after 1525, Grassi Museum für Angewandte Kunst Leipzig, Museum für Kunst und Gewerbe Hamburg); in this exhibition, those figures have been juxtaposed with Dürer's drawings. In the following section, a series of superb paintings, among them the Portrait of Elsbeth Tucher (1499, Gemäldegalerie Alte Meister, Museumslandschaft Hessen Kassel) and the Portrait of a Clergyman (1516, National Gallery of Art, Washington) provide evidence of the special importance Dürer attached to the portrait throughout his career. To this day, Dürer's portraits continue to captivate us by virtue of their fine-painterly perfection and the striking degree to which he captured the subjects' personalities. The last room on the lower level has been devoted to the workshop whose operation Dürer launched in the first years of the sixteenth century. Prominent works by the master's most well-known employees, Hans Baldung Grien (ca. 1484–1545), Hans Schäufelin (ca. 1480–ca. 1540) and Hans Süss von Kulmbach (ca. 1480–ca. 1522), are on display here.
The upper level of the exhibition annex begins with one of the presentation's highlights: the reunited panels of the Heller Altarpiece (ca. 1507–1509), executed by Dürer and Mathis Gothart Nithart, called Grünewald, for Jakob Heller, a wealthy Frankfurt citizen. The altarpiece was originally intended for the church of the Frankfurt Dominican monastery; today its panels are scattered among the collections of the Historisches Museum Frankfurt, the Staatliche Kunsthalle Karlsruhe and the Städel Museum. In the exhibition, they are being presented along with an extensive selection of preparatory studies by Dürer for the first time. The second upper-level room has been devoted to another especially spectacular work by Dürer – the Triumphal Arch of Emperor Maximilian I (1517/18, Herzog Anton Ulrich-Museum, Braunschweig). The coloured and partially gilded image was printed on thirty-six sheets of paper and – measuring 3.5 by 3 metres – is not only largest work in the exhibition: with it, Dürer created one of the largest woodcuts of all time. The subsequent section revolves around Dürer's stay in the Netherlands. Now an internationally celebrated artist, Dürer was held in high esteem and received several commissions there. In Antwerp, for example, he painted the St Jerome in His Study (1521, Museu Nacional de Arte Antiga, Lisbon). This painting immediately reaped words of praise from Netherlandish artists such as Lucas van Leyden (1494–1533) and Joos van Cleve (1485–1540) and was widely and well received. An entire room on the upper floor has been dedicated to juxtaposing the various depictions of St Jerome. The focus then turns to Dürer's investigation of various printmaking techniques, as evidenced in consummate form in his "master engravings" – Knight, Death and the Devil, Melencolia I (Melancholy), and St Jerome in His Study (all ca. 1514, Städel Museum). A further pièce de résistance is Dürer's only surviving metal printing plate (1515, Staatsbibliothek Bamberg), presented side by side with the work printed from it: the iron etching Christ on the Mount of Olives (1515, Sammlung Otto Schäfer II, Schweinfurt). Dürer also produced images for glass and fresco painters, illuminators, sculptors and goldsmiths to work from. The following section of the show revolves around his activities as a designer for the neighbouring arts, and features, for example, a Design for a Dragon Chandelier with Reindeer Antlers (1520–1522, Städtische Wessenberg-Galerie Konstanz) and the Design for the Decoration of the Main Hall of the Nuremberg Town Hall (1521, The Morgan Library & Museum, New York). Dürer's artistic illustrations for broadsheets which reported on exotic living creatures, special natural occurrences and the like constitute yet another highlight. With his Rhinoceros (1515, Städel Museum), for example, – an animal known to him only from verbal descriptions – he succeeded in creating such a precise depiction that his woodcuts long dominated his contemporaries' visual conception of the creature. Finally, the exhibition has been rounded out with a section on the universal genius's posthumous reputation. The reproduction and dissemination of his likeness in the form of the Portrait Medal on Albrecht Dürer by Hans Schwarz (1520, Kunsthistorisches Museum Wien), bears striking witness to Dürer's claim to the status of a scholar who kept company on an equal footing with the great and powerful figures of his time.
Since a large number of paintings in the Städel Museum bear a direct connection to Dürer's oeuvre, additional labels explaining the diverse relationships to the special exhibition on Dürer have been posted in the galleries featuring the Städel collection.
Giovanni Bellini (between 1430 and 1435–1516) Portrait of a Venetian Gentleman, ca.1500 wood, 29,7 x 20 cm National Gallery of Art, Washington © Washington, National Gallery of Art, Samuel H. Kress Collection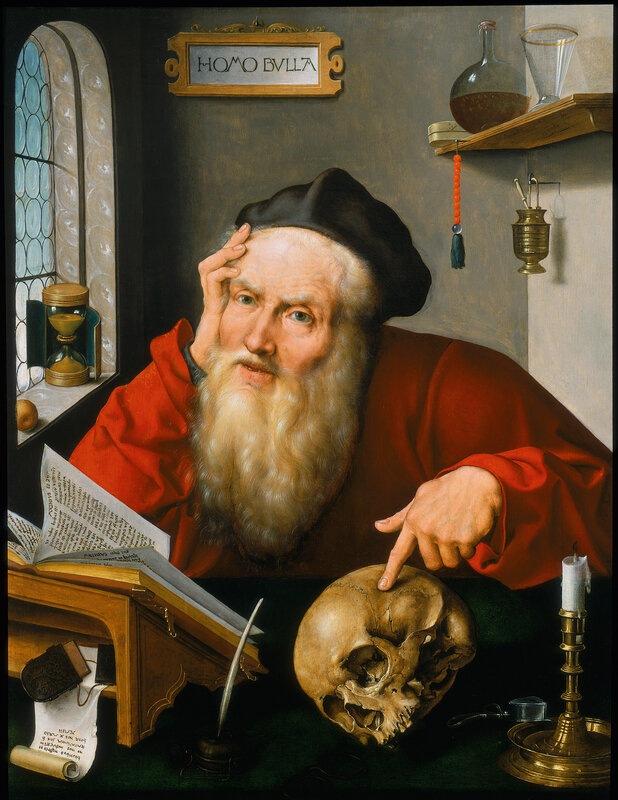 Joos van Cleve (1485–1540), Saint Jerome, after 1521, wood, 60,7 x 46,7 cm © Private Collection, United Kingdom (courtesy Haboldt & Co., Paris)
Albrecht Dürer (1471–1528) Adam and Eve (The Fall of Man), 1504 Engraving, 24,9 x 19,2 cm Städel Museum, Frankfurt/ Main, Graphische Sammlung © Städel Museum, Frankfurt/ Main
Albrecht Dürer (1471–1528) Portrait of the Artist's Mother, Barbara Dürer, née Holper, ca. 1490 Fir wood, 47 x 35,8 cm Germanisches Nationalmuseum, Nürnberg Photo: Germanisches Nationalmuseum, Nürnberg
Albrecht Dürer (1471–1528) Brenner Road in the Eisack Valley, about 1495 Watercolor and body color, 20,5 x 29,5 cm © Patrimonio Nacional.
Albrecht Dürer (1471–1528) Design for a Table Fountain, around 1500 Pen in brown ink, with watercolor in green, pink and brown, 30,1 x 19,3 cm The Ashmolean Museum, University of Oxford © The Ashmolean Museum, University of Oxford
Albrecht Dürer (1471–1528) Hercules Shooting the Stymphalian Birds, 1500 Canvas, 84,5 x 107,5 cm Germanisches Nationalmuseum, Nürnberg © Germanisches Nationalmuseum, Nürnberg
Albrecht Dürer (1471–1528) Saint Jerome in his Study, 1521 oakwood, 59,5 x 48,5 cm Museu Nacional de Arte Antiga Photo: José Pessoa © Museu Nacional de Arte Antiga, Direção-Geral do Património Cultural /Arquivo e Documentação Fotográfica
Albrecht Dürer (1471–1528) Job on the Dung Heap, ca. 1503-05 Limewood on balsa parquet, cut down on all sides, 96 x 51,5 cm Städel Museum, Frankfurt/ Main Photo: Städel Museum – ARTOTHEK
Albrecht Dürer (1471–1528) Madonna and Child at the Breast, 1503 Lime panel, 24,1 cm x 18,3 cm Kunsthistorisches Museum, Wien © Kunsthistorisches Museum, Wien
Albrecht Dürer (1471–1528) Melencolia I (Melancholy), ca. 1514 copper engraving, 24,2 x 18,9 cm Städel Museum, Frankfurt/ Main Photo: Städel Museum – ARTOTHEK
Albrecht Dürer (1471–1528) Nemesis or The Large Fortune, around 1501 copper engraving, 33,5 x 26 cm Department of Prints and Drawings, Städel Museum Frankfurt/ Main Photo: U. Edelmann - Städel Museum - ARTOTHEK
Albrecht Dürer (1471–1528) Woman from Nuremberg and woman from Venice, ca. 1495 Pen and dark greyish brown ink, 24,5 x 15,9 cm Städel Museum, Frankfurt/ Main Photo: Städel Museum – ARTOTHEK
Albrecht Dürer (1471–1528) Feet of an Apostle, 1508 17,6 x 21,6 cm Museum Boijmans Van Beuningen, Rotterdam Photo: Studio Buitenhof, The Hague
Albrecht Dürer (1471–1528)? Drummer and Piper, around 1503/05; Limewood, 94 x 51,2 cm © Rheinisches Bildarchiv Köln, rba_c005674
Albrecht Dürer (1471–1528) The Horseman (The Knight, Death, and the Devil), 1513 engraving, 25,9 x 20 cm Städel Museum, Frankfurt am Main Photo: Städel Museum – ARTOTHEK
Lucas van Leyden (1494–1533) Saint Jerome in his Study, 1521 pen and brush in brown and gray ink over black chalk with white highlights, 37,6 x 28,1 cm The Ashmolean Museum, University of Oxford © The Ashmolean Museum, University of Oxford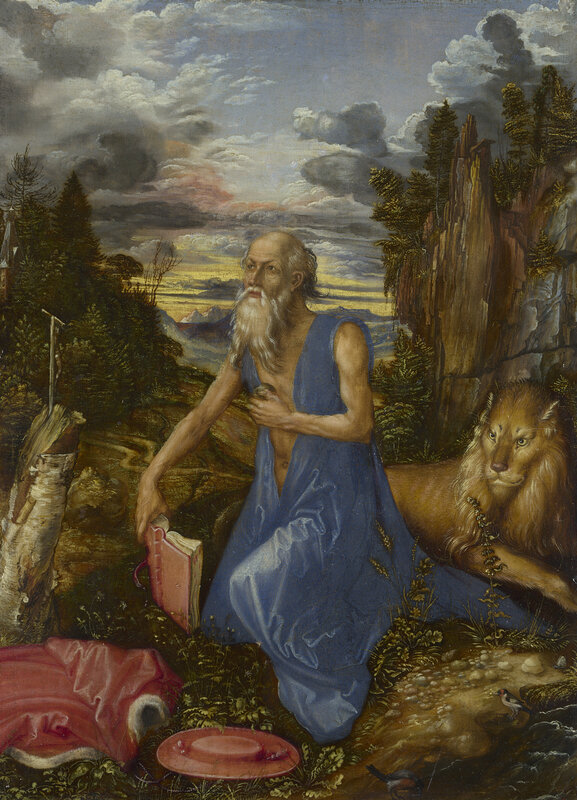 Albrecht Dürer (1471–1528), Saint Jerome Penitent, ca. 1497, pearwood, 23,1 x 17,4 cm. The National Gallery, London © The National Gallery, London. Bought with the assistance of the Heritage Lottery Fund, The Art Fund and Mr J. Paul Getty Jr through the American Friends of the National Gallery, London, 1996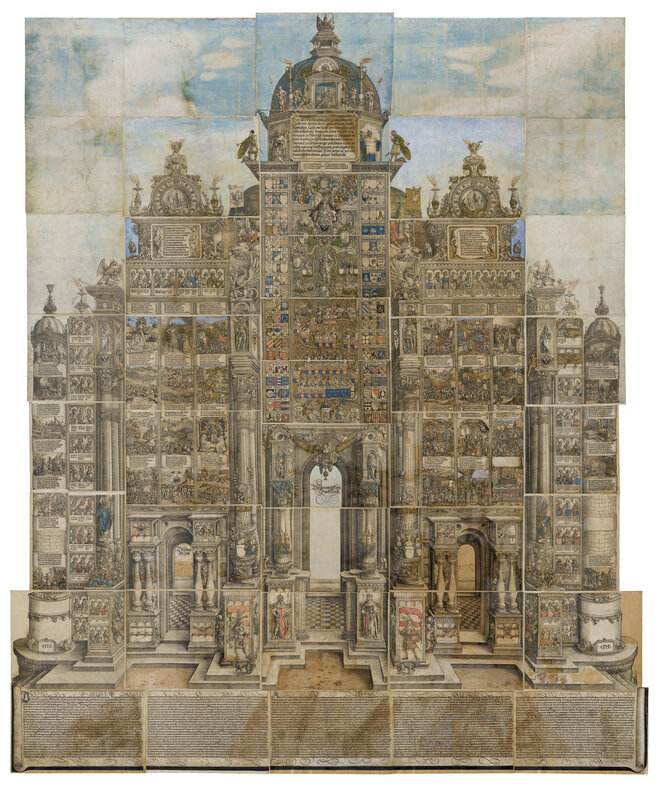 Albrecht Dürer (1471–1528) and Workshop and Albrecht Altdorfer (1480–1538) The Triumpha Arch of the Emperor Maximilian I, 1517-1518 woodcut, partially gilded and old colored, 350 x 300 cm Herzog Anton Ulrich-Museum Braunschweig, Kunstmuseum des Landes Niedersachsen Photo: Museumsfotograf © Herzog Anton Ulrich-Museum Braunschweig, Kunstmuseum des Landes Niedersachsen
Albrecht Dürer (1471–1528) Portrait of a Clergyman, 1516 parchment on canvas, 41,2 x 32,7 cm National Gallery of Art, Washington © Washington, National Gallery of Art
Martin Schongauer, (around 1445/50–1491) Studies of Peonies, about 1472/1473 Bodycolor and watercolor, 25,7 x 33 cm The J. Paul Getty Museum, Los Angeles © The J. Paul Getty Museum, Los Angeles
Albrecht Dürer (1471–1528) Portrait of an Unknown Man, 1521 (1524?) Oakwood, 50 x 36 cm Madrid, Museo Nacional del Prado © Madrid, Museo Nacional del Prado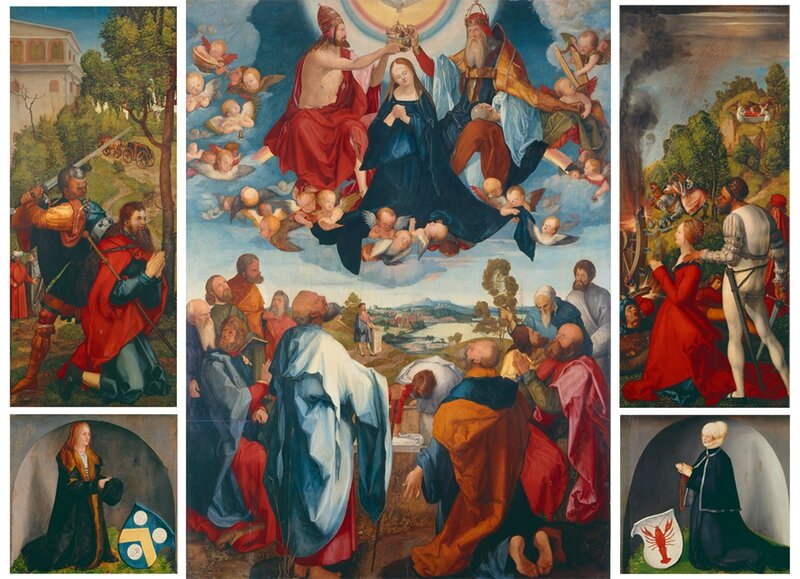 Albrecht Dürer (1471–1528)? Heller-Altarpiece,1507-1509; Fir wood, historisches museum frankfurt. Photo: Horst Ziegenfusz © historisches museum frankfurt
Albrecht Dürer (1471–1528) Dresden Sketchbook Dresden, Sächsische Landes- und Universitätsbibliothek © SLUB Dresden / Deutsche Fotothek
Albrecht Dürer (1471–1528) Sketch with six figure studies, around 1494 Gabinetto Disegnie e Stampe deglie Uffizi, Florenz © Su concessione del Ministero dei beni e delle attività culturali e del turismo
Albrecht Dürer (1471–1528) Portrait of a young woman with braided hair, 1497 Canvas, 56,6 x 42,5 cm Berlin, Staatliche Museen zu Berlin, Gemäldegalerie Photo: bpk / Gemäldegalerie, SMB / Jörg P. Anders
Albrecht Dürer (1471–1528) Portrait of a young man, 1506 Panel, 46 × 35 cm Genova, Musei di Strada Nuova - Palazzo Rosso Photo: Luigino Visconti © Musei di Strada Nuova, Genova
Albrecht Dürer (1471–1528) Portrait of Elsbeth Tucher, née Pusch, 1499 Limewood, 29,2 x 23,3 cm Museumslandschaft Hessen Kassel, Gemäldegalerie Alte Meister, Kassel Photo: Museumslandschaft Hessen Kassel, Gemäldegalerie Alte Meister, Kassel