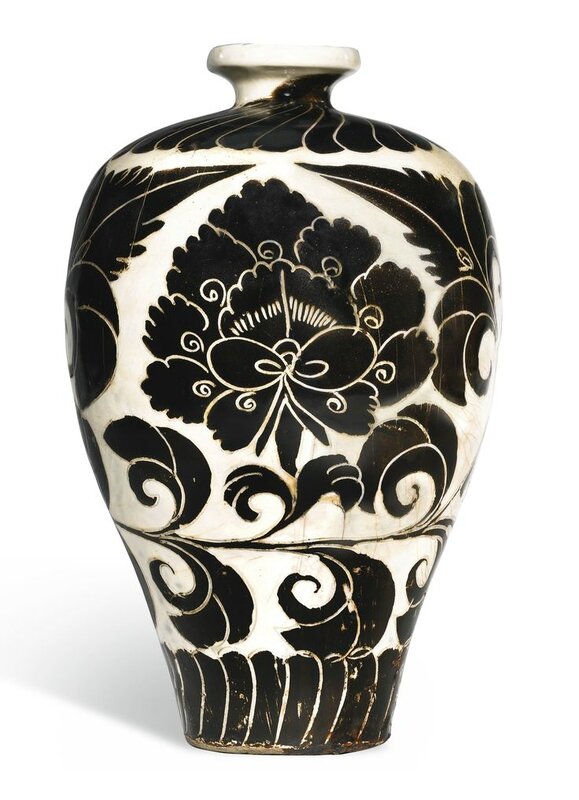 Lot 105. Property From A Japanese Private Collection. A Rare 'Cizhou' Sgraffiato 'Peony', Meiping, Northern Song Dynasty; 29.5cm., 11 5/8 in. Estimate: £40,000-60,000. Lot sold 389,000 GBP. Photo courtesy Sotheby's.
the well-potted tapered body rising to round shoulders, surmounted by a short waisted neck with galleried rim, freely carved through the layer of brown slip to the ivory-white layer beneath with two large peony blooms borne on a meandering scroll with trefoil leaves, each flower with combed and double-teardrop hearts within lobed petals, all between wavy overlapping lappets around the shoulder and the foot, applied overall with a transparent glaze, the grey base unglazed and fired to a buff-orange tone, Japanese wood box. Quantité: 2.
Provenance: Mayuyama & Co. Ltd., Tokyo.
Exhibition: Chinese Arts of the Sung and Yuan Periods, Tokyo National Museum, Tokyo, 1961, cat. no. 247.
Chugoku Meito Hyakusen Ten [100 selected master pieces of Chinese Ceramics], Takashimaya Department store, Osaka, 1961, cat. no. 21.
Tou sou meitouten [Tang and Ming masterpieces], Nihonbashi Shirokiya, Tokyo, 1964, cat. no. 156.
Bibliography: Mayuyama: Seventy Years, vol. 1, Tokyo, 1976, pl. 534.
Notes: This piece is remarkable for its bold and vigorous floral scroll which has been endowed with an added sense of three-dimensionality through its carving and delicate incised lines. Meiping decorated with the sgraffiato technique, in which the design is carved through the black slip covering a white slip beneath, were produced at the Guantai kilns in Henan province, during the Northern Song dynasty. Fragments of similarly decorated vessels were unearthed from these sites, such as one of a meiping illustrated in The Cizhou Kiln Site at Guantai, Beijing, 1997, pl. XXI, no. 2 (top right).
A meiping of this type in the British Museum, London, is published in Oriental Ceramics. The World's Great Collections, vol. 5, Tokyo, 1981, pl. 110; one from the Worcester Art Museum, Worcester, was included in the exhibition Freedom of Clay and Brush through Seven Centuries in Northern China. Tz'u-chou Type Wares, Indianapolis Museum of Art, Indianapolis, 1980, cat. no. 39; another from the Ise foundation, was included in the exhibition Charm of Black and White Ware. Transition of Cizhou Type Wares, Osaka Municipal Museum of Art, Osaka, 2002, cat. no. 52; and a fourth is published in Sekai toji zenshu[Ceramic Art of the World], vol. 10, Tokyo, 1955, pl. 92. Further related meiping include one carved with two rows of peony blooms, in the Kyoto National Museum, Kyoto, illustrated in ibid., pl. 94; another, but carved with broader petals above the foot and on the shoulders, sold in our New York rooms, 20th September 2000, lot 95; and a third with larger peony blossoms, illustrated in Masterpieces of Chinese and Korean Ceramics in the Ataka Collection, Tokyo, 1980, pl. 15.
Other examples of Cizhou sgraffiato meiping for comparison include one in the Museum of Fine Arts, Boston, illustrated in Wu Tung, Earth Transformed Chinese Ceramics in the Museum of Fine Arts Boston, Boston, 2001, p. 63; one in the John D. Rockefeller 3rd Collection illustrated in Treasures of Asian Art: The Asia Society's Mr. and Mrs. John D. Rockefeller 3rd Collection, New York, 1994, p. 161, no. 154; one in Regina Krahl, Chinese Ceramics from the Meiyintang Collection, London, 1994-2010, vol. 3, pl. 1540; and two pieces currently exhibited in the Metropolitan Museum of Art, illustrated in Suzanne G. Valenstein, A Handbook of Chinese Ceramics, New York, 1989, pls 14 and 88. Also compare a Cizhou meiping sold in our New York rooms, 17th & 18th March 2015, lot 173. For a Cizhou meiping restored from fragments excavated in Liaoning province, see Ceramics Excavated at Yingzhoulu, Chaoyang, Beijing, 2011, front cover and pl. 74.
Sotheby's. Important Chinese Art, Londres, 13 mai 2015, 11:00 AM