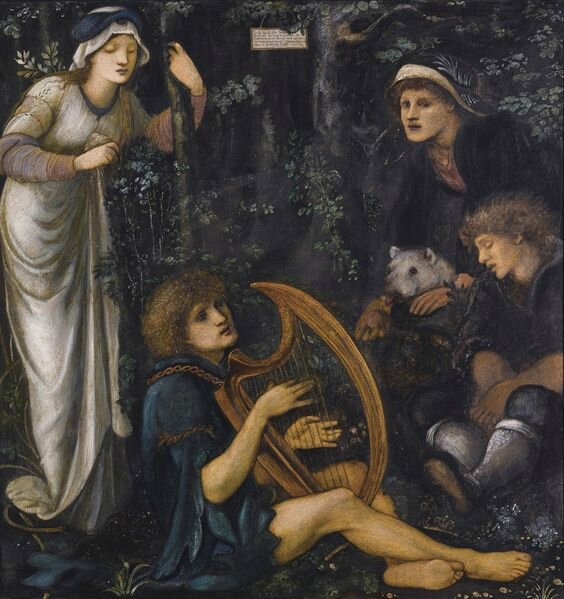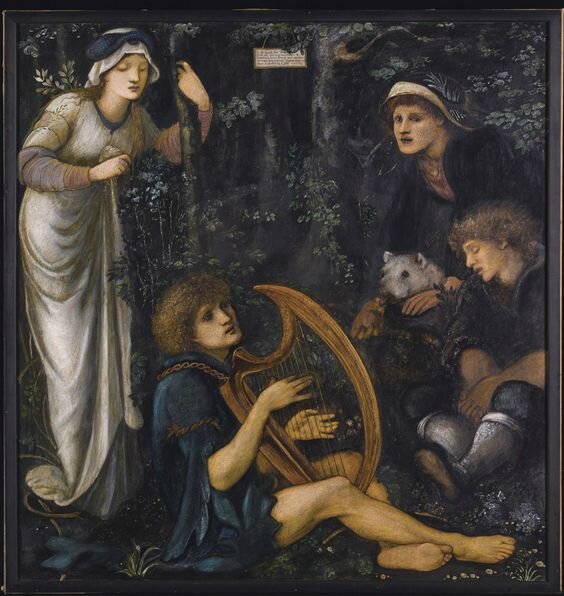 Lot 113. Sir Edward Coley Burne-Jones, Bt., A.R.A., R.W.S (Birmingham 1833 - 1898 London), The Madness of Sir Tristram. Watercolor and bodycolour, heightened with gum arabic and gold; signed with initials lower left: E.B.J., extensively inscribed (on a painted scroll), 585 by 558 mm; 23 by 21 7/8 in. Estimate 350,000 — 450,000 USD. Photo: Sotheby's.
Provenance: Mrs Aglaia Coronio, née Ionides (1834-1906), 1893;
her executor's sale, 21 November 1906, lot 502;
Sir William Tate, 2nd Bt. (1842-1921);
by descent to his grandson, Col. M.R. Robinson, D.S.O., O.B.E.;
T. M. Robinson;
his sale, London, Christie's, 14 November 1967, lot 134 (1,500 gns. to Spens);
with Leger Gallery, London;
with Stone Gallery, Newcastle;
with Peter Nahum, 1976
Exhibited: London, Society of British Artists, 1892;
London, New Gallery, 1893, no. 1;
London, New Gallery, Winter 1899, no. 37;
London, Leger Gallery; Newcastle, Stone Gallery, Truth to Nature, 1968-9, no. 44;
Sheffield, Mappin Art Gallery, Burne-Jones, 1971, no. 16;
London, Art Council Exhibition, Burne-Jones, 1975-76, no. 76;
London, Hayward Gallery; Southampton, Southampton Art Gallery; Birmingham, City Museum and Art Gallery; Tokyo, Tokyo Shimbun, Victorian Dreamers, 1989, no. 27;
London, Tate Gallery, Burne-Jones Watercolours and Drawings, 1993, no. 18
London, Tate Gallery, The Age of Rossetti, Burne-Jones and Watts, Symbolism in Britain 1860-1910, 1997-1998, no. 22;
Munich, Haus Der Kunst; Hamburg, Kunsthalle; Cardiff, National Museums & Galleries of Wales, Victorian Dreamers, 2006-2007
Literature: M. Bell, Edward Burne-Jones, London 1893, pp. 14 & 30;
F. de Lisle, Burne-Jones, London 1904, p. 67;
J. Maas, Victorian Painters, London 1969, pp. 144 & 158;
M. Harrison and W. Walters, Burne-Jones, London 1973, pp. 54-56, 75;
J. Christian, 'Early German Sources of Pre-Raphaelite Designs', Art Quarterly, vol. XXXVI, 1973, p. 68, fig. 20;
M. Johnson, Burne-Jones, London 1979, no. 6;
C. Wood, The Pre-Raphaelites, London 1981, pp. 115-116;
E. Prettejohn, Rossetti and his Circle, Tate Gallery, London 1997, p. 46, fig. 37;
C. Wood, Burne-Jones, London 1998, pp. 30, 31, 34 and 35
Notes: Sir Tristram de Lyonesse was one of the greatest of Arthurian knights. He was the son of Mediodas, King of Lyones and Elizabeth of Cornwall and revered not only for his fearlessness in battle but his hunting prowess. As a young man he met the beautiful Princess Iseult, daughter of King Angwish of Ireland, who was engaged to be married to Tristram's uncle, King Mark of Cornwall. However, while on their way to the wedding, with Sir Tristram charged with the task of chaperoning the bride, the pair unwittingly drank a potion that caused them to fall deeply in love.
In the present watercolour Burne-Jones depicts a moment when Sir Tristram, believing Iseult to be carrying on an affair with his friend Sir Kehydius, is driven to madness. He has cast himself out of his castle to live, as a vagabond, in the remote forest. He only survives thanks to the kindness of herdsman and shepherds and here he is seen serenading his companions with a harp.
Burne-Jones was fascinated by the chivalrous world of King Arthur and his Knights. In 1855 he discovered, in a Birmingham bookshop, a copy of Sir Thomas Malory's Le Morte D'Arthur, a book that was written in circa 1470 and that is today still considered to be the key English text on the subject. Dante Gabriel Rossetti believed it to be, along with the bible, one of 'the two greatest books in the world' and Burne-Jones noted that he and his friends 'feasted on it long.' The subject of the present watercolor is taken from the book of Sir Tristram de Lyones (Book IX), Chapter IV, Madness and Exile and the artist has inscribed the work with lines from Malory's text on a scroll that is suspended from a tree:
So would Sir Tristram come onto that harp and harken the melodious sound thereof and sometimes he would harp himself thus he endured there a quarter of a year.
This highly finished watercolor is painted over a 'cartoon' for a stained glass window and dates to 1862. In that year Walter Dunlop, a Bradford textile magnate, had asked the newly-formed Morris, Marshall, Faulkner and Company to supply him with thirteen stained glass panels to decorate his home, Harden Grange, at Bingley in Yorkshire. The adventures of Sir Tristram were chosen as a subject and the firm commissioned Arthur Hughes (1832-1915), Val Prinsep (1838-1904), and Ford Maddox Brown (1821-1893) to make one panel each, Dante Gabriel Rossetti (1828-1882) to make two and William Morris (1834-1896) and Burne-Jones to create four apiece.1
Burne-Jones' contributions to the cycle were: The Wedding of Sir Tristram; The Madness of Sir Tristram; King Mark preventing Iseult from slaying herself; and The Tomb of Sir Tristram. Of the four, he worked up all but one of the preliminary cartoons into independent watercolors. These were as follows: the present work, King Mark preventing Iseult from slaying herself (Birmingham City Art Gallery) and finally The Wedding of Sir Tristram (sadly destroyed in the Second World War).
There are a number of differences between the stained glass version of the 'Madness' and the present work (fig. 1). Most obvious is the setting in which Burne-Jones places the knight and his companions. Whereas in the glass image, the figures are seen in open country, with Sir Tristram's castle visible in the distance, here, they are enclosed in a dark forest.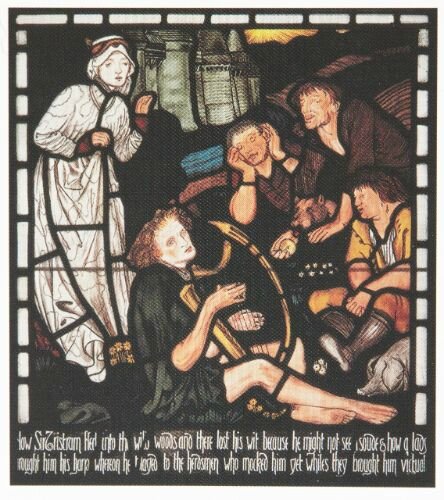 Fig. 1. Sir Edward Burne-Jones, The Madness of Sir Tristram, Bradford City Art Gallery, stained glass.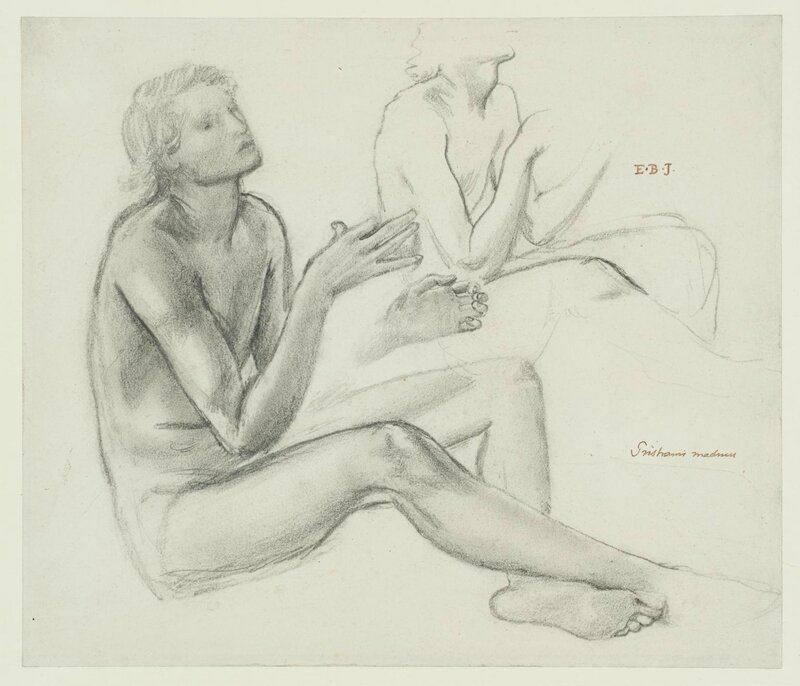 Sir Edward Burne-Jones, Study for the Madness of Sir Tristram, London, Tate Britain
In this watercolor Burne-Jones successfully evokes the atmosphere of the medieval world. He has achieved this, in part, by drawing inspiration from artists of the early northern and Italian Renaissance. His passion for the old masters was both wide-ranging and profound. He spent many hours studying paintings and medieval manuscripts in London's museums and he sought out prints and reproductions in books. Moreover, he made two important trips to Italy, via Paris, in 1859 and 1862. Sketchbooks from these tours survive in the Fitzwilliam Museum, Cambridge and they demonstrate that he made copies of works by Giotto, Della Francesco and Botticelli. The manner in which Burne-Jones has chosen to place Tristram surrounded by a forest, carpeted with delicate flowers, suggests that he may have been thinking of Botticelli's iconic Primavera (Uffizi, Florence). The woodcuts of Albrecht Durer could also have been an influence as thick woodland settings appears in both Durer's woodcuts: The Fall of Man and the Expulsion of Adam and Eve (fig. 2). Furthermore, Burne-Jones' use of the rectangular scroll, that hangs from the branches of a tree, also echoes Durer, who often incorporated the design in his own compositions.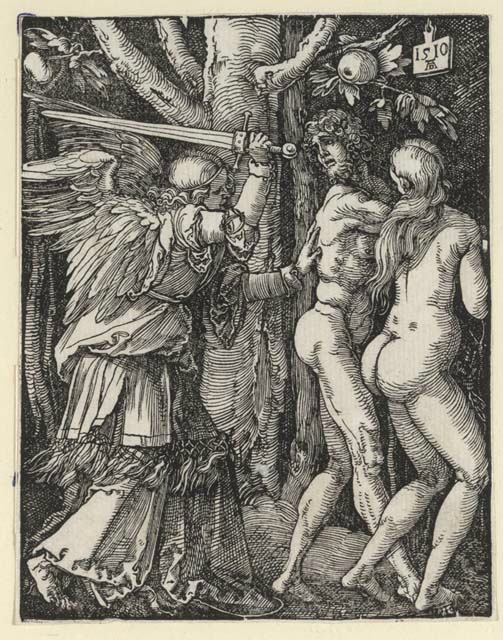 Fig. 2. Albrecht Durer, The Expulsion of Adam and Eve, Woodcut.
This work has a long and distinguished history and has not only been widely reproduced in the literature, but has appeared in some fifteen international exhibitions between 1892 and 2007. It was first owned by Aglaia Coronio (1834-1906). She was the daughter of Alexander Ionides, who had moved from Greece to London in the 1820s and settled in Manchester. Later he moved his family to London and from 1864 lived at 1 Holland Park, his home becoming a center for artistic London society. Aglaia was strikingly beautiful and was painted by Rossetti, Watts and Burne-Jones,2 she was also a confidante of William Morris. Many members of the Ionides family were important patrons of the arts but perhaps the most significant was Aglaia's brother, Constantine Ionides (1833-1900), for on his death, he left 1138 major pictures, drawings and prints to the Victoria and Albert Museum. In 1906, the work was acquired by Sir William Tate, 2nd Bt. He was the eldest son of Sir Henry Tate, the sugar refiner, whose extraordinary business success enabled him to endow a new gallery at Millbank in London called The National Gallery for British Art. Today it is better known as the Tate Gallery.
1.

These stained glass panels are now held in the Bradford City Art Gallery

.
2.

Sir Edward Burne-Jones, The Mill, Victoria and Albert Museum

.
Sotheby's. Old Master Drawings, New York, 25 Jan 2017, 10:00 AM