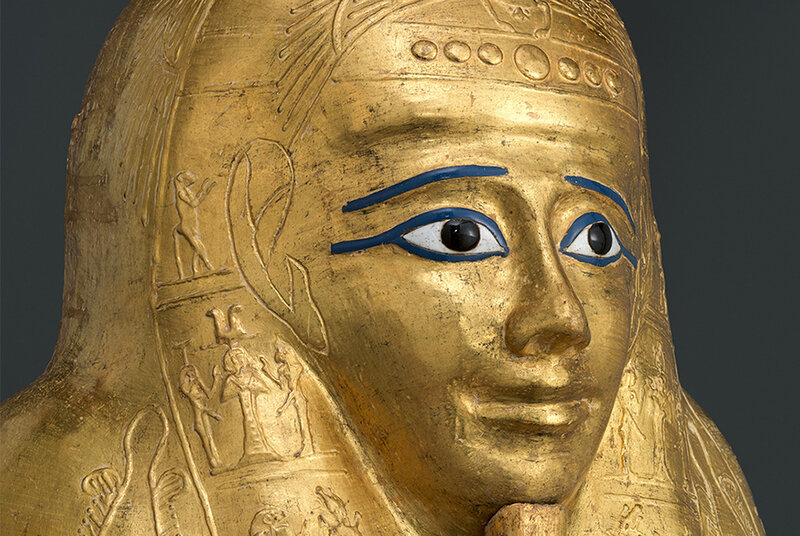 Gilded Coffin Lid for the Priest Nedjemankh (detail) Late Ptolemaic Period (150–50 B.C.) Cartonnage, gold, silver, resin, glass, wood The Metropolitan Museum of Art, Purchase, 2017 Benefit Fund; Lila Acheson Wallace Gift; Louis V. Bell, Harris Brisbane Dick, Fletcher, and Rogers Funds and Joseph Pulitzer Bequest; Leona Sobel Education and The Camille M. Lownds Funds; and 2016 Benefit Fund, 2017 (2017.255b). Image: © The Metropolitan Museum of Art, New York.
NEW YORK, NY.- A highly ornamented ancient Egyptian coffin from the first century B.C. is the spectacular centerpiece of the exhibition Nedjemankh and His Gilded Coffin, opening July 20 at The Metropolitan Museum of Art. The recently acquired work, which was inscribed for a high-ranking priest of the ram-headed god Heryshef of Herakleopolis, is being displayed with 70 other works, also from The Met collection.

The exhibition has been arranged thematically to illuminate the role of Nedjemankh as a priest in ancient Egypt, his burial, and the decoration on the coffin. Distinctive installations in the exhibition include an imitation leopard skin once worn by a priest and a display of funerary objects depicted in a scene on the coffin.

Made of cartonnage (layers of textile stiffened with glue and covered with plaster), the coffin has an elaborately decorated surface that is sheathed in gold. Scenes and texts in thick gesso relief were intended to protect and guide Nedjemankh on his journey from death to eternal life as a transfigured spirit. According to ancient texts, the use of gold in the coffin assisted the deceased in being reborn in the next life.

On the interior of the lid are thin sheets of silver foil. To the ancient Egyptians, the gold and silver could symbolize the flesh and bones of the gods or the sun and the moon; on a more specific level, they were associated with the eyes of the cosmic deity Heryshef, whom Nedjemankh served.
The exhibition is organized by Diana Craig Patch, the Lila Acheson Wallace Curator in Charge of the Department of Egyptian Art; Janice Kamrin, Associate Curator; and Niv Allon, Assistant Curator.