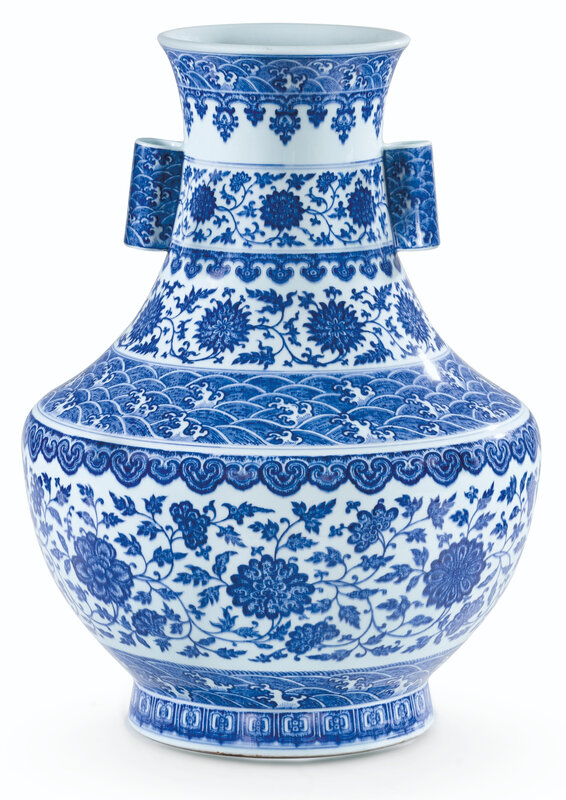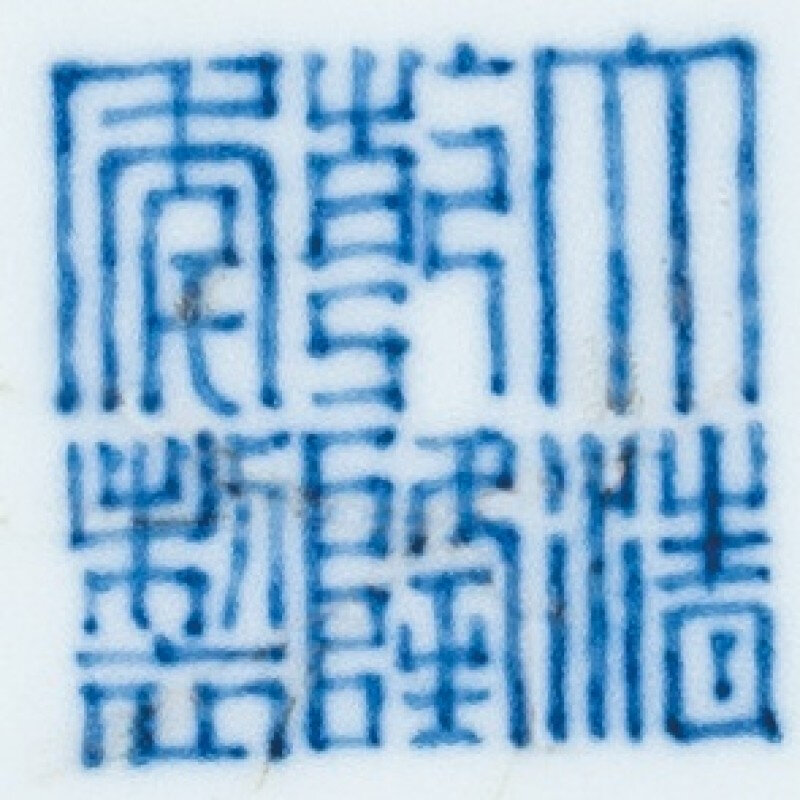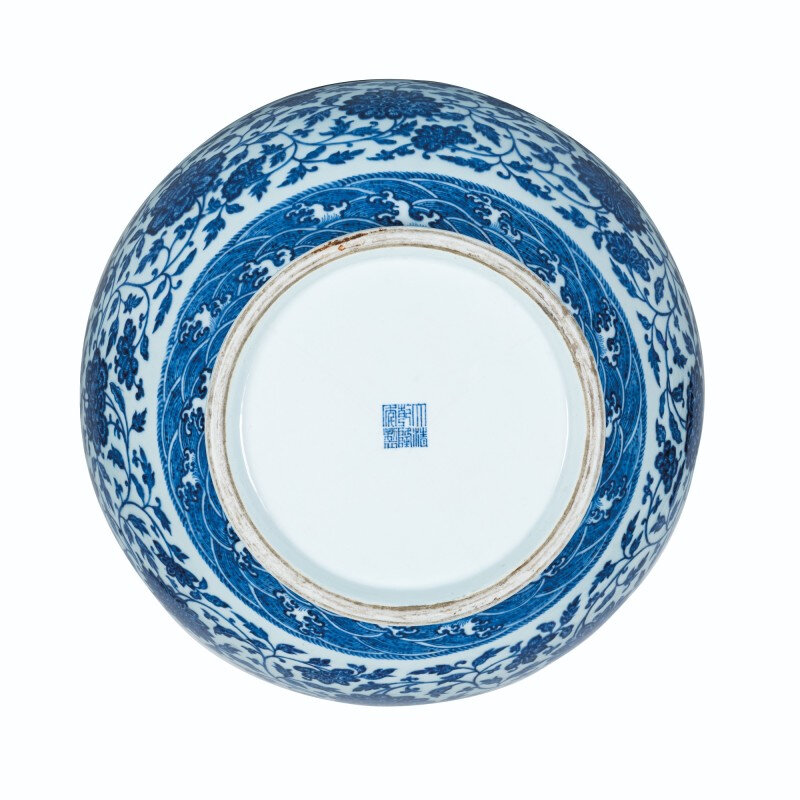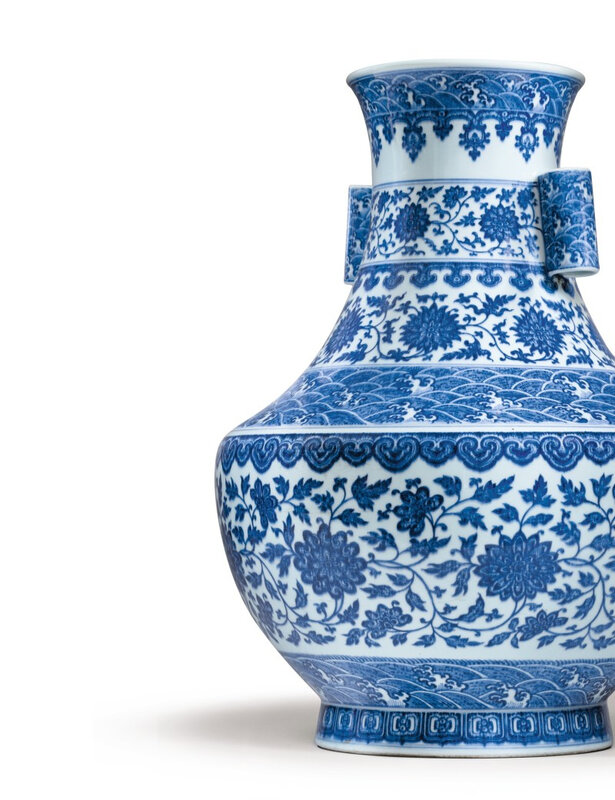 Lot 12. A rare large blue and white 'lotus' vase, seal mark and period of Qianlong (1736-1795); 52,4 cm, 20⅝ in. Estimate: 150,000 - 250,000 EUR. Lot sold 237,500 EUR. Courtesy Sotheby's.
de forme archaïsante, hu, le col évasé flanqué de deux anses tubulaires à décor de vagues, les bords surlignés d'une frise de vagues, de grenades suspendues, et d'une frise de chrysanthèmes soulignée d'une frise de ruyi, l'épaulement décoré de lotus dans des rinceaux feuillagés surmontant des vagues tumultueuses, le panse ornée d'une large bande de fleurs dans des rinceaux feuillagés, encadrée d'une frise de ruyi et de vagues, le pied décoré d'une frise de pétales stylisés, marque sigillaire à six caractères à la base.
Collection Particulière Française.
Note: The present vase is notable for its impressive size, fine potting and skilfully executed, varied decorative bands, and represents the expertise of craftsmen working during the Qianlong reign. In order to satisfy his own flamboyant taste, the Qianlong Emperor is known to have commissioned artists working in the Imperial kilns at Jingdezhen to make pieces that were highly challenging and unconventional, often placing particular emphasis on the showier aspects of production and on the virtuosity of craftsmanship. The refinement of the material and expertise in firing provided a platform for artists to be ambitious in their repertoire and allowed for the making of such large vessels.
The form of this vase is an adaptation of archaic ritual bronze vessels, intended for use during ancestor worship ceremonies. Features like the angular ridge separating a concave neck from a convex body can already by traced to vessels of zun shape and tubular handles to vessels of hu form from the end of the Shang period in the late 2nd millennium BC. This reference to archaic forms would have been much appreciated by the Emperor who was a great connoisseur and a keen collector of archaic pieces.
Further reference to China's celebrated past is seen in the intricately painted floral scrolls which were inspired by Ming dynasty blue and white porcelain of the early 15th century. Painted in a brilliant deep cobalt blue, which reflects the high level of technical achievement by Qing craftsmen, Qing painters employed a stippled effect to simulate the accidental unevenness known as 'heaping and piling' typically found on early Ming pieces.
Large vases of related form, but with a narrow cylindrical neck and without foot were already produced during the Yongzheng reign. A Yongzheng vase in the Palace Museum, Beijing, similarly decorated with Ming-style flower scrolls, is illustrated in Qingdai yuyao ciqi [Qing imperial porcelain], vol. 1, pt. II, Beijing, 2005, pl. 178. This Yongzheng form was also copied rather closely in the Qianlong period; compare two such vases in the Palace Museum, Beijing, one decorated with lotus flowers, the other with Ming-style flower scrolls and other motifs, illustrated in The Complete Collection of Treasures of the Palace Museum. Blue and White Porcelain with Underglazed Red, Shanghai, 2000, vol. 3, pls 130 and 131.
A similar vase from the collection of Sir Ralph Harwood, K.C.B., K.C.V.O., at one time Financial Secretary to King George V and Controller of the Royal Household, and believed to have been presented to him by Queen Mary, out of the Royal collections at Windsor Castle, was sold in our London rooms, 7th June 1994, lot 358. See also a Qianlong vase of related form, with broader neck and a foot, and the same design as the present vase, sold in our Hong Kong rooms, 3rd April 2019, lot 3633. Compare also another example, also sold in our Hong Kong rooms,16th May 1977, lot 90 and now in the Hong Kong Museum of Art, included in the Museum's exhibition The Wonders of the Potter's Palette, Hong Kong Museum of Art, Hong Kong, 1984, cat. no. 63.
Sotheby's. Arts d'Asie, Paris, 18 Juin 2020