Jeff Wall, A view from an apartment, 2004-05; Silver dye bleach transparency in light box; 65 3/4 x 8 ft. 1/16 in. (167 x 244 cm); Tate, London. Purchased with assistance from the American Fund for the Tate Gallery and Tate Members; © 2006 Jeff Wall.
SAN FRANCISCO, CA.- The San Francisco Museum of Modern Art (SFMOMA) will present the exhibition Jeff Wall, a retrospective survey of the artist's career from the late 1970s to the present, on view from October 27, 2007, through January 27, 2008. Co-organized by SFMOMA Director Neal Benezra and Peter Galassi, chief curator of photography, The Museum of Modern Art (MoMA), New York, the exhibition features some 40 of Wall's major light-box photographs and four black-and-white gelatin silver prints, tracing his principal themes and pictorial strategies.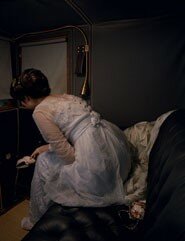 Lire la suite http://www.artdaily.com/section/news/index.asp?int_sec=11&int_new=21186&int_modo=1
Jeff Wall, After "Spring Snow" by Yukio Mishima, chapter 34, 2000-05; Pigmented inkjet print; 23 3/8 x 27 in. (59.3 x 68.6 cm); Collection of the artist. Courtesy of Marian Goodman Gallery, New York; © 2006 Jeff Wall.