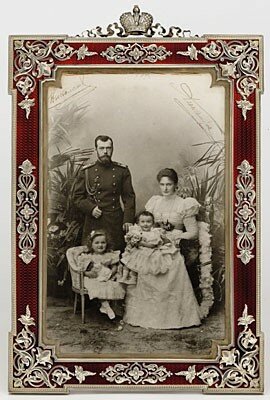 The Imperial Imeretinsky Presentation Fabergé Frame
Lot 91. A rare Imperial presentation silver-gilt and guilloché enamel photograph frame marked Fabergé, workmaster's mark of Victor Aarne, St. Petersburg, 1896-1908
Exceptionally large, shaped rectangular, the border enamelled in translucent red over a waved ground within a beaded border, surmounted by the Imperial crown with ribbon flanking, and applied with cast and chased pierced strapwork and stylized foliage, with stepped bezel, the elaborate strut formed as a strapwork cypher H II A for Nicholas II, with fruit wood back, enclosing an original photograph of Emperor Nicholas II and his wife Alexandra Feodorovna with the Grand Duchesses Olga and Tatiana, signed in Cyrillic and dated 'Nikolai.' 1897. 'Aleksandra.', marked on lower rim and strut - 15¼ in. (38.7 cm.) high - Estimate: £600,000-900,000
Provenance : Tsar Nicholas II, the christening gift for his god-son:
His Serene Highness Prince Georgii Georg'evich Imeretinskii
Thence by descent
Notes: The recipient of this Imperial gift, Prince George Imeretinskii, was born at Tsarskoe Selo on 16 May 1897, to whom the Tsar stood sponsor at his christening. His father, His Serene Highness Prince George Mikhailovich (1872-1932) was the great-grandson of King David II of Imeretia (1756-1795) who ruled from 1784 until 1789.

The Kingdom of Georgia appears in antiquity as 'Colchis', 'Lazique' and 'Abasgia'. The kingdom was reunited during the reign of King Bagrat III (1000-1014) under the titles 'King of Abasgia and Iberia' and 'King of Kings of Georgia', whose kingdom survived united until 1258. One of his successors, Bagrat III, King of Georgia 1564-78 became King of Imeretia, who was the direct ancestor of the Royal House of Imeretia until the country's absorbtion into the Russian Empire in 1810.

In 1804 Georgia signed a treaty of protectorate with Russia which included its suzerain state Imeretia under King Salomon II. The latter revolted, signed treaties with Persia and Turkey, but was defeated by the Russian army in 1810. Escaping imprisonment Salomon raised a second revolt and was again defeated when he fled to Erzerum, dying of cholera in Trebizond in 1815.

The wife of David II, King of Imeretia (née Princess Anna Orbeliani, 1770-1832) and their children were allowed to retain their title of 'Tsarina' and 'Tsarevich' of Imeretia by the Council of the Empire in 1804, which was reaffirmed by the Council of Ministers in 1812. The Senate of the Empire confirmed the princely titles as 'Prince or Princess Imeretinskii' in 1833 and again in 1860, adding the qualification 'Serene Highness' to the grand-children in 1865.

Prince Georgii Mikhailovich had been page to Alexander III, entering the Sunzhesko-Vladikavkazskii cossack regiment before transferring to the Imperial escort, retiring with the rank of colonel. In 1896 he married Lidia Nikolaevna Klimova (1880-1956), by whom he had three sons.

The eldest, Prince George, was educated at home and at Lancing College in England. In 1916 he was granted an honorary commission in the 1st Battalion, Grenadier Guards, at the request of the Russian Dowager Empress Maria Feodorovna, sister to Queen Alexandra. Holding the rank of lieutenant he was wounded at Ypres Salient in the Battle of the Somme in 1917, and served with the regiment until 1920. Later he was an officer in the Royal Air Force, a Cresta champion, and was well-known in Bentley racing circles, being a correspondent to various motoring journals. He married first in 1925 Avril Joy Mullens, divorced 1932, and secondly in 1933 Margeret Venetia Nancy Strong. His two younger brothers were also educated at Lancing, and joined the Royal Flying Corps. Prince George died at Cheltenham on 24 March 1972.
Christie's. Russian Works of Art Including The Rothschild Fabergé Egg. 28 November, 10:30 am. 8 King Street, St. James's, London