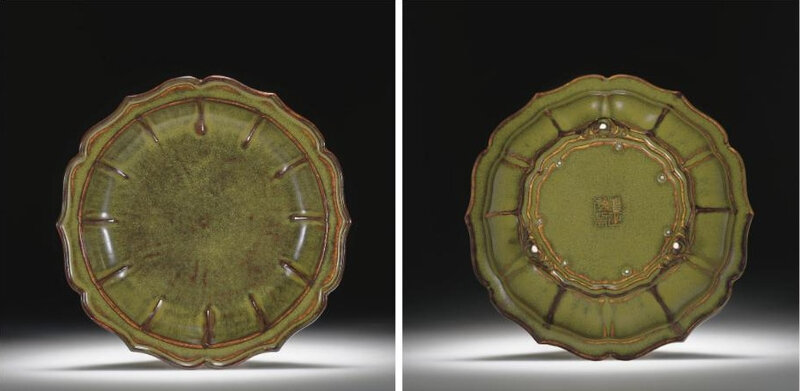 Lot 484. A rare eel-skin-glazed petal-molded tripod bulb bowl. Yongzheng four-character impressed seal mark and of the period (1723-1735); 8 in. (20.3 cm.) across. Estimate: $80,000 - $100,000. Price realised USD 350,500. © Christie's Images Ltd 2008
Finely potted after a Song dynasty prototype, the shallow rounded sides divided by slender ribs into twelve lobes that rise to an everted rim with raised outer rim molded with six barbed petal tips conforming to the shape of the foot ring which is raised on three ruyi-head supports, covered overall with a finely mottled glaze of deep olive tone thinning to russet or ochre on the raised edges and to a dark reddish brown in the center, with seven pseudo spur marks in a circle on the base, box
Provenance: Stephen Junkunc, III.

Note: Opaque crystalline green glazes, like eel-skin, which belong to the tea-dust group, seem to have their origins in the Tang dynasty at kilns making black wares, but reached their peak of popularity on imperial porcelains of the 18th century. Their unique appearance is due to slight under firing of a glaze with significant iron and magnesium oxide content, which results in the development of fine pyroxene crystals during cooling. These give the glaze the attractive brown, greenish or yellowish micro-crystalline appearance, which was so prized at the Qing court. The perfection of this glaze on porcelain seems to have been achieved in the Yongzheng reign, when the imperial kilns were at pains to produce elegant new glazes for the emperor's appreciation. These glazes are sometimes called Changguan you or Imperial Factory glazes in Chinese, and indeed they are mentioned in Tang Ying's famous Taocheng jishi bei ji (Commemorative Stele on Ceramic Production) of AD 1735, where three types are noted - eel-skin yellow, snake-skin green, and spotted yellow. In particular, the Emperors Yongzheng and Qianlong seem to have admired the 'antique' quality that these tea-dust and eel-skin glazes imparted to the porcelains on which they were used.

The shape of the current vessel is also an example of the Qing emperors' fascination with antiques. All three of the great Qing emperors - Kangxi, Yongzheng and Qianlong - avidly collected antiques, and had porcelains made in archaistic style. The specific popularity of ceramic planters in ancient style is shown in the famous paintings of twelve court beauties in the Palace Museum, Beijing, which were painted in the late Kangxi period for Prince Yinzhen (later the Yongzheng Emperor). One of these paintings shows a Jun-type vessel, of similar form to the current eel-skin tripod, being used as a stand for a Jun-type plant-pot. See China - The Three Emperors 1662-1795, Royal Academy of Arts, London, 2006, p. 259, no. 173, lower right. Interestingly, Yongzheng versions of this shape with imitation Jun glazes are known. One with a Yongzheng six-character mark is illustrated by J. Ayers in Chinese Ceramics in the Baur Collection, vol. 2, Geneva, 1999, pp. 155, no. 262. Another in the collection of the National Palace Museum, Taipei, is illustrated in Qingdai danseyou ciqi, Taipei, 1981, no. 84, where it is described as a pot-stand. And one (Fig. 1) which was in the Qing Court collection, is now preserved in the Palace Museum, Beijing, and illustrated in The Complete Collection of Treasures of the Palace Museum - 37 - Monochrome Porcelain, Hong Kong, 1999, pp. 196-7, no. 178, where it is described as a washer. This too has a six-character Yongzheng mark, and, like the current eel-skin vessel, has pseudo spur marks on its base. A turquoise-glazed example with a Yongzheng mark is illustrated in Shimmering Colours - Monochromes of the Yuan to Qing Periods - The Zhuyuetang Collection, Art Museum, The Chinese University of Hong Kong, 2005, p. 178, no. 105.

The admiration for glazes in the teadust group and their selection for use on imperial porcelain vessels may have been linked to the emperors' appreciation of ancient bronzes. A number of surviving 18th century porcelain vessels made in archaistic bronze form with tea-dust or eel-skin glazes include a large Yongzheng mark and period hu vase covered with tea-dust glaze in the collection of the Palace Museum, Beijing illustrated in Qing Porcelain of Kangxi, Yongzheng and Qianlong Periods from the Palace Museum Collection, Hong Kong, 1989, p. 298, no. 127; a Qianlong gu-shaped vase with tea-dust glaze in the collection of the National Palace Museum, Taipei, illustrated in Qingdai danseyou ciqi, Taipei, 1981, p. 69, no. 30; and a censer in the form of a bronze lian from the J.M. Hu collection, now in the Shanghai Museum, illustrated in Qing Imperial Monochromes - The Zande Lou Collection, Zande Lou, Shanghai Museum, Beijing Museum, and Art Museum, The Chinese University of Hong Kong, 2005, pp. 138-9, no. 52. However, no other example of an eel skin-glazed, bracket-lobed, tripod planter appears to have been published, although a much simpler Yongzheng plant-pot and stand with eel-skin glaze in the collection of the Nanjing Museum is illustrated in The Official Porcelain of the Chinese Qing Dynasty, Shanghai, 2003, p. 207.
Christie's. Fine Chinese Ceramics and Works of Art. 17 September 2008. New York, Rockefeller Plaza.