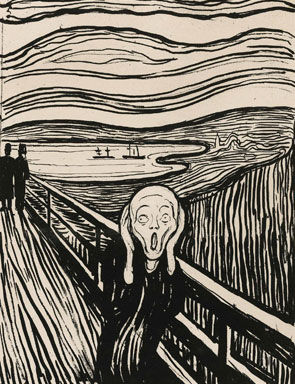 Edvard Munch, Das Gsechrei (The Scream). Est. $2/3 million. Photo: Courtesy Sotheby's
NEW YORK, NY.- Sotheby's fall Print auction will take place on October 30 and 31, 2008. The approximately 560 works being offered in the sale will be on view in Sotheby's New York galleries beginning on October 26.

Of significant importance is Edvard Munch's masterpiece, Das Geschrei (The Scream) offered at $2/3 million. The lithograph is one of only a handful of prints of the subject and offers collectors a rare opportunity to acquire one of the most broadly recognized images in the history of art.

Printed in 1895, Das Geschrei exemplifies Munch's frequent exploration of emotion, misery, despair, and the depths of the human soul and psyche. Though the artist painted multiple versions of the composition beginning in 1893 with his signature use of bold expressive color, the print is equally powerful in stark black and white. The image conveys through its graphic contrasts and reverberating lines the figure's palpable sense of angst and terror and the "infinite scream through nature" that Munch described when recounting his inspiration for this series.

The sale will also feature important works from the Helga and Walther Lauffs Collection, a remarkable group of Contemporary prints assembled by German private collectors, Helga and Walther Lauffs with the guidance of Paul Wember, director of the Kaiser Wilhelm Museum in Krefeld, Germany. When Lauffs and Wember met in 1968, Mr. Lauffs persuaded the prescient director to assist him in acquiring preeminent examples of contemporary art in exchange for longterm loans to Wember's museum. Their collaboration, underscored by a close friendship and a shared vision, culminated in a highly esteemed selection of European and American Contemporary Art from the 1960s and 1970s.

Works from the collection (total low estimate $3.5 million) comprise several portfolios of screenprints by Andy Warhol, most notably Marilyn estimated at $1/1.5 million, Mao (est. $700,000/$1 million) and Electric Chair (est. $250/350,000). Each of these sets of ten prints exemplifies Warhol's bold use of repetition and color variation in establishing Pop iconography. Also figuring prominently is British artist Richard Hamilton whose appropriation of found imagery and consumer culture established him as a leader in the European pop movement. Sotheby's is delighted to offer such rare examples from his printed oeuvre as I'm dreaming of a White Christmas (est. $50/70,000) and Adonis in Y Fronts (est. $40/60,000). Other highlights include Jasper Johns rare Color Numeral Series (est. $250/350,000), the artist's most ambitious lithography project, and Cy Twombly's 1970 set of Roman Notes (est. $220/280,000), six prints which together form a large-scale installation recalling the artist's unique work from that era.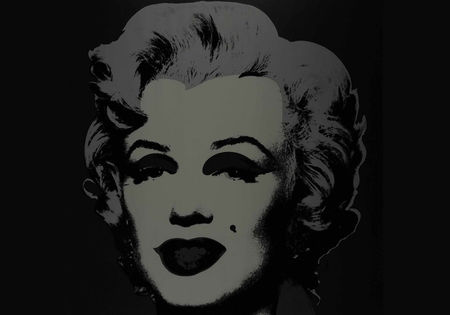 Andy Warhol, Marilyn. Est. $1/1.5 million. Photo: Courtesy Sotheby's