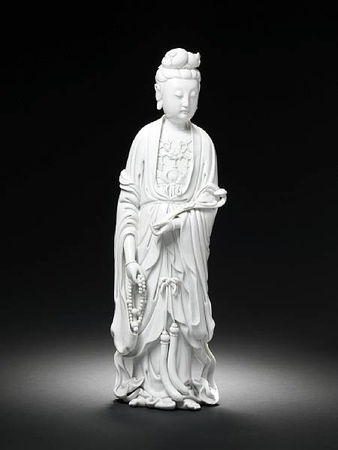 A large blanc-de-chine standing figure of Guanyin. 18th century

Finely modelled standing barefoot, holding a ruyi sceptre in her left hand and a necklace in her right hand, wearing long flowing robes tied at the waist and revealing the bare jewelled chest, the face with a benevolent expression and framed by long pendulous ears, the hair neatly arranged in a high chignon, the back with an indistinct gourd mark and an impressed four-character seal mark. 48½cm (19in) high. Estimate: £3,000 - 5,000 - Unsold.
Footnote: The impressed seal mark on the back can be read as Boji Yuren (virtue extends to all, even fishermen).

Four figures bearing the Boji Yuren seal mark have been illustrated by John Ayers in Blanc de Chine, Divine Images in Porcelain, pp.117-120, pls.68-71.
Copyright © 2002-2008 Bonhams 1793 Ltd.,Images and Text All Rights Reserved
Bonhams. Fine Chinese Art, 6 Nov 2008. New Bond Street - www.bonhams.com