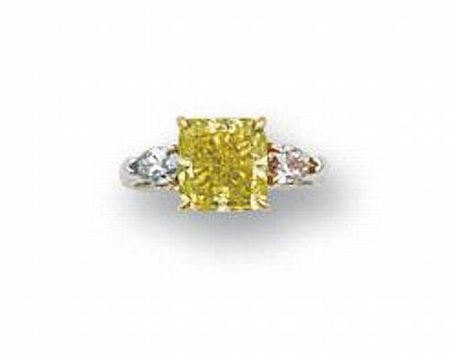 A 3.56 carats coloured diamond ring
The cut-cornered rectangular modified brilliant-cut fancy vivid greenish yellow diamond, weighing 3.56 carats, flanked by a pear-shaped fancy browhish Purplish pink, weighing 0.35 carat, and a fancy light blue diamond, weighing 0.29 carat, mounted in 18k white gold, size 5¼. Estimate: HK$590,000 - 690,000, $76,000 - 89,000 - Unsold.
Footnote: Accompanied by three certificates from GIA, stating that the 3.56 carats diamond is fancy vivid greenish yellow, natural colour, the 0.35 carat diamond is fancy brownish purplish pink, natural colour, and the 0.29 carat diamond is fancy light blue, natural colour. Report number 10925760 dated 26th January 2000, report number 14889645 dated 3rd April, 2006 and report number 14421505 dated 30th June, 2005.
Bonhams. Fine Jewellery and Jadeite, 4 Dec 2008. Hong Kong. Copyright © 2002-2008 Bonhams 1793 Ltd., Images and Text All Rights Reserved - www.bonhams.com