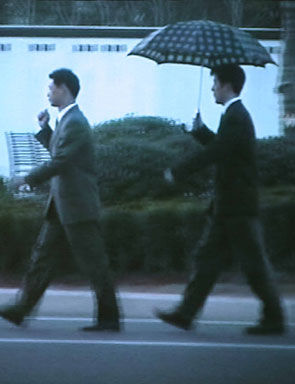 Yang Fudong. City Light (film still), 2000, color video with sound, 6 minutes. Courtesy Marian Goodman Gallery, New York
DENVER, CO.- MCA Denver presents Yang Fudong's video City Light in the Lu & Chris Law New Media Gallery. The exhibition runs through May 10, 2009. A public reception will be held on Friday, January 16 from 6-10pm. This exhibition is curated by Cydney Payton, who says of this piece, "While Yang is a master at creating epic films that challenge the viewer with their vast themes and cinematic length, City Lights offers a discreet and humorous aesthetic vision that appeals to all."

City Light by Chinese artist Yang Fudong follows a young man and his doppelganger on a day in the city. A fantastic detective story with restrained comic appeal takes place when the protagonists enter into a film noir with all the requisites. The video switches from black & white to color while the score changes from a Chinese melody to a Bossa Nova. The plot is detached from the liveliness of the cityscape, creating scenes that are serenely beautiful yet humorous.

Yang's films can be characterized by an atmosphere of ambivalence that is descriptive of an overall attitude towards life in twenty-first century China, especially among young Chinese intellectuals. Since 1989—the year of the Tiananmen Square massacres—young people have been less and less involved in politics. In many of his films, Yang captures this generation's blasé stance towards the politically evolving China.

Yang's work has been critically praised for its rapturous pictorial arrangements. In a 2004 review for The New York Times, art critic Holland Cotter wrote, "Inspired by Chinese films of the 1930s and 40s, he [Yang Fudong] creates an atmosphere of painterly beauty, saturated with romance and regret, that is visually absorbing and entirely his own." The films echo Jean-Paul Sartre and Samuel Beckett's existential conflation of man and nature. Yang's work has also been noted as a reinterpretation of traditional Chinese landscape painting—a more ornamental form of making images through design and pattern.

Yang Fudong was born in Beijing, China in 1971. He lives and works in Shanghai, China. In 1995, he graduated from China Academy of Fine Arts in Hangzhou where he studied painting. After exploring photography, he began working with film and video in the late 1990s. His work has been exhibited in the 2003 and 2007 Venice Biennale, the first Moscow Biennial in 2005, and the fifth Shanghai Biennial in 2004. He has shown at many noted institutions, including Kunsthalle Wien, Austria (2005); MoMA Film at Gramercy Theatre, New York, NY (2005); Stedelijk Museum, Amsterdam, The Netherlands (2005); and ARC/Musee d'Art Moderne de la Ville de Paris, France (2003.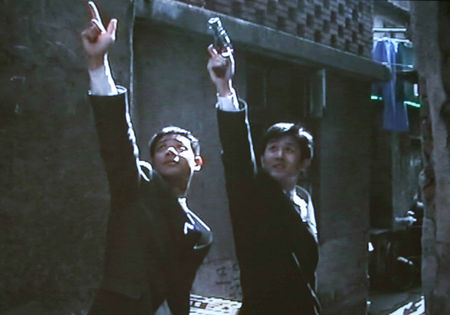 Yang Fudong. City Light (film still), 2000, color video with sound, 6 minutes. Courtesy Marian Goodman Gallery, New York