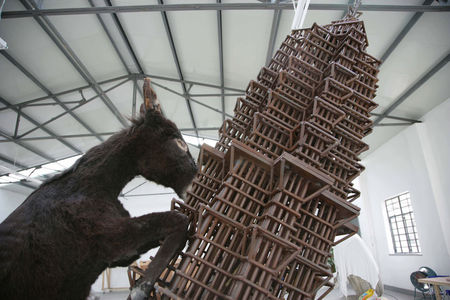 Zhang Huan's Donkey was exhibited when Charles Saatchi's new gallery opened recently
LONDRES. Le marchand et collectionneur d'art Charles Saatchi va présenter une émission à la BBC pour découvrir des jeunes artistes britanniques.
LONDON.- BBC Two today announces Saatchi's Best Of British to be broadcast this autumn. This is an incredible opportunity for artists as the BBC and Charles Saatchi launch a nationwide search to discover the next generation of artistic talent.

Saatchi's Best Of British is a unique chance for artists of all kinds to showcase their talents. Artists from all disciplines including installation, painting, digital media, sculpture, printmaking, performance art and others, are encouraged to apply.

Applicants are invited to enter their work via the submissions website at www.submityourart.com which launches on Monday 2 February and closes on Sunday 29 March.

Following a selection process, just six people will be selected to attend an Art School established uniquely for them where they will develop their work under the tutelage of some of the most innovative names in the art world today.

And, for one, the ultimate opportunity awaits as Saatchi has reserved a space for their work at his forthcoming exhibition at The Hermitage in St Petersburg, Russia.

Commenting on the series, Saatchi said: "I am looking forward to the prospect of finding undiscovered British talent. Anyone with a fresh creative approach should enter – because nobody knows where the next art star will emerge from."

From all the entries, a panel of respected and independent experts from the art world will shortlist the work of approximately 100 individuals.

This will then be further refined to approximately 50 and presented to Saatchi in an exhibition. From this, he will pick the six he believes have the edge, raw talent and creativity to be developed and refined over three months at the specially created Art School.

Of Saatchi's role in the series, Jacquie Hughes, BBC Independent Commissioning Executive, says: "Charles Saatchi's involvement in this project is a great coup. His passion for contemporary art and his role as a patron for new and emerging talent is legendary.

"He plays a crucial role throughout the series by selecting the six who will attend the Art School, closely monitoring their progress, and deciding which student's work will be displayed at his exhibition."

Charles Saatchi will be having regular meetings with both the Art School tutors and the six artists there. They will relay his thoughts and feedback to viewers. He will be filmed and seen on screen but will not be interviewed direct to camera.

The six who make it to the Art School will train under the leadership of two course tutors. Their role is to expose the talent and potential of each of the students and guide them with their proposed projects towards the final selection.

To further inspire and develop them, important figures in the art world will make guest appearances and deliver masterclasses. These guests will be selected depending on the specific requirements of those attending the Art School.

Each episode also features interviews with those who have shaped the contemporary art world.

Peter Dale, Executive Producer, comments: "The contemporary art world has famously been a controversial arena with some claiming the work is incomprehensible to the untrained eye, or created purely to shock and get headlines for the artist.

"For viewers who are passionate about this art form, Saatchi's Best Of British offers a fascinating insight behind the scenes and into the minds that create the work, what inspires it and what it means.

"For others, it will be a journey of discovery as the series demystifies the subject and makes the art more accessible.

"The debate will be reflected, not only in the programmes, but also on the series website where viewers will be invited to share their opinions."

For the 100 shortlisted and the 50 whose work is exhibited to Saatchi, this could be a once-in-a-lifetime chance to showcase their work to such an esteemed audience.

For the six who attend the Art School, this will be a totally unique opportunity to learn from the contemporary masters. And for the one chosen by Saatchi to be given a space at his exhibition, this really is an opportunity like no other.
Charles Saatchi ne veut pas perdre le rôle de découvreur des jeunes artistes britanniques qu'il a conquis dans les années 1990. A partir de l'automne 2009, le marchand et collectionneur britannique va présenter un concours artistique dans la chaîne de télévision BBC2. Intitulée « Saatchi's Best of British », l'émission suit le modèle d'autres télé-réalités, comme la Star Academy.

Mais différemment des autres radio crochets, il n'y aura pas un mais six gagnants. Ces finalistes vont suivre des cours donnés par de grands artistes contemporains avant de participer à une exposition organisée par Saatchi à Saint-Pétersbourg.

Pour s'inscrire, les artistes doivent avoir plus de 18 ans et ne pas être représentés par une galerie. Toutes les catégories artistiques sont permises, de la peinture à la performance. « J'ai hâte de découvrir des talents britanniques inconnus », a déclaré Saatchi au Daily Telegraph. www.artclair.com