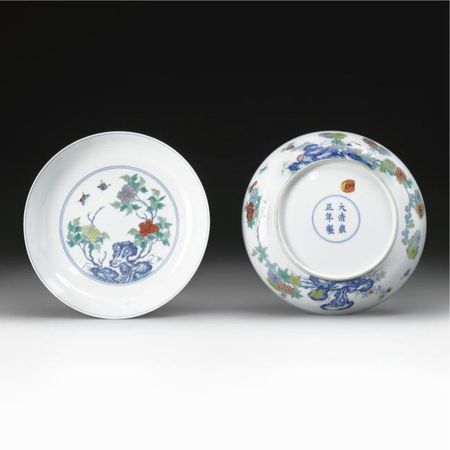 Two Fine 'Doucai' 'Butterfly And Peony' Dishes, Yongzheng Marks And Period
diameter 8 1/4 in., 21 cm. Estimate 100,000—150,000 USD
Property from the collection of Doctor and Madame Ho-Ching Yang
NOTE: The design of butterflies and peonies has traditionally been a favored motif in China for its highly auspicious qualities, with the peony symbolizing wealth and honor, and the butterflies (hudie) representing the wish for 'accumulation of blessings (fudie)'. Depicted together they convey the message for many blessings, wealth and high social status (fudie fugui). The present dish is remarkable for its fine potting and naturalistic painting style characteristic of the best quality Yongzheng wares. The design is also striking for its combination of highly stylized rockwork, skillfully painted in washes of underglaze-blue in the manner of ink painting, and the flowers executed in the bright doucai palette of glossy overglaze enamels.
Compare a closely related dish, from the Woodthorpe and Aykroyd collections, included in the exhibition Enamelled Polychrome Porcelain of the Manchu Dynasty, Oriental Ceramic Society, London, 1951, cat. no. 99, and later sold in our London rooms, 6th April 1954, lot 105 and again, 17th May 1966, lot 229. Two closely related examples to the present pair were sold in our Hong Kong rooms, 26th October 1993, lot 154, and 25th April 2004, lot 444.
Dishes of this type can also be found painted entirely in underglaze-blue; for example see a pair of dishes included in the exhibition Ming and Ch'ing Porcelain from the Collection of the T.Y. Chao Family Foundation, Hong Kong Museum of Art, Hong Kong, 1978, cat. no. 86; and another single dish illustrated in Soame Jenyns, Later Chinese Porcelain, London, 1951, pl. LXI.
Sotheby's. Chinese Works of Art. 17 Mar 09.New York www.sothebys.com Photo courtesy Sotheby's