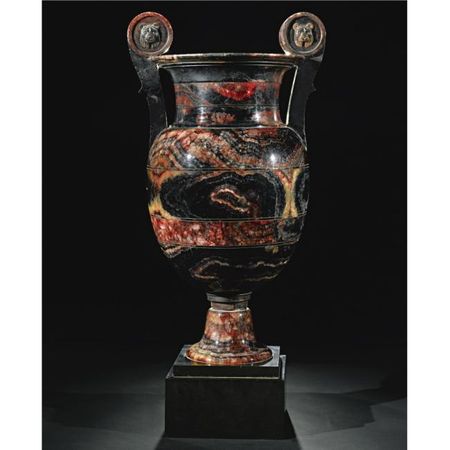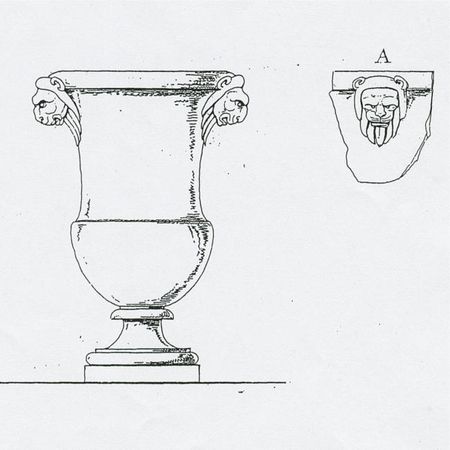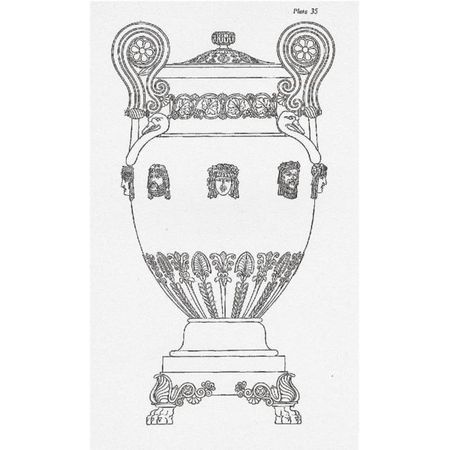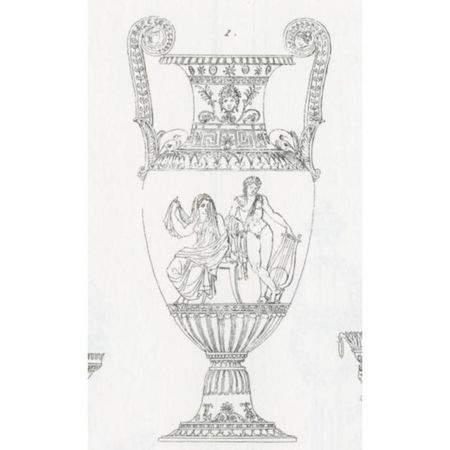 An important Regency blue john Krater-form vase attributed to James Shore. circa 1815
Restorations, additions to socle. 75.6 cm; 36.8 cm; 63.5 cm; 28.6 cm. Estimate 60,000—80,000 USD. Lot Sold 152,500 USD
NOTE: This impressive blue john vase is closely related to another vase of similar form, now in the collection of the Duke of Devonshire at Chatsworth House, Derbyshire (T. Ford, Derbyshire Blue John, Ashbourne: Landmark Publishing, 2000, p. 86), which was made in 1815 by James Shore of Matlock Bath, Derbyshire. Little is known of Shore other than his claim that his vase, which measured 24 inches high including the plinth, was the largest ever made. After his death it passed to John Mawe, another worker in blue john, who had shops in Matlock, Castleton, Cheltenham, Scarborough and London, and then to William Adam at whose sale in 1849 it was presumably acquired by the Duke of Devonshire; see Christie's, London, July 6, 1972, lot 4 for a large blue john base with a trade label on the base inscribed: S. Maws [sic], Mineralogist by Appointment to Her Majesty, Manufacturer and Importer of Ornaments and Objets d'Art in Alabaster, Marble, Bronze and Derbyshire Spar, Minerals and Shells. Extensive collections of the rarest specimens with all the recent publications relating to Mineralogy, Conchology and Geology. Shore's vase now has slate handles, although a contemporary illustration of it indicates that these were originally in blue john (Ford, op.cit., p. 90) and the pedestal was altered in height. The construction of the two vases is the same being formed by a series of rings fitted one above the other.
The profile of this vase is derived from an ancient Greek pottery krater, a large vessel intended for wine. Thomas Hope designed several vases of this form in bronze and gilt metal, including one appropriately ornamented with 'Bacchanalian masks, vine wreaths, and other emblems of Bacchus'; see T. Hope, Household Furniture and Interior Decoration, 1807, pl. XXXV and D. Watkin and P. Hewat-Jaboor, eds., Thomas Hope Regency Designer, New Haven: Yale University Press, 2008, exh. cat., pp. 416-417. It is interesting to note that the masks to the handles are possibly derived from a design published in 1798 for 'Antique Vases in dark oriental Marbles from the Collection in the Museum of the Vatican' by C. H. Tatham in Etchings representing the best examples of Ancient Ornamental Architecture; drawn from the originals in Rome, and other parts of Italy, during the years 1794, 1795, and 1796. Ancient Egyptian basalt figures of lionesses at the base of the steps leading to the Piazza del Campidoglio in Rome (see Watkin and Hewat-Jaboor, op. cit., pp. 392-395, fig. 76-1) could also be the source for the lioness mask. Hope used it the lionesses as models for the ends to pair of settees in the Egyptian Room, Duchess Street, Hope, op. cit., pl. VIII, and for a pair of ornaments on the mantle-piece in the same room, op. cit., pl. XLVI. A vase with inset heads to the shaped handles by Charles Percier and Pierre Fontaine, Recueil de décorations intérieures, 1801, pl. 18, no. 1, appears to be the closest design source for the present lot.
A related, but smaller, Regency blue john vase attributed to James Shore was sold in these rooms, April 7, 2004, lot 159 ($243,200).
Sotheby's. A Celebration of the English Country House. 09 Apr 09. New York. www.sothebys.com photo courtesy Sotheby's