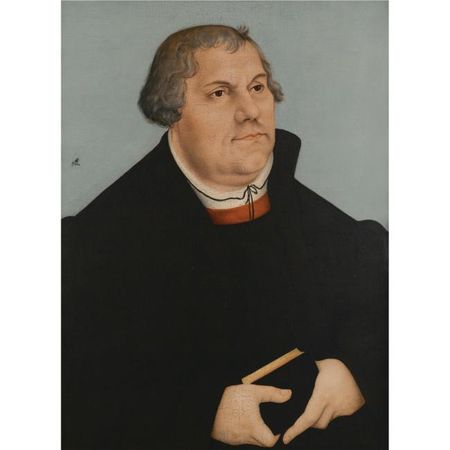 Workshop of Lucas Cranach the Elder, Portrait of Martin Luther
bears the artist's device of a winged serpent centre left - oil on panel, in an italian carved and gilt wood frame - Estimate 80,000—120,000 GBP. Sold 97,250 GBP
PROVENANCE: Galerie Pardo, Paris;
With Pietro Accorsi, Turin, from whom acquired by the present owner.
NOTE: Probably executed in Cranach's workshop in the 1540s, this portrait represents Martin Luther (1483-1546) at a fairly advanced age, probably in his late forties or early fifties. There is a portrait of the sitter by Cranach himself dated 1539, in which Luther, wearing the same shirt and coat, appears to be slightly more advanced in years, his hair somewhat whiter and his features a little more sunken.1 It is probable therefore that the present work repeats a lost work by Cranach from the mid 1530s, the sitter thus being depicted at the approximate age of fifty-two. However, although based on a Cranach from the 1530s this workshop production is likely to have been executed in the following decade; Friedländer and Rosenberg attest to the activity of the workshop in this decade at making fairly numerous copies of Cranach's portraits of Luther, as well as those of his friend Philip Melanchthon and of the Dukes of Saxony, all of which were in very high demand both in and outside of Saxony itself. Indeed, the present work is likely to have been originally paired with a portrait of Melanchthon. The pose and positioning of the hands recall another portrait of Luther from 1532 in the Gemäldegalerie, Dresden2.
1. Friedländer, p. 154, no. 423, reproduced.
2. Idem, pp. 130-31, no. 314, reproduced.
Sotheby's. Old Master Paintings Day Sale. 09 Jul 09 10:30 AM. London www.sothebys.com
The portrait of Luther from 1532 in the Gemäldegalerie, Dresden: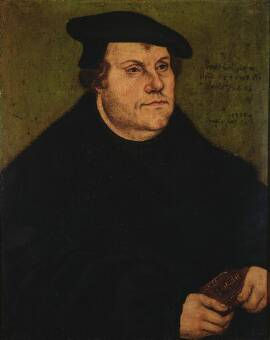 Cranach d. Ä., Lucas (Werkstatt) Martin Luther (1483-1546), 1532. Öl auf Buchenholz. Höhe: 18,6 cm Breite: 15 cm. Gemäldegalerie Alte Meister. Staatliche Kunstsammlungen Dresden
Another approching portrait in Lutherhaus, Wittenberg :
Workshop of Lucas Cranach the Elder, Portrait of Martin Luther, 1541. Lutherhaus, Wittenberg © Sacred Destinations
Anoter portrait of Luther was unsold last May 5 at Sotheby's Amsterdam :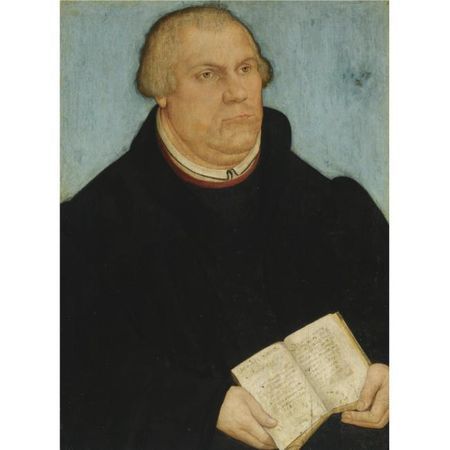 Studio of Lucas Cranach the Younger, Portrait of Martin Luther (1483-1546) photo cortesy Sotheby's
half length, in a black robe, holding a prayer book - bears the artist's device of a winged serpent and dated upper right: 1537. oil on panel. 63.3 by 46.2 cm. Est. 30,000—40,000 EUR. Sotheby's. Old Master paintings. 05 May 09. Amsterdam