STANFORD, CA.- Cantor Arts Center at Stanford University announces an exhibition that brings to the United States a rare and important group of 20th-century paintings by four Chinese modern masters. The exhibition "Tracing the Past, Drawing the Future: Master Ink Painters in 20th-Century China" presents more than 110 works, in two rotations, February 17 through July 4, 2010. A fully illustrated catalogue with scholarly essays in English accompanies the exhibition, including two introductory essays and essays on each artist. Full entries, translated from Chinese, accompany images of the works in the exhibition.

"This landmark exhibition illuminates a turning point in the development of Chinese ink painting during the 20th-century," explained Dr. Xiaoneng Yang, the Cantor Arts Center's Patrick J. J. Maveety Curator of Asian Art. "Drawing upon paintings and calligraphy on loan from Chinese collections new to American audiences, the exhibition presents monumental portraits, vibrant bird-and-flower painting, and spectacular landscapes by Wu Changshuo (1844–1927), Qi Baishi (1864–1957), Huang Binhong (1865–1955), and Pan Tianshou (1897–1971). Collectively known in China as the 'Four Great Masters of Ink Painting,' these artists faced the dual challenges of negotiating the impact of encounters with the West, while inventing new directions for long-held practices of ink painting."

An interdisciplinary symposium, with collaboration and contributions from the Stanford University Departments of Music, East Asian Languages and Literature, Political Science, and Art and Art History, and co-organized by Stanford's Center for East Asian Studies, will be held the weekend of February 20. A series of five concerts and a demonstration-lecture on Chinese calligraphy will also be presented along with the Pan-Asian Music Festival

Visit the Cantor Arts Center at Stanford University at : http://museum.stanford.edu/
More infos :
Wu Changshuo (1844–1927). Like his predecessor Zhao Zhiqian, Wu Changshi's achievement was to combine a scholarly, epigraphic quality of composition with a more popular appeal. Wu Changshi's auspicious floral subjects thus set up powerful contrasts between negative and positive two-dimensional space, while simultaneously creating compelling effects of ink and color. He claims in his inscriptions to be following the different manners of the eighteenth century Yangzhou eccentrics, but his highly abstract work is actually very much his own. With his thorough mastery of poetry, calligraphy, painting, and seal carving, Wu Changshi has been viewed as the last great literati-painter.
Wu Changshi (Wu Changshuo) (Chinese, 1844–1927) Spring Offerings, dated 1919. Hanging scroll; ink and color on paper, 57 3/8 x 31 1/4 in. (145.7 x 79.4 cm) Signed: "Anji Wu Changshi in his seventy-sixth year". Gift of Robert Hatfield Ellsworth, in memory of La Ferne Hatfield Ellsworth, 1988 (1988.324.2). The metropolitan Museum of Art, New York © 2000–2009 The Metropolitan Museum of Art.
Qi Baishi (1864–1957). He was born into a poor peasant family in the year 1861 in Hsiangtan, (Xiangtan) Hunan, China. His was a family of poor farmers who worked hard on their land. Ch'i (Qi), however, was a delicate child, and as he was unable to endure the strength-taxing labor in the fields, when he was eight years old his family apprenticed him to a carpenter. After a ten-year term he decided to try fine carving and cabinet making. He became a master carver and until his death was a renowned seal cutter. In his search for designs he became interested in painting and so discovered "The Mustard Seed Garden". This is a comprehensive series of flower, tree, rock and other motifs compiled and printed for student artists. He fell completely in love with this and copied and recopied the entire series. This was his introduction to Chinese painting, and thus he spent long years practicing the meticulous and painstaking kung pi style and assimilating the traditional. He managed to visit all the celebrated scenic spots of China and so widened his scope and vision. When he became the pupil of the literary scholar, Wang Kai-yin, he came under the spell of the famous monk painters Pa Ta Shan-jen and Shih-tao of the late Ming and early Ch'ing periods. Thus at the age of forty he chose as his own the style called hsieh yi, or the swift, sure, spontaneous, emotional brush stroke usually perfected only by the exalted calligrapher scholar. To Pa Ta Shan-jen's strong, forceful brush he has added ever more force - plus a striking individuality that stamps him as one of the great painters of China and indeed of the world. Ch'i painted continually but did not gain recognition until he was sixty. His best work was done between his seventieth and eightieth years. Qi Baishi died in Beijing on September 16, 1957. Alice Boney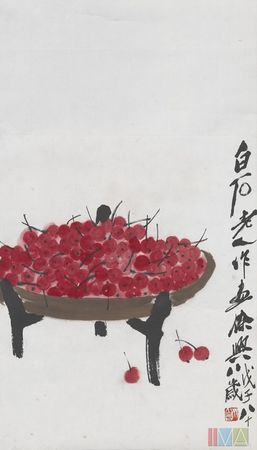 Qi Baishi (1863-1957) Plate of Cherries, 1948, ink and color on paper, 24 x 13 1/2 in. Gift of Mr. and Mrs. J.W. Alsdorf. 64.789. Indianapolis Museum of Art © 2008 IMA
"Painting must be something between likeness and unlikeness...but not to cheat popular people." Qi Baishi
Huang Binhong (1865–1955) was very active from the beginning of the twentieth century in implementing proposals to teach the Chinese public about its traditional culture and art. He was a key figure in editing the new art journals that reproduced Chinese art objects as well as in compiling encyclopedic compendia of texts about Chinese art. As a painter, he was particularly interested in the individualist masters of the seventeenth century, as this pair of paintings suggest. Although he was almost sixty when they were completed, he was active as an artist for thirty years more, and this may be considered early works.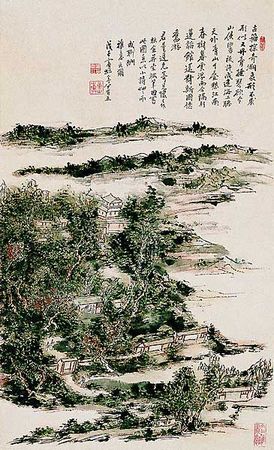 Huang Binhong (1865 - 1955) Spring Trees in Jiangnan. Dated 1948, hanging scroll, ink and colour on paper, 94.8 x 57 cm. Hong Kong Museum of Art
Pan Tianshou (1897–1971). Born in Ninghai, Zhejiang, Pan Tianshou received his first artistic training under Li Shutong at the Zhejiang First Normal School in Hangzhou. He taught from 1923 to 1928 in Shanghai, and except for a short visit to Japan in 1929, spent the rest of his life as an art teacher. For much of his career he taught at the national academy in Hangzhou, which was a bastion of French modernism. Throughout his career he ardently defended the Chinese practice of guohua painting, but his personal style, of which this work is a good example, took Chinese painting in a decidedly modern direction.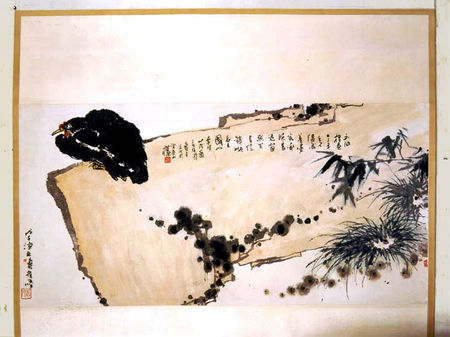 Pan Tianshou (1898-1971) Black Chicken, 1948, hanging scroll, ink and color on paper, 68 x 136.5 cm. Pan Tianshou Memorial, Hangzhou