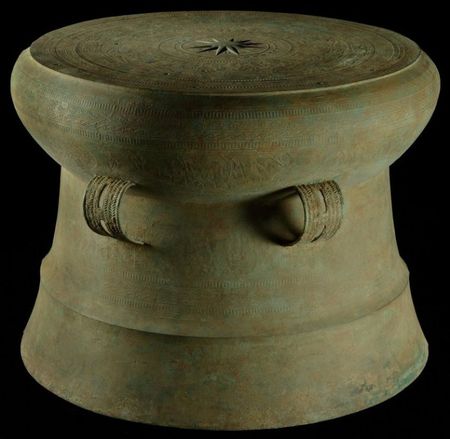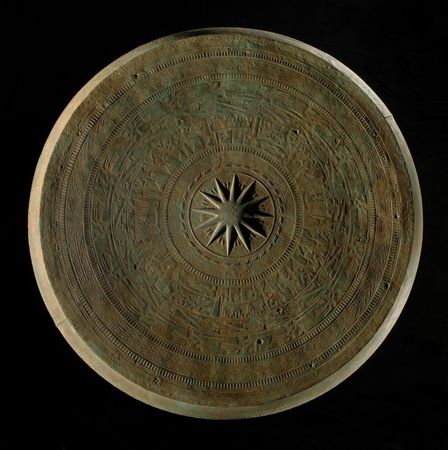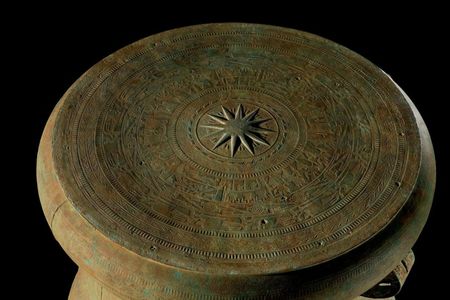 Bronze Dong Son Kettle Drum. Vietnam; Northern Vietnam, Dong Son Culture, 3rd Century BC – 1st Century AD © asianartresource.com
Deep green patinated bronze. H. 65 cms, 25 ½ ins; D. (at shoulder) 86 cms, 34 ins; D. (tympanum) 78 cms, 30 ¾ ins. Price on request
A large and exceptionally rare bronze kettle-drum, cast by the lost-wax method, with a deep green patina, the shoulder and main body with a series of vertical and horizontal bands of dash lines, saw-teeth and linked circles, decorated with fish, birds and scenes of feather men in boats and wielding spears and shields; the tympanum with similar geometric bands surrounding a twelve-point star and interspersed with multiple aquatic birds, round and flat roofed houses, pairs of standing figures pounding rice, platforms containing drummers beating time with sticks and parading musicians, the sides with two pairs of double 'rope' handles.

This spectacular drum is a veritable tour de force of bronze casting. Among its many remarkable features is the presence of drummers beating kettle drums with long poles, an important clue to the function of these objects and to the method by which they were played. Dong Son drums, also known as Heger Type I drums, are mainly attributed to the Dong Son culture, centred on the Red River Delta of northern Vietnam. They were produced from around 600 BC until the third century AD and have been found across a vast area of Southeast Asia from Vietnam and Southern China to eastern Indonesia. There has been much speculation as to whether the drums were made for religious ceremonies such as harvest rituals or burials, served to rally men for war, or if they had a more secular role. In folk lore they are known as 'rain drums' and played to summon rain or to placate storms.

One of the most celebrated examples of Dong Son drums is named Hoàng Ha (after the village in which it was discovered) and closely resembles this example – see p. 121 in Ha Thuc Can, The Bronze Dong Son Drums, Singapore and Hong Kong, 1989. This drum is also illustrated as plate 11.20b in A. J. Bernet Kempers, The Kettledrums of Southeast Asia: A Bronze Age World and Its Aftermath, Rotterdam and Brookfield: A.A. Balkema, 1988 and on pp. 6-7 in Pham Huy Thong et al, Dong Son Drums in Vietnam, Social Science Publishing House, 1990.
asianartresource.com 37 Bury Street, St James's, London, SW1Y 6AU, U.K. United Kingdom - Tel: 020 7839 3414 - Fax: 020 7839 3415 - Email: asianartresource@aol.com