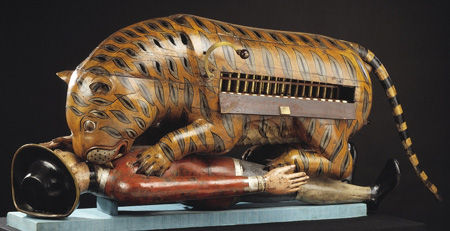 Tippoo's Tiger, automaton with mechanical organ, India, about 1793. Museum no. 2545(IS). Victoria & Albert Museum, London
This extraordinary model of a tiger devouring a European belonged to the Indian ruler Tipu Sultan. Tipu was known as the 'Tiger of Mysore' and the automaton was a symbol of his authority and a reflection of his opposition to the British. The tiger houses an organ, possibly the work of a Frenchman in Tipu's service, which simulates its roar and the shrieks of the victim.
'Tiger and Magpie', painting, Korea, 1850-1910. Museum no. FE.68-1997. Victoria & Albert Museum, London
Paintings of tigers and magpies were popular in Korea in the 19th century and were often displayed on the front gate of homes at New Year. In Korea, the tiger is considered the most powerful of evil-repelling animals, while magpies are traditionally viewed as the bearers of good news. This subject matter was thus not only visually appealing, but was also thought to provide protection and attract good fortune for the forthcoming year.
The humour of this particular painting is characteristic of the genre. Two magpies look down on the tiger from the safe distance of a pine tree. Frustrated by their constant chattering but powerless to stop it, the tiger growls back at them, revealing his red tongue and two fangs.
Netsuke, Tomin, Japan, about late 18th or early 19th century. Museum no. A.939-1910. Victoria & Albert Museum, London
The netsuke is a toggle. Japanese men used netsuke to suspend various pouches and containers from their sashes by a silk cord. Netsuke had to be small and not too heavy, yet bulky enough to do the job. They needed to be compact with no sharp protruding edges, yet also strong and hardwearing. Above all they had to have the means of attaching to a cord. Netsuke were made in a variety of forms, the most widely appreciated is the katabori (shape carving), a three-dimensional carving, such as this one in the form of a tiger. From the 18th century onwards, netsuke were increasingly signed by the craftsman. This example is signed 'Tomin'. Tomin (late 18th to early 19th centuries) was a follower of Tanaka Minko (1735-1816), the founder of a small group of netsuke carvers in Tsu, Ise province. They both worked in similar styles, producing distinctive tiger netsuke. These are invariably portrayed with the head turned back to the left, the mouth open and with comparatively large paws, while the long tail is curled round the body, as in this example.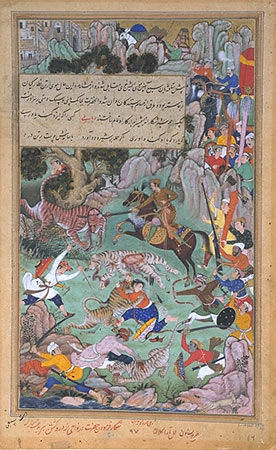 Basawan (artist), Tara (the Elder), 'Akbar slays a tigress which attacked the royal entourage', India or Pakistan, 1590-1595. Museum no. IS.2-1896 (17/117). Victoria & Albert Museum, London
This painting is from the Akbarnama. The Akbarnama was commissioned by the Mughal emperor Akbar as the official chronicle of his reign. It was written by his court historian and biographer Abu'l Fazl between 1590 and 1596 and is thought to have been illustrated between about 1592 and 1594 by at least 49 different artists from Akbar's studio. After Akbar's death in 1605, the manuscript remained in the library of his son, Jahangir (r. 1605-1627) and later Shah Jahan (r.1628-1658). The Victoria and Albert Museum purchased it in 1896 from Mrs Frances Clarke, the widow of Major-General John Clarke, who bought it in India while serving as Commissioner of Oudh between 1858 and 1862.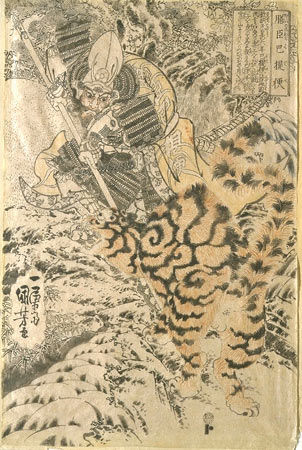 'Kashiwade no Hatebe', drawing, Utagawa Kuniyoshi (artist), Yamaguchiya Tobei (publisher), Japan, mid 1830's. Museum no. E.2251-1909. Victoria & Albert Museum, London
This depiction of the warrior Kashiwade no Hatebe battling with a tiger is one of the earliest extant hanshita-e (final drawings for pasting onto woodblocks for the woodcutters' guidance) by Kuniyoshi (1797-1861). Never published as a finished print, it is a valuable example of Kuniyoshi's skills in design and draughtsmanship. It is a musha-e or 'warrior print', a genre depicting heroes from history and myth. From early in his career, Kuniyoshi showed a predilection for the romance and mystery of history and legend.
Tiger Years: 1902, 1914, 1926, 1938, 1950, 1962, 1974, 1986, 1998, 2010, 2022
People born in the Year of the Tiger are born leaders, who walk and talk assertively and inspire respect. They are courageous and energetic, love a challenge or competition and are prepared to take risks. They are hungry for excitement and crave attention. They can also be rebellious, short-tempered and outspoken, prefering to give orders rather than take them, which often leads to conflict. Tiger people may appear calm but there is often a hidden aggressiveness, but they can also be sensitive, humorous and capable of great generosity and love. There is never a dull moment with a Tiger.