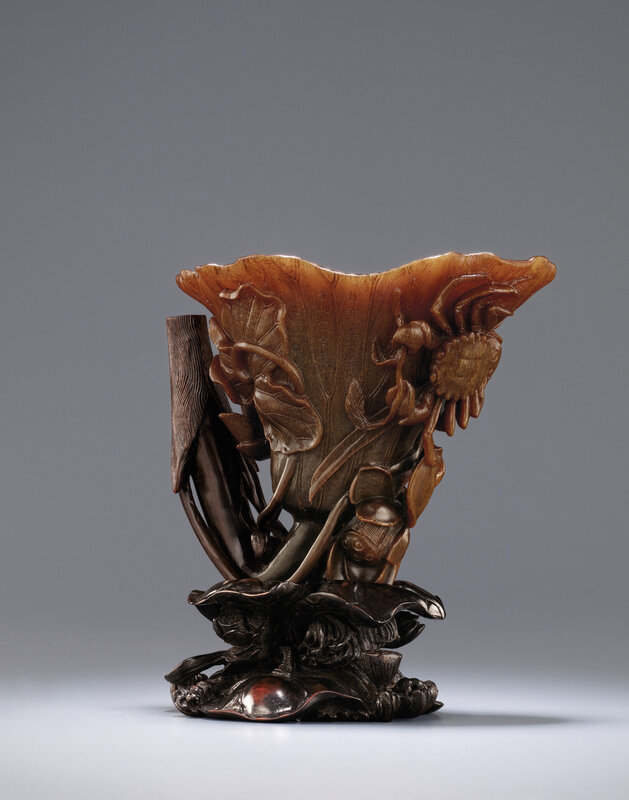 Lot 1823. A rare and supberly carved lotus-leaf shaped rhinoceros horn waterdropper, Kangxi period (1662-1722); 5 5/8 in. (14.3 cm.) wide. Weight: 8.5 oz. (242 gm.). Estimate HKD 2,000,000 - HKD 2,500,000. Price Realized HKD 11,300,000. © Christie's Images Ltd 2010.

Naturalistically modelled as a furled inverted lotus leaf, finely carved in deep relief around the exterior with a crab grasping a millet spray amongst leafy budding and blossoming lotus foliage and long blades of grass, all borne on long stems curving up to one side joining the large, well-hollowed central stem which forms a pouring spout, its slender channel connected to a hole in the centre of the interior, one side of the cup with a two-line poetic inscription and followed by the maker's mark Shen Ruyi in shallow relief, the material ranging from a rich deep honey tone to walnut brown, wood stand, box.
Provenance: Acquired in New York, 1985
Literature: T. Fok, Connoisseurship of Rhinoceros Horn Carving in China, Hong Kong, 1999, p. 137, no. 88
Exhibited: Hong Kong Museum of Art, Metal, Wood, Water, Fire and Earth: Gems of Antiquities Collections in Hong Kong, 2002-2005, illustrated in the Catalogue, no. 72
Note: The inscription reads:

Zizi lianjia di, yuyi dingxuan huang

It may be translated as 'To attain First Rank*, Heaven and Earth shall be at (one's) command'.

*This is in reference to achieving the first placement in the Qing civil service examination. The meaning is derived from the word jia which is often associated with the crab's hard shell. In this instance the shell is compared to an armour, jia, and is homophonous to the classification of successful candidates in the palace examination.

The carving on the cup is exceptional in its superb quality, naturalistic detail and subject-matter. The lotus, one of the Eight Treasures of Buddhism is symbolic of purity and became one of the most popular themes in rhinoceros horn carving. The inclusion of a crab is also a known theme. The stalk of millet held in its pincers, sui, together with the crab, xie, is a rebus for harmony. The theme is further discussed by J. Chapman, The Art of Rhinoceros Horn Carving in China, Hong Kong, 1999, p. 188.

A similar but unsigned rhinoceros horn waterdropper with crab and millet from the R.H.R. Palmer Collection was sold at Christie's London, 4 November 2008, lot 31. A related rhinoceros horn waterdropper but detailed with insects is in the Shanghai Museum collection, bearing a 'You Kan' sealmark, and is illustrated by T. Fok, Connoisseurship of Rhinoceros Horn Carving in China, Hong Kong, 1999, p. 151, no.101. Another example again signed by the maker Zhi Sheng from the Songzhutang collection, sold at Christie's Hong Kong, Important Chinese Rhinoceros Horn Carvings from the Songzhutang Collection, 27 May 2008, lot 1716.

For an explanation on how the carver worked the rhinoceros horn in order to bend the spout, refer to T. Fok, op. cit., Hong Kong, 1999, p. 29.
Christie's. Important Chinese Rhinoceros Horn Carvings from The Songzhutang Collection Part II, 31 May 2010, Hong Kong