A diamond and treated colored diamond butterfly brooch, by Carvin French. Photo: Christie's Images Ltd 2010
Designed as a butterfly, the body centering upon a cushion-cut diamond, weighing approximately 5.02 carats, flanked by two inverted pear-shaped diamonds, extending old mine, old European and circular-cut diamond articulated wings, each wing bezel-set with two larger old mine and pear-shaped diamonds and five circular-cut treated fancy vivid green-yellow or treated fancy intense greenish yellow diamonds, mounted in platinum and 18k white gold. With maker's marks for Carvin French - Estimate $500,000 - $700,000
With nine reports dated from 13 to 14 April 2010 from the Gemological Institute of America stating that nine of the diamonds, weighing from approximately 0.83 to 0.45 carat, are HPHT processed fancy vivid green-yellow, and range from VS1 to I1 clarity

With report 2115899422 dated 13 April 2010 from the Gemological Institute of America stating the diamond, weighing approximately 0.44 carat, is HPHT processed fancy intense greenish yellow and VS2 clarity

With report 5101605789 dated 9 March 2009 from the Gemological Institute of America stating that the diamond, weighing approximately 5.02 carats, is G color, VVS1 clarity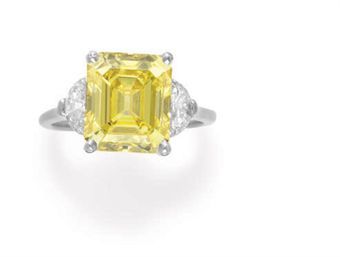 A superb colored diamond. Photo: Christie's Images Ltd 2010
Set with a rectangular-cut fancy vivid yellow diamond, weighing approximately 6.36 carats, flanked on either side by a half moon diamond, mounted in gold and platinum - Estimate $250,000 - $350,000
With report 2115743948 dated 24 February 2010 from the Gemological Institute of America stating that the diamond is fancy vivid yellow, natural color, VS1 clarity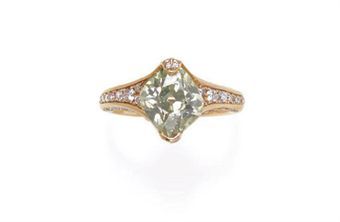 A colored diamond. Photo: Christie's Images Ltd 2010
Set with a round-cornered modified rhomboid-cut fancy yellowish green diamond, weighing approximately 2.52 carats, held by circular-cut pink diamonds, to the circular-cut pink diamond shoulders, mounted in 18k rose gold - Estimate $250,000 - $350,000
With report 13366855 dated 18 August 2004 from the Gemological Institute of America stating that the diamond is fancy yellowish green, natural color, SI1 clarity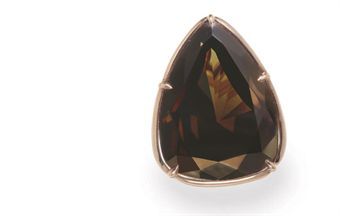 A colored diamond and gold ring. Photo: Christie's Images Ltd 2010
Set with a pear-shaped fancy dark brown diamond, weighing approximately 37.07 carats, within a polished 18k rose gold surround, to the 18k rose gold hoop - Estimate $120,000 - $150,000
With report 1112396160 dated 2 December 2009 from the Gemological Institute of America stating that the diamond is fancy dark brown, natural color, SI2 clarity
A colored diamond ring. Photo: Christie's Images Ltd 2010
Set with a modified rectangular-cut fancy yellow diamond, weighing approximately 12.12 carats, flanked on either side by a modified bullet-cut diamond, mounted in platinum and 18k gold - Estimate $90,000 - $120,000
With report 2115074620 dated 27 August 2009 from the Gemological Institute of America stating that the diamond is fancy yellow, natural color, SI1 clarity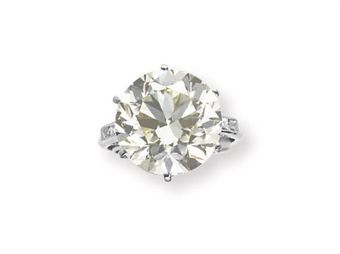 A colored diamond ring. Photo: Christie's Images Ltd 2010
Set with a light yellow old European-cut diamond, weighing approximately 14.26 carats, flanked on either side by two baguette-cut diamonds, mounted in platinum - Estimate $70,000 - $100,000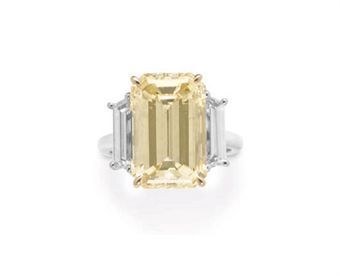 A colored diamond ring. Photo: Christie's Images Ltd 2010
Set with a cut-cornered rectangular-cut light yellow diamond, weighing approximately 9.57 carats, flanked on either side by a trapeze-cut diamond, mounted in 18k gold and platinum - Estimate $60,000 - $80,000
A colored diamond ring. Photo: Christie's Images Ltd 2010
Set with a modified square-cut fancy yellow diamond, weighing approximately 6.88 carats, flanked on either side by a trapeze-cut diamond, mounted in platinum and gold - Estimate $50,000 - $70,000
With report 5111453256 dated 9 December 2009 from the Gemological Institute of America stating that the diamond is fancy yellow, natural color, VS2 clarity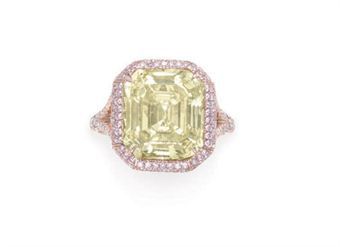 A colored diamond ring. Photo: Christie's Images Ltd 2010
Set with a cut-cornered rectangular-cut fancy greenish yellow diamond, weighing approximately 5.75 carats, within a pavé-set pink diamond surround, to the bifurcated pink diamond shoulders, mounted in 18k rose gold - Estimate $40,000 - $60,000
With report 10217537 dated 26 September 1997 from the Gemological Institute of America stating that the diamond is fancy greenish yellow, natural color, VS2 clarity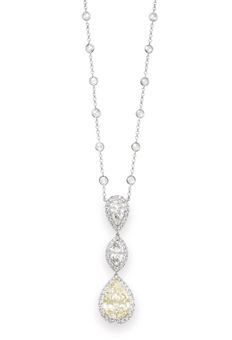 A colored diamond pendant necklace. Photo: Christie's Images Ltd 2010
Suspending a pear-shaped light yellow diamond, weighing approximately 7.63 carats, spaced by a marquise-cut diamond, weighing approximately 1.32 carats, from an inverted pear-shaped diamond, weighing approximately 1.77 carats, each within a circular-cut diamond surround, to the 18k white gold fine link and rose-cut diamond neckchain, mounted in 18k yellow and white gold, 15¾ ins.- Estimate $40,000 - $60,000
With report 2111460519 dated 7 December 2009 from the Gemological Institute of America stating that the pear-shaped diamond, weighing approximately 1.77 carats, is H color, SI1 clarity

With report 5111373181 dated 18 November 2009 from the Gemological Institute of America stating that the marquise-cut diamond, weighing approximately 1.32 carats, is H color, SI1 clarity
A pair of colored diamond and diamond ear pendant. Photo: Christie's Images Ltd 2010
Each suspending a pear-shaped light yellow diamond, weighing approximately 5.01 carats each, from a line of seven circular-cut diamonds, mounted in 18k gold and platinum - Estimate $40,000 - $60,000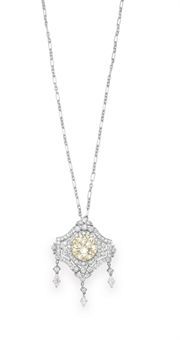 A colored diamond pendant necklace. Photo: Christie's Images Ltd 2010
Designed as a pierced old European and single-cut diamond scalloped plaque, set with a circular-cut fancy brownish yellow diamond, weighing approximately 8.22 carats, suspending three marquise and old European-cut diamond articulated pendants, to the link neckchain, mounted in platinum and white gold, 15½ ins.- Estimate $35,000 - $55,000
With report 16836965 dated 7 February 2008 from the Gemological Institute of America stating that the diamond is fancy brownish yellow, natural color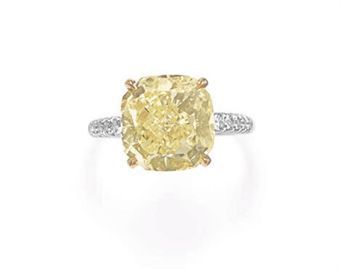 A colored diamond ring. Photo: Christie's Images Ltd 2010
Set with a modified square-cut fancy yellow diamond, weighing approximately 7.02 carats, to the graduated circular-cut diamond shoulders, mounted in 18k gold and platinum - Estimate $30,000 - $50,000
With report 5111295516 dated 23 October 2009 from the Gemological Institute of America stating that the diamond is fancy yellow, natural color, VS2 clarity
A pair of striking colored diamond ear pendants, by Tamsen Z. Photo: Christie's Images Ltd 2010
Each designed as a vertical series of four variously-shaped rose-cut yellow diamond slices, weighing approximately 16.09 carats total, each within a circular-cut diamond surround, mounted in 18k gold, in a Tamsen Z purple leather case. By Tamsen Z. Estimate $18,000 - $25,000
Notes: Ann Ziff, founder of Tamsen Z, has had a life-long love affair with jewelry and is drawn to the stones that bring a piece to life. As a child, Ziff was fascinated by the elaborate jewelry worn by her mother, famed America opera singer Harriet Henders, and throughout her childhood she was surrounded by artistic expression. What started during her youth as an interest in hand crafts and creating costume beaded headpieces and necklaces, has grown to become a passion for fine jewelry design. As Ziff's fever for design grew, she started collecting the rarest and most beautiful materials and gemstones.

For the past 35 years Ziff has collected vintage art deco pieces from celebrated designers such as René Boivin; yet she always had a deep-rooted desire to create jewelry that would express her signature style. Ziff was further encouraged by her late husband, William B. Ziff, Jr., a prominent publishing world figure, to begin collecting precious gems of her own.

Drawing inspiration from nature and fantasy, the Tamsen Z collection conveys a timeless femininity. Through Ann Ziff's use of color and unique materials, the collection is brought to life. Ranging from turquoise to fire opals and diamonds to polished meteorites, the one-of-a-kind gems are selected for their natural beauty which is enhanced by their precise cut.

Chosen from the most unusual colored diamonds, the Tamsen Z Diamond Paradise collection features the extraordinary beauty of natural colored diamonds in handcrafted bracelets, rings, pendants and earrings. In colors perfect for the season, the collection is made up of white, gray, brown, black and yellow diamonds which create a striking nature-inspired palette.
Christie's, New York Jewels, 15 June 2010, New York, Rockefeller Plaza www.christies.com