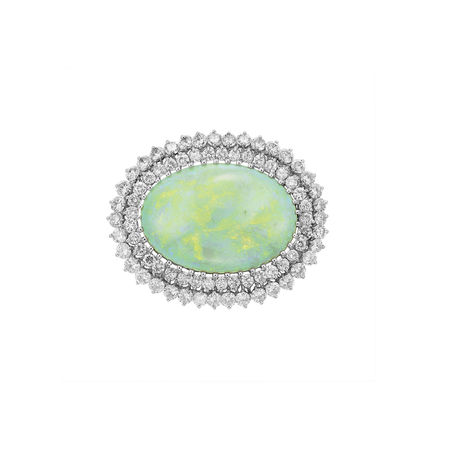 Opal and Diamond Brooch. Photo: Courtesy Doyle New York
White gold, one oval opal ap. 34.00 cts., 75 diamonds ap. 7.25 cts., ap. 13 dwt. Estimate $4,000-6,000
Pair of Blackened Silver, White Gold, Diamond and Opal Pendant-Earrings. Photo: Courtesy Doyle New York
Estimate $2,500-3,500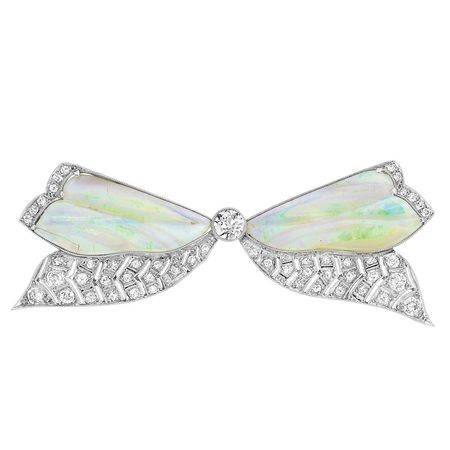 Edwardian Platinum, Carved Opal and Diamond Bow Brooch. Photo: Courtesy Doyle New York
Centering one old European-cut diamond approximately .25 ct., flanked by two carved opal ribbons edged by single-cut diamonds and two pierced platinum ribbons accented by single-cut diamonds, circa 1915, approximately 7.5 dwt. Estimate $2,000-3,000

Property of a New Jersey Estate

Opal: overall pastel blue and green flashes with some pink flashes, minor crazing, hairline crack in one corner, slightly visible to eye, good polish, translucent. Diamond: I-SI. Overall good condition. Well-made. 1 7/8 x 2 1/2".
Nugget Gold, Opal and Diamond Bangle Bracelet. Photo: Courtesy Doyle New York
20 diamonds ap. 1.95 cts., ap. 58 dwt. Inner cir. 6 1/4 inches. Estimate $1,800-2,400

Opals: overall bluish-green with some red flashes, several smaller stones are milky white with some green flashes, good polish, no crazing. Diamonds: I-J-SI-Imp. Overall good condition. Width 1 1/4 to 11/16".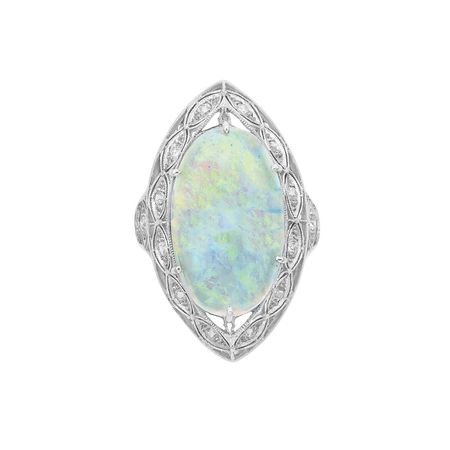 Edwardian Platinum, Opal and Diamond Ring. Photo: Courtesy Doyle New York
One oval opal ap. 4.50 cts., c. 1910, ap. 4.7 dwt. Size 7. Estimate $1,500-2,000
Doyle New York. Important Estate Jewelry - Wednesday, September 29 at 10am www.doylenewyork.com