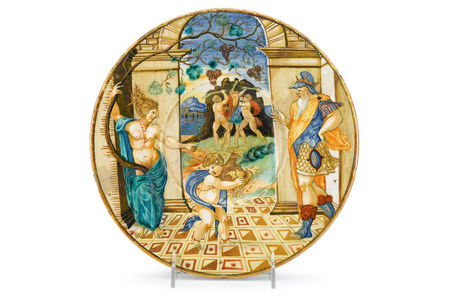 Italian maiolica istoriata dish, Urbino, mid 16th Century. Sold at $157,000.
PHILADELPHIA, PA.- Late Wednesday evening, Freeman's received a call for a special private viewing from a Parisian who had flown over to see Italian maiolica istoriata dish, measuring only 10 1/8th inch in diameter. The next day, the small, but beautiful plate was sought after by in-room bidders and nearly ten phone lines, eventually selling at $157,000, far exceeding the conservative high estimate.

The plate was sourced by a Freeman's specialist in Charlottesville, Virginia, who worked with a private client who came to own the piece through family legacy. The plate was originally purchased by his grandfather, years ago, while travelling through Italy.

Rob Waterhouse, Head of the English & Continental Department, was delighted with the entire Fine English & Contemporary Furniture, Silver, and Decorative Arts - including Oriental Rugs auction, commenting, "Once again, Freeman's has established itself as a leader in the market, offering fresh to market property of the finest quality, attained through decades of connoisseurship. It is a testament to the quality of service provided at Freeman's that we continue to be trusted to appraise and auction private collections of such refined quality."

Other highlights from auction included a Bohemian gilt decorated and clear glass amphora, that well exceeded the low estimate selling for $25,000, and A Fine George IV rosewood, brass inlaid, and parcel gilt center table, circa 1820, that stole the show Wednesday, selling for $31,000.

Overall, the oldest auction house in America enjoyed an excellent week, selling fresh and exquisite private property to reach total sales over 2.3 million dollars; making it an excellent catalyst for what promises to be an exciting season.