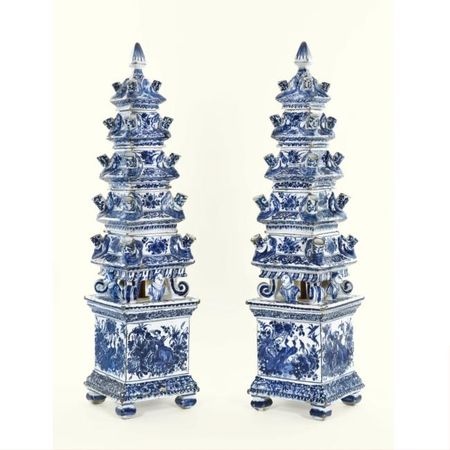 A pair of Dutch delft pyramid flower vases, late 17th / early 18thcentury. photo courtesy Sotheby's
formed of five tapering stages, one fixed, above a square plinth, (the top two stages later replacements), each stage with a gargoyle spout at each corner and painted in tones of blue with chinoiserie flowers, fungi and shells, the lower fixed stage with scroll feet separated by busts, the plinth sides with alternating panels of peacocks in gardens and Ceres among lush flowers with a cornucopia, on blue-washed bun feet; 71cm., 28in. Estimate 60,000—80,000 GBP. Lot Sold 133,250 GBP.
LV monogram marks, perhaps for Lambertus van Eenhoorn
PROVENANCE; Jacob Stodel, at time of exhibition in 1988
EXHIBITED: 'William and Mary: A Crown on a Special Bond' at Sotheby's Amsterdam, 12-22 November 1988, Catalogue no.43 (without tops)
LITERATURE AND REFERENCES: D.F. Lunsingh Scheurleer, Delft, Niederlandische Fayence, Munich 1984, p.257, ill.201
NOTE: Though quintessentially Dutch in spirit, these elaborate pyramid flower vases seem to have been almost exclusively made for English clients, usually the most loyal of the members of the contemporary English court, in a brief period of fashionability following Queen Mary's order to Daniel Marot for a series of imposing designs for large vases to be made at her beloved factories in Delft in order to line the Water Gallery at Hampton Court.
Members of the Court who ordered similar suites of vases included the Dukes of Devonshire and Marlborough, and such loyal supporters as Sir John and Lady Mary Germain at Drayton, but in the event, even the Water Gallery itself was not finished at the untimely death of Queen Mary in 1694. Following William's own death in 1702, and with Queen Anne's antipathy for the whole project, the fashion for these extraordinary pieces, and for all things Dutch, seems to have faded away very quickly.
Vases of this type survive at Chatsworth, Dyrham, Castle Howard and of course, Hampton Court itself. Exceptionally, vases made for Bohemian and Moravian families in the late 17th century also remain, now in Prague Museum.
Queen Mary's own collection seems to have been dispersed, making some distinction between pieces whose decoration included the English Royal Arms and pieces without, with many examples passing to the Earl of Albemarle, and perhaps to other loyal supporters of the previous court.
Queen Mary's passionate support for her home industry at Delft was matched by her interest, shared with her husband , in gardens and horticulture. Though we tend to think of the fashion as 'tulipomania', there was in fact a much more widely-based and more informed interest in all types of exotic flowers, and it is incorrect to call these pieces 'tulip vases'. They were referred to as 'flower pyramids' in contemporary descriptions, and the admittedly very few contemporary illustrations of them in use show them filled with all manner of extraordinary flowers.
A pair of Dutch blue and white Delft pyramid flower vases, late 17th century / early 18th century. photo courtesy Sotheby's
formed of three tapering stages, one fixed, above a baluster plinth , each stage with a gargoyle spout at each corner and painted in tones of blue with flowers and lambrequins, the lower fixed stage with scroll feet separated by busts, the plinth sides with alternating panels of chinoiserie peacocks in garden, on four bun feet painted with blue flowers; 40.5cm., 16in. - Estimate 20,000—30,000 GBP. Lot Sold 55,250 GBP
LV monogram marks, perhaps for Lambertus van Eenhoorn
PROVENANCE: Acquired from Vanderven & Vanderven at Maastricht in 1986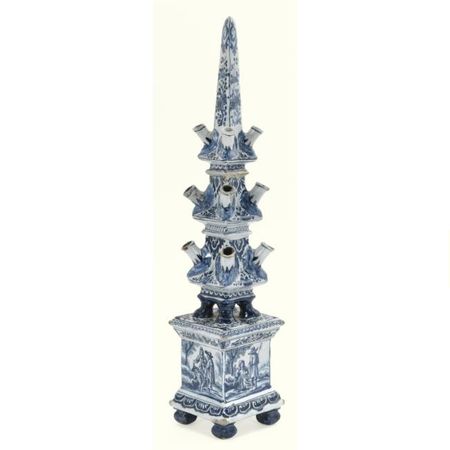 A Dutch delft obelisk, circa 1720. photo courtesy Sotheby's
formed of three tapering stages, on a square plinth, each stage with a lion spout at each corner and painted in tones of blue with chinoiserie blossoms, the lower stage separated by four blue feet, the plinth sides with rustic scenes, on three blue bun feet ( some restoration on the nozzles of the middle stage, the top stage repaired and glued); 42cm., 16½ in. - Estimate 3,000—4,000 GBP. Lot Sold 11,250 GBP
LVE monogram for Lambertus van Eenhoorn
PROVENANCE: Acquired from Jacob Stodel Antiques
A Dutch delft blue and white "quintal flower horn", circa 1720, photo courtesy Sotheby's
with scroll handles and five spouts painted in blue with scrolling foliage, each side painted in blue with a cockerel amidst flowers, on a blue-ground square base with alternating panels of white blossoms and foliage ( one nozzle restored); 21cm., 8¼in. Estimate 2,000—3,000 GBP. Lot Sold 4,750 GBP
LVE monogram mark for Lambertus van Eenhoorn
PROVENANCE: Acquired from Jacob Stodel Antiques
Sotheby's. Ashdown House: The Winter Queen and the Earl of Craven, 27 Oct 10 London www.sothebys.com