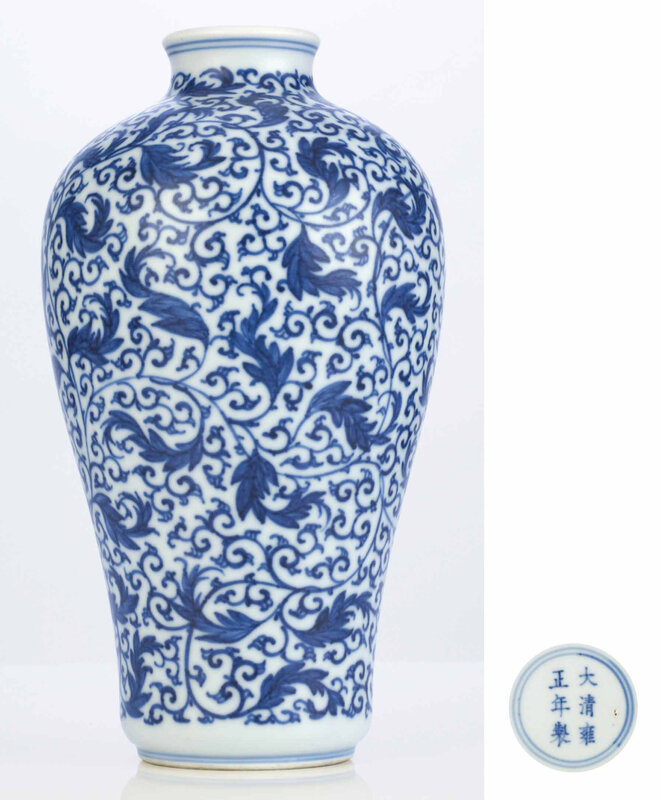 Lot 2966. A fine and very rare underglaze-blue vase, meiping, Yongzheng six-character mark within double-circles and of the period (1723-1735); 9 1/4 in. (23.3 cm.) high. Estimate HK$3,000,000 - HK$5,000,000. Price Realized HK$4,580,000 ($592,195). © Christie's Images Ltd 2010
Of slender form with the steeply rounded shoulder tapering gently to a broad ring foot inset from the slightly bulbous base, superbly painted in underglaze-blue of strong vibrant blue tone with scrolling tendrils growing feathery leaves, between double-lines at the foot and below the short cylindrical mouth rim.
Provenance: Previously sold:
Sotheby's New York, 24 May 1974, lot 428
Sotheby's Hong Kong, 23 May 1978, lot 137
An Important Private Collection of Ming and Qing Porcelain, sold at Sotheby's Hong Kong, 17 May 1988, lot 51
Literature; D. Duncan, Chinese Blue and White, London, 1988, pl. 58
Note: The present vase appears to be unique. A simiarly shaped Yongzheng-marked vase decorated with flower scrolls in underglaze-blue against a yellow-enamelled ground is illustrated by J. Ayers, Chinese Ceramics in the Baur Collection, vol. 2, Geneva, 1999, p. 90, no. 209.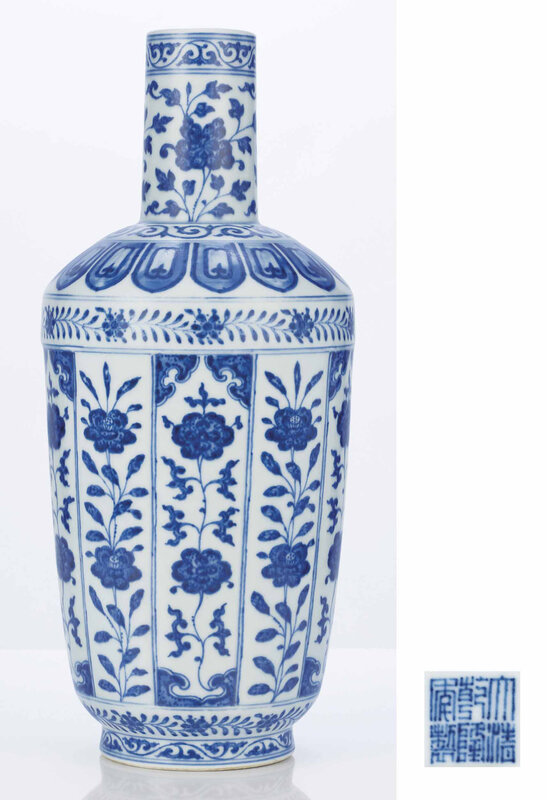 Lot 2969. A fine Ming-style blue and white bottle vase, Qianlong six-character sealmark and of the period (1736-1795); 12 1/8 in. (30.2 cm.) high. Estimate HK$1,200,000 - HK$1,800,000. Price Realized HK$2,420,000 ($312,907). © Christie's Images Ltd 2010
The tapering cylindrical body with shallow vertical lobes and painted in Ming-style with simulated 'heaping and piling' within panels of alternating flower stems, between horizontal borders decorated with floral meander, with a band of classic scroll encircling the slightly waisted foot, another on a moulded band on top of the canted shoulder above a band of pendent petal lappets, and repeated again above a band of three peony stems on the tubular neck.
Provenance: Previously sold at Sotheby's Hong Kong, 24 November 1987, lot 82
Note: The decoration and shape of this vase are based on fifteenth century ewers such as the one illustrated by John A. Pope, Chinese Porcelains from the Ardebil Shrine, Smithsonian Institution, Freer Gallery of Art, Washington, 1956, pl. 54 (bottom right), and another illustrated in Sekai toji zenshu, vol. 14, Tokyo, 1989, p. 25, pl. 17.

For another Qianlong-marked vase of the same pattern and size, see Xu Huping, Treasures in the Royalty: The Official Kiln Porcelain of the Chinese Qing Dynasty, Shanghai, 2003, p. 239; and another vase in the National Palace Museum, Taipei, illustrated in Blue-and-White Ware of the Ch'ing Dynasty, Book II, CAFA, Hong Kong, 1968, pl. 4. Other examples have sold at auction, such as the vase from the Toguri Collection, sold at Sotheby's London, 9th June 2004, lot 12.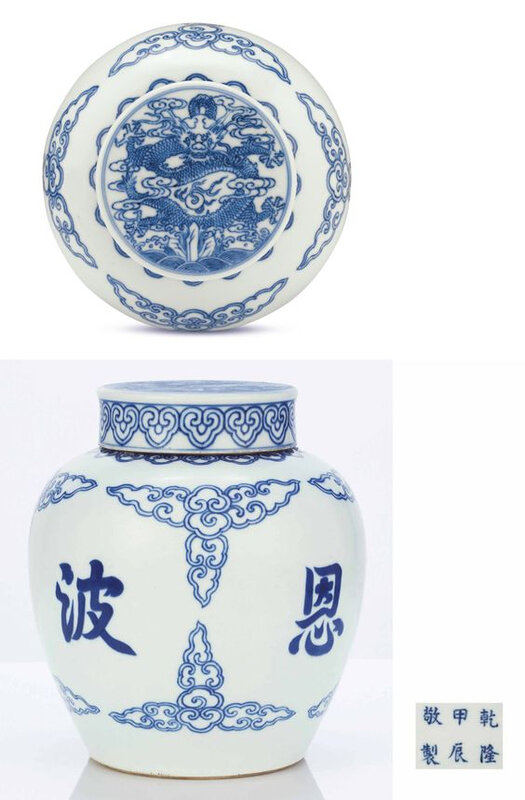 Lot 2967. A fine and very rare Imperial underglaze-blue jar and cover, Qianlong jiachen cyclical mark, corresponding to 1784 and of the period; 7 3/4 in. (19.5 cm.) high. Estimate HK$500,000 - HK$800,000. Price Realized HK$1,700,000 ($210,811). © Christie's Images Ltd 2010
The globular jar unusually painted with four characters, Tianzhu Enbo, 'The Prevailing Mercy of Buddha', divided by triangular cloud lappets, the shoulder with small ruyi in a continuous band, the domed cover painted to the flat top with a full-faced dragon above breaking waves, the peripheral sides with a band of larger ruyi-heads, the underside base bearing the characters, Qianlong Jiachen Jingzhi, 'Repectfully made in the Qianlong Jiachen year'
Provenance: Previously sold at Christie's Hong Kong, 8 October 1990, lot 494
Note: The production of covered jars bearing this inscription on the body is recorded by Geng Baochang, Mingqing Ciqi Jianding, Ming and Qing Porcelain on Inspection, Forbidden City Publishing, 1993, p. 395. The inscription suggests that the present jar was a special imperial commission, and was probably made for Buddhist ritual use. The characters Tian Zhu refers to Tian Zhu Guo, an ancient Chinese name for which India was known. The use of Tian Zhu in this instance is an ethereal reference to Buddhism with the two characters Enbo having a more complex meaning, referring to the omnipresence of Buddhism. Judging from the style of the calligraphy, it is possible that these four characters, Tianzhu Enbo, were copied onto ceramics by potters at the imperial kilns from calligraphy that had been previously written in the emperor's own hand.
Christie's. Luminous Colours: Treasures from the Shorenstein Collection, 1 December 2010, Hong Kong