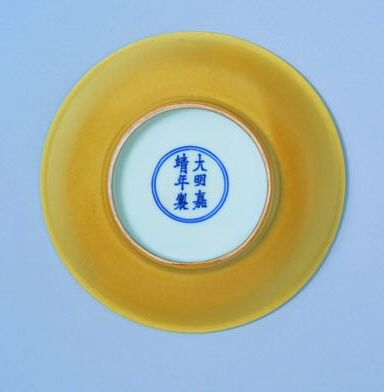 A Chinese Ming Imperial porcelain yellow glazed saucer dish. Six character mark of Jiajing within a double ring and of the period, 1522-1566. Courtesy Marchant
with flared rim, covered over all in a rich and even egg yolk yellow glaze slightly pooling on the exterior of the foot rim, the base glazed white; 6 7/8 inches, 17.5cm diameter. Price on request
• Formerly in a private English collection.
• Two similar dishes given by Sir. A.W. Franks, OAF.42, are illustrated by Jessica Harrison-Hall in Ming Ceramics in the British Museum, no. 9:75/6, p. 249.
• A large yellow glazed bowl, Jiajing mark and period was included by Marchant in their exhibition of Ming Porcelain, 26th October to 9th November 2009, no. 29, p. 68/9.
MARCHANT; www.marchantiques.com