Alongside the new, graceful aesthetic developed over the course of the Qianlong Emperor's long reign came a re-interpretation of traditional archaic Chinese design. At Freeman's in Philadelphia, three fine vases from the Qianlong Emperor's workshops will be offered for auction on March 19.
From the same 18th century imperial kilns producing archetypal ceramics that would be imitated for centuries also came fine pieces crafted in the manner of earlier Qing and Ming dynasty masters. A large and important Chinese blue and white Ming-style vase bearing a Qianlong seal mark and dating from the period (lot 603, illustrated, estimate available upon request), is a magnificent example. Not only does the blue and white vase incorporate stylistic elements from the period, it replicates a visual effect occurring only on earlier porcelain. The stippled "heaping and piling" that occurred on early Ming wares as a result of the reaction of less-refined cobalt blues during the firing process. As an emblematic characteristic of Ming blue and white wares, though, heaping and piling was considered a desirable feature. The painter, therefore, took on the laborious task of recreating the effect spot-by-spot. The endeavor was indisputably successful, resulting in a worthy tribute to imperial Ming blue and white porcelain wares. In a period when the finest craftsmen were known for creating illusory effects on porcelain such as faux bois and faux stone, this Ming-style vase is a tremendous example of the distinctive artfulness and skill employed at Qianlong's imperial kiln.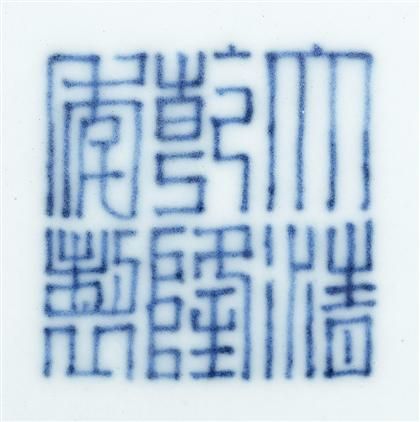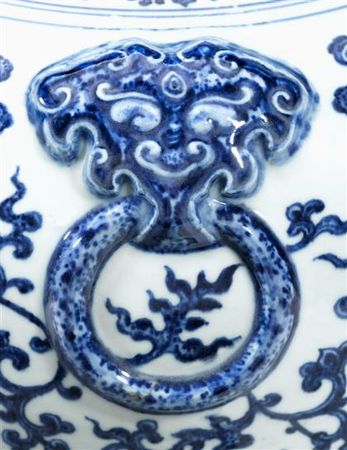 Large and important Chinese blue and white Ming-style vase. Qianlong seal mark and of the period. photo courtesy Freeman's Auctioneers & Appraisers
The robust hu-form vase decorated to ovoid body with chrysanthemum scrolls and blossoms enclosing shou symbols below the eight auspicious Buddhist emblems; neck adorned with further foliate scrolling and a wave band at rim; base decorated with lappet band and wave band at foot; with twin molded ring and mask handles; rich cobalt blue applied to imitate Ming "heaping and piling" effect. H: 19 1/4 in. ESTIMATE UPON REQUEST
PROVENANCE: Property of a Boston Collector
See Christie's Lot 211, March 24, 2004
Also of great interest is a fine and rare Chinese archaistic jade vase (lot 426, illustrated, est. $100,000-200,000) that bears the six-character Qianlong mark and dates from the period. This jade vase employs familiar archaic motifs, such as taotie masks and petal lappet bands, but intersperses them with elements that belie its ancient design. Within the wide taotie band encircling the ovoid body of the jade vase are phoenix and qilong heads, stylized lingzhi and scrolling banners replacing the traditional geometric elements common to the original and ritualistic taotie design. The prominent ring handles are a distinct Qianlong period re-interpretation of the traditional mask and ring handle. The detailed elephant heads are proud but subtly whimsical with leafy, cabbage-like ears. A favorite creature of the Qianlong emperor, elephants represented not only power but enduring peace and contentment in the Taoist tradition. The jade vase, replete withh tradition, subtlety, whimsy and grace, is a testament to the 18th century period when the art of jade carving reached an unparalleled height.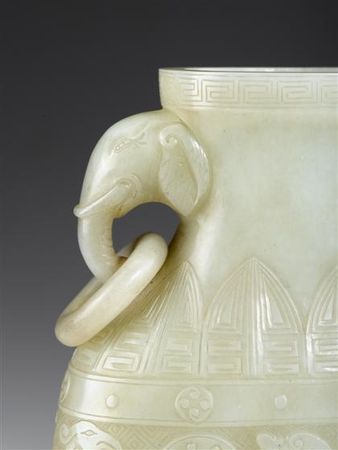 Fine and rare Chinese archaistic jade vase. Six character Qianlong mark and of the period. photo courtesy Freeman's Auctioneers & Appraisers
The large and twin-handled flattened vase subtly carved throughout with a profusion of archaic elements: the ovoid body with wide center band carved with taotie masks, phoenix and qilong heads over an incised diaper ground between geometric-filled lappet bands; rim and foot both carved with greek key bands; freely-carved ring handles supported by highly-detailed elephant heads bearing the joined tusks, expressive eyes and leafy ears typical to the style; jade of grey celadon hue. H: 11 1/2 in. Estimate $100,000-200,000
PROVENANCE: Property of a Boston Collector
Purchased in China early 20th century and thence by descent
Finally, Freeman's will be offering a large and impressive Chinese "gold flaked" bronze vase bearing the Qianlong seal mark (illustrated, est. $15,000-20,000). The ovoid vase, with a petal molded everted rim over a wide body, is infused with gold flakes throughout the burnished bronze body. Its crisp detail, symmetry and significant weight are a testament to the maker's skill and taste. It draws inspiration from early archaic vessels that had similar proportions and design elements. Ultimately, though, the maker followed in the tradition of his 18th century contemporaries by allowing the graceful, unadorned body and rich color to make the strongest aesthetic impression.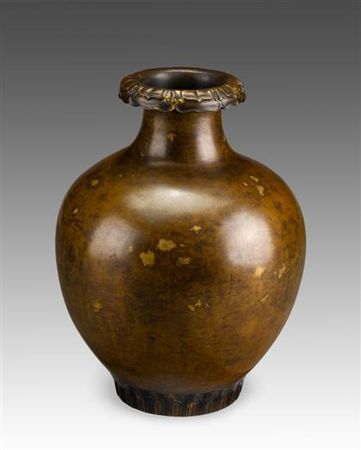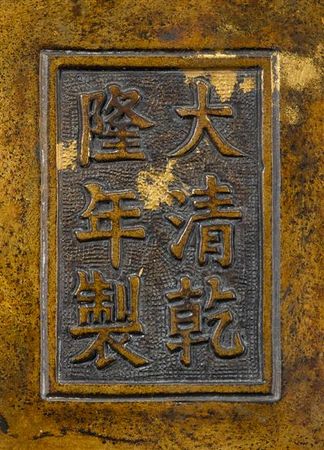 Large and impressive Chinese bronze and 'gold flake' vase . Qianlong Mark And Of The Period, photo courtesy Freeman's Auctioneers & Appraisers
Heavy and of tall ovoid form, with petal molded everted rim over wide body raised on lappet base; gold flakes throughout body; impressed six character mark to base. H: 12 1/2 in. Estimate $15,000-20,000
PROVENANCE: Property of a Private collector