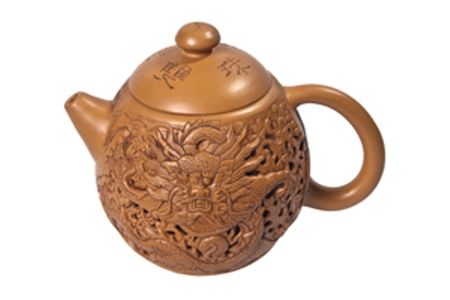 Zhou Xiaoming, Teapot Incised with Dragons. Buff stoneware. Collection of Phoenix Art Museum; Gift of James T. Bialac in honor of the Museum's 50th Anniversary, 2009.232.A-B. Photo by Mark Hendrickson
NORMAN, OK.- Following a major gift of Native American art by private collector James T. Bialac a year ago, the Fred Jones Jr. Museum of Art presents a new exhibition of contemporary Chinese teapots from Bialac's collection.

Tea & Immortality: Contemporary Yixing Teapots from the James T. Bialac Collection opened with a reception at 7 p.m. Friday, April 1, at the Fred Jones Jr. Museum of Art at the University of Oklahoma.

"Mr. Bialac's dedication to quality art and education continues in this new exhibition of selected works from his beautiful Chinese teapot collection," said Fred Jones Jr. Museum of Art director Ghislain d'Humières. "Mr. Bialac's gracious gift of his expansive collection of Native American art last year set the groundwork for this exciting new exhibition. This exhibition of intriguing teapots shows Mr. Bialac's breadth of appreciation for fine art."

The stoneware clays of Yixing, China, known locally as "zisha" or "purple sand," have been shaped into handsome utilitarian objects since the 14th century. By the 17th century, local craftsmen were using Yixing clay to create aesthetically sophisticated teapots for the scholar gentry of China. This selection of contemporary Yixing teapots from the James T. Bialac collection represents the delightfully whimsical culmination of this tradition.

In his lecture, The World in a Teacup: Some Observations on the Global Impact of Tea and Tea Culture, Atkinson discusses the impact of tea on the world culture. Tea has spread from its prehistoric origins in the jungles of southwest China to become the most popular prepared beverage in the entire world. Atkinson, a historian of Chinese art, tea aficionado and Yixing teapot collector, takes particular notice of the invention and spread of the ceramic teapot as a key element in the civilizing ritual of tea.

"Nothing coming out of China, with the possible exception of paper, has had the kind of widespread impact on other cultures that tea has had," Atkinson said. "There is nothing that reminds us of our shared humanity quite like the intimacy of sharing a pot of tea. Wherever you go on this planet, an invitation to tea is an invitation to join your host in quietly contemplating the benefits of civilization."

Although the exhibition features several dozen exotic teapots in the forms of animals, mythological creatures and more, Atkinson emphasized the importance of their function.

"Yixing Teapots are like utilitarian sculpture, and no matter how finely wrought, or carefully crafted, or cleverly shaped they might be – unless they can deliver a stream of hot tea safely into your teacup, they are no use at all," he said.

During the exhibition, the Museum Store offers replicas of teapots from the Bialac collection for sale. The individually priced Yixing teapots are close approximations to several pieces in the Bialac collection and, alongside the exhibition, have been selected to reflect the diversity represented in the collection.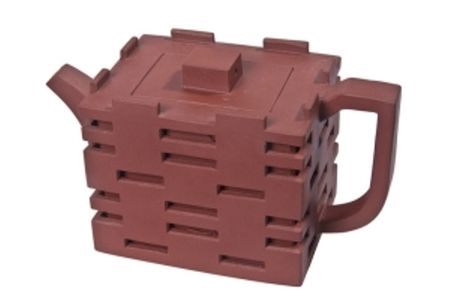 Rectangular teapot decorated with the Chinese characters for "double happiness". Commissioned by Red and Green Company. Red stoneware. Collection of Phoenix Art Museum; Gift of James T. Bialac in honor of the Museum's 50th Anniversary, 2009.234.A-B. Photo by Mark Hendrickson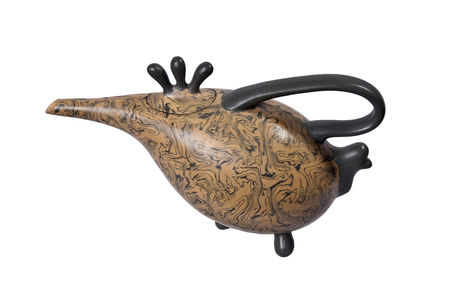 Mythical bird teapot. Buff and green stoneware (contemporary) Collection of Phoenix Art Museum; Gift of James T. Bialac in honor of the Museum's 50th Anniversary, 2009.229.A-B. Photo by Mark Hendrickson