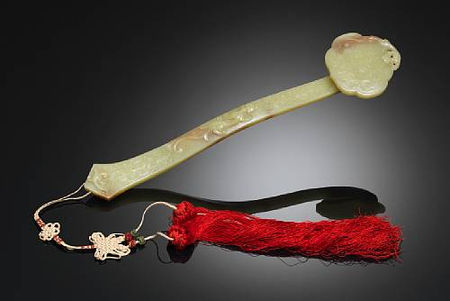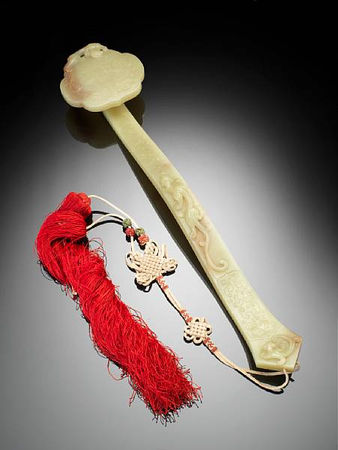 A very fine yellow jade ruyi sceptre. Qianlong. Photo Bonhams
Carved from a fine mostly even semi-opaque pale greenish-yellow stone with a few pale brown inclusions as a typical cloud-collar terminal, a small high-relief chilong curving around the upper edge, another crouching along the shaft and a third coiled in a loop at the pointed end of the shaft, the upper surface of the head with a wide shallow taotie mask, the upper side of the shaft with two crisp shallow relief cartouches of archaistic C-scrolls, the remainder of the body entirely plain, the surface attractively polished and lustrous, a double red silk thread tassel suspended from the end of the shaft. 37cm (14½in) long. Sold for £1,308,000
Provenance: According to family history, which is supported by family records illustrating the progress of British troops in Beijing at the time, this ruyi was acquired by a military attaché posted to Beijing at the time of the Boxer Rebellion in 1900. He was attached to the staff of Brigadier-General A.Gaselee, the commander of the British contingent assisting in suppressing the Boxer Rebellion on behalf of the Imperial Court, as one of the Eight Allied Powers.

Yellow jade was a favourite at the Qing court, and is believed to have been particularly admired by the Qianlong Emperor. The number of Imperial vessels and decorative items worked from this sought-after colour in the Qing court collections suggest its popularity within the Qing court.

The popularity of yellow jade is well documented as early as the Ming Dynasty. In Sir Percival David's translation of the Ming Dynasty text Gegu Yaolun (Essentials of Chinese Connoisseurship) the different colours of jade are described as follows: White jade; the most valuable stones are of mutton-fat colour, those with the colour of ice or of rice porridge, of the colour of fat or of snowflakes, are next in quality. Yellow jade; stones with the colour of the chestnut kernel, known also as sweet yellow, are the most valuable.

The present ruyi is extremely similar to another in the Palace Museum, Beijing (fig.1), exhibited in Japan in 1982 and illustrated in S.Bijutsujan and A.Shinbunsha, Pekin kokyu hakubutsuinten, Tokyo, 1982, p.47, where it is dated Qianlong. This suggests that the present yellow jade ruyi is not only a product of Imperial patronage, but was also produced during the Qianlong period.

A yellow jade vase and cover in the Qing Court collection, inscribed with a four-character Qianlong mark, is worked with an almost identical taotie mask on either side of the body, see The Complete Collection of Treasures of the Palace Museum. Jadeware III, Hong Kong, 1995, no.66.

A yellow jade brush washer, from the 'Pine and Bamboo Hall' collection, also dated to the Qianlong period and very similarly worked with a chilong dragon clambering over the rim is illustrated in Virtuous Treasures. Chinese Jades for the Scholar's Table, Hong Kong, 2008, Catalogue no.61. See also a yellow jade rhyton, again with chilong entwined around the body, illustrated in A Romance with Jade: From the De An Tang Collection, Hong Kong, 2004, Catalogue no.123.
Bonhams. Fine Chinese Art, 12 May 2011, New Bond Street www.bonhams.com