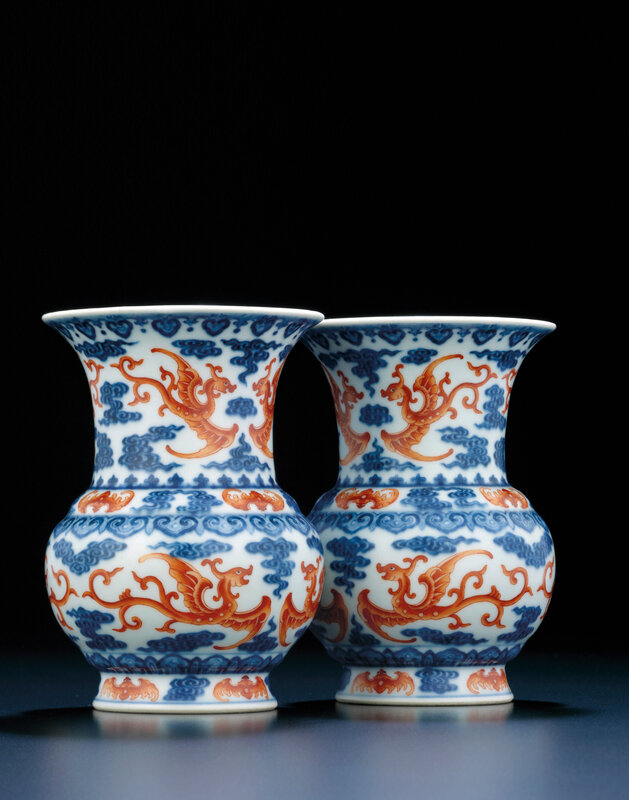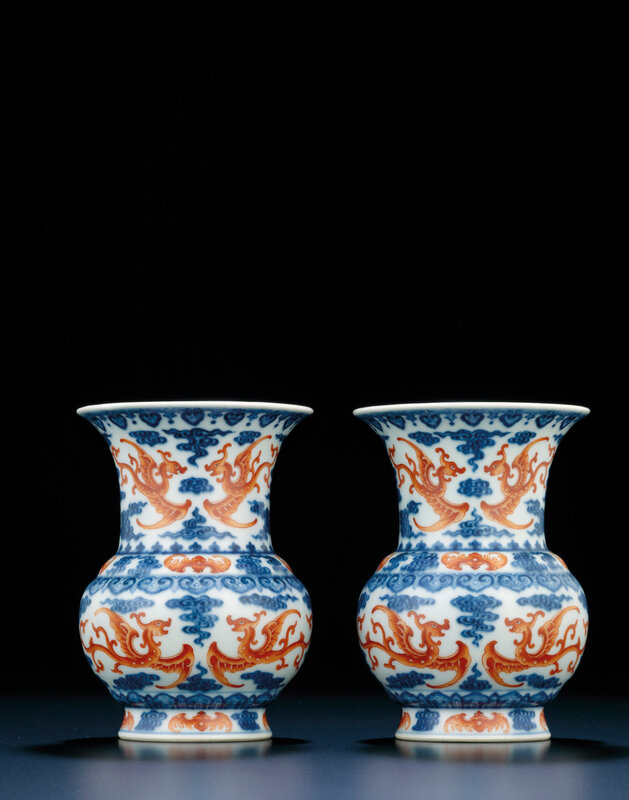 Lot 3652. An exquisite and extremely rare pair of underglaze blue and iron-red decorated vases, Qianlong six-character sealmarks and of the peruiod (1736-1795); 5 1/8 in. (12.7 cm.) high. Estimate HK$6,000,000 - HK$8,000,000 ($774,859 - $1,033,146). Price Realized HK$15,220,000 ($1,965,569). © Christie's Images Ltd 2011.
Each vessel is finely potted with a compressed globular body rising from a low splayed foot to an elegantly flaring mouth, the body and neck are superbly painted on each side in delicate shades of iron-red with pairs of confronted kui phoenix amidst wispy clouds in underglaze blue, all framed between bands of ruyi, the shoulder and splayed foot further decorated with narrow bands of bats amidst clouds (2).
Provenance: From the estate of Milo, 7th Baron Talbot de Malahide (1912-1973) of Malahide Castle, Co. Dublin, Republic of Ireland.
REVIVING ANTIQUITY: IMAGES OF QIANLONG KUI PHOENIXES
ROSEMARY SCOTT - INTERNATIONAL ACADEMIC DIRECTOR, ASIAN ART DEPARTMENT
These exceptional vases are very rare, as well as being very elegant vessels. Both the choice of decorative motifs and the technique of their decoration are rare, even amongst imperial wares. They are decorated with the auspicious motifs of kuifeng (kui phoenixes) and bats amongst clouds. While archaistic interpretations of kui dragons were used to decorate imperial porcelains as early as the Kangxi reign (1662-1722), and gained considerable popularity during the succeeding Yongzheng (1723-36) and Qianlong (1736-95) reigns, kui phoenixes are much rarer. Both are based upon the kui dragons which appear amongst the decoration on ancient cast bronzes of the Zhou dynasty (c. 1100-256 BC), but the kui phoenix appears to be an invention of imperial craftsmen of the 18th century, reflecting the court's increasing interest in archaistic designs.

One of the earliest depictions of the kui phoenix appears with kui dragons in low relief on a pale celadon-glazed Yongzheng vase in the collection of the Palace Museum, Beijing (1). However the kui phoenix became an established emblem on Chinese porcelains of the Qianlong reign. There are, for example, two Qianlong enameled porcelain vases from the Qing court collection preserved in the Palace Museum, Beijing. One, with elephant head handles, is decorated in fencai enamels in fahua style (2)). As on the current pair of vases, the kui phoenix on this enamelled vase is shown amongst auspicious clouds. The other Palace Museum Qianlong vase with kui phoenixes is painted in fencai enamels and shows the birds amongst floral scrolls(3), but like the current pair of vases combines the kui phoenixes with auspicious bats. One further Qianlong vase in the collection of the Palace Museum Beijing appears to be the only published example of a Qianlong vase with the kui phoenix design executed in underglaze blue and enamel. (4) This vase has kui phoenixes and dragons depicted in underglaze blue against a yellow enamel ground.

Very few examples of iron-red phoenixes, of any kind, amidst underglaze-blue clouds appear to have been published and the few examples that are known invariably display an exquisite delicacy and refinement in the painting of the phoenixes. The technique of combining underglaze blue and overglaze iron-red enamel appears to have its origins in ceramics of the Xuande period (1426-35), a rare example of which can be seen in a Xuande-marked bowl and cover decorated with iron-red dragons amidst underglaze-blue cloud wisps sold at Christie's London, 16 November 1998, lot 99. While the technique regained some popularity in the late Ming period, it appears to have been relatively rarely used during the Qing period. The reason for this is that, although the palette is an especially pleasing one, it required that the vessels on which it was use were fired twice - once with the underglaze blue decoration, and a second time, at a lower temperature, with the iron-red enamel. This made the pieces more costly, both in terms of the cost of fuel and also because each time pieces were fired some were damaged or fired unsuccessfully. A single vase identical to the present pair from the T.Y. Chao Collection was sold at Sotheby's Hong Kong, 19 May 1987, lot 320 and this appears to be the only other extant example of this exact form and decoration.

The fine iron-red and underglaze blue decoration on the present pair of vases relates very closely to that found on a penba hu ewer formerly from the Robert Chang Collection sold at Christie's Hong Kong, 28 November 2006, lot 1318. While the form is quite different, the painting of the clouds, ruyi borders and detailing of the dragons all compare very closely to pair of vases from the Talbot Collection.

Close parallels can also be drawn with examples decorated with a combination of puce-enamels and underglaze blue. Both palettes are relatively uncommon and appear on similar vessels and the fact they are usually very beautifully decorated with either phoenix or dragons points to the high regard in which they were held by the Qianlong Emperor. Compare a pair fanghu vases decorated in puce enamels and underglaze blue with dragons sold at Christie's Hong Kong, 30 April 2000, lot 600. Another similar vase decorated in underglaze copper-red and blue with confronted phoenix from the Evill Collection, is illustrated by S. Jenyns (5). The superb quality of the enamelling on the present vases also compares very well to an important Qianlong-marked moonflask from the Shorenstein Collection decorated in puce-enamels and underglaze blue sold at Christie's Hong Kong, 1 December 2010, lot 2968 . Another smaller but very similarly decorated 'phoenix' moonflask decorated in iron-red and underglaze blue, formerly in the collection of Major the Hon, Robert and Violet Carnegie, was sold at Christie's Paris, 22nd November 2006, lot 326. A related Qianlong-marked larger vase decorated in iron-red and underglaze blue with a floral design is in the Palace Museum Collection, Beijing (6).

The castle from which the current pair of vases originate, Malahide Castle near Dublin, is one of the oldest and most historic in Ireland. It was the home of the Talbot family from AD 1185 until 1975, when, following the death of Milo Lord Talbot, 7th Baron, in 1973, the castle was sold to the Irish State, partly in order to cover inheritance taxes. The Talbot family has played an important part in English and Irish history for some eight centuries, since the first Lord, Richard Talbot, whose family were Lords of Shrewsbury, England, came to Malahide during the reign of Henry II. The castle was temporarily lost to the family for a short time, 1649-60, when Oliver Cromwell gave it to Miles Corbet after the English Civil War and Cromwellian conquest of Ireland. However, with the restoration to the throne of Charles II in 1660 the castle was restored to the Talbots, who continued to live there for another 300 years.

1. Illustrated in Kangxi. Yongzheng. Qianlong: Qing Porcelain from the Palace Museum Collection, Hong Kong 1989, p. 270, no. 99.
2. Illustrated in The Complete Collection of Treasures of the Palace Museum - 39 - Porcelains with Cloisonne Enamel Decoration and Famille Rose Decoration, Hong Kong, 1999, p. 152, no. 134.
3. Illustrated ibid., p. 109, no. 95.
4. Illustrated in Kangxi. Yongzheng.Qianlong: Qing Porcelain from the Palace Museum Collection, op. cit., p. 443, no. 125.
5. Later Chinese Porcelain, Glasgow, 1971, p. LXXXVI.
6. Illustrated in The Complete Collection of Treasures of the Palace Museum - 36 - Blue and White Porcelain with Underglaze Red, III, Hong Kong, 2000, p. 225.R
Christie's. The Imperial Sale, Hong Kong, 1 June 2011