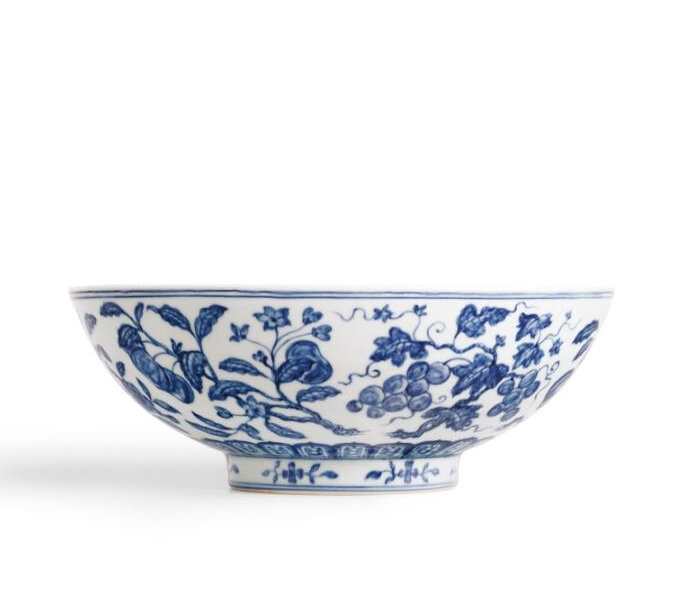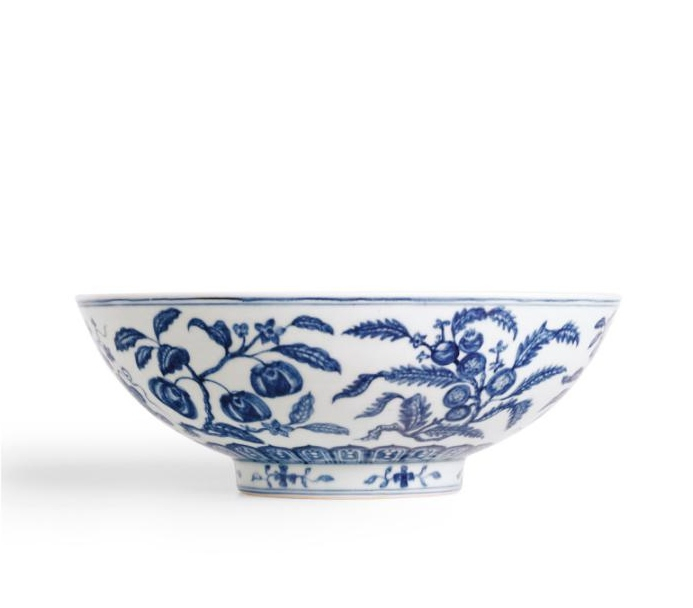 Lot 13. A Rare Large Blue and White 'Fruit Spray' Bowl, Mark and Period of Xuande (1426-1435); 29.5 cm., 11 5/8 in. Estimate 9,000,000-15,000,000 HKD. Lot sold 10,740,000 HKD (1,379,875 USD). Photo Sotheby's
heavily potted with thick rounded sides supported on a slightly tapering foot, strikingly painted in vivid cobalt blue with six branches bearing blossoms and fruits, naturalistically depicting pomegranate, peach, loquat, persimmon, grape, and crab apple, the six-character reign mark inscribed in a horizontal line below double lines at the rim, all above a band of petal lappets around the base and formal blossom sprays skirting the foot, the rounded interior left undecorated
Provenance: Collection of Wu Lai Hsi (until 1937).
Sotheby's London, 26th May 1937, lot 49.
Messrs John Sparks, London.
Collection of Major L.F. Hay (until 1939).
Sotheby's London, 16th June 1939, lot 77.
Collection of Peter Boode.
Collection of Lord Cunliffe (1899-1963) (label PM89).
Bluett & Sons, London, 14th June 1971.
Collection of F. Gordon Morrill.
Doyle, New York, 16th September 2003, lot 91.
Eskenazi Ltd, London.
EXHIBITED: Chinese Blue and White Porcelain: 14th to 19th Centuries, The Oriental Ceramic Society at The Arts Council Gallery, London, 1953-4, cat. no. 79.
Museum of Fine Arts, Boston (on loan, 1971).
LITERATURE: Daisy Lion-Goldschmidt, Ming Porcelain, London, 1978, pl. 54.
Regina Krahl, Chinese Ceramics from the Meiyintang Collection, London, 1994-2010, vol. 4, no. 1655.
NOTE: Bowls of this shape, whose deliberately sturdy construction with almost 1 cm thick walls is most peculiar, are remarkable for their even potting and successful firing. They were made for only a short period of time in the Yongle and Xuande reigns, and were not revived in the Qing dynasty, like most other early Ming shapes. Their purpose has not yet been definitely determined.
A bowl of this design in the National Palace Museum, Taiwan, is published in the Museum's Catalogue of the Special Exhibition of Selected Hsüan-te Imperial Porcelains of the Ming Dynasty, Taipei, 1998, cat. no. 47; one from the Sir Percival David Collection in the British Museum, London, in Oriental Ceramics. The World's Great Collections, Tokyo, New York, San Francisco, 1980-82, vol. 6, no. 98; a similar bowl in the Freer Gallery of Art, Washington, D.C., was included in the exhibition Ming Porcelains in the Freer Gallery of Art, Smithsonian Institution, Washington, D.C., 1953, cat. no. 10; another from the collection of Stephen Junkunc III, exhibited at the Philadelphia Museum of Art, 1949, is published in 'Ming Blue-and-White. An Exhibition of Blue-Decorated Porcelain of the Ming Dynasty', Philadelphia Museum Bulletin, vol. XLIV, no. 223, Autumn 1949, cat. no. 61, and was sold in our New York rooms 22nd March 1995, lot 234. A fragmentary piece from the waste heaps of the Ming imperial kilns is illustrated in Lu Minghua, Shanghai Bowuguan zangpin yanjiu daxi/Studies of the Shanghai Museum Collections. A Series of Monographs: Mingdai guanyao ciqi [Ming imperial porcelain], Shanghai, 2007, pl. 3-121; and one from the Toguri collection, illustrated in Min Shin no bijutsu [The art of Ming and Qing], Tokyo, 1982, pl. 6, was sold in our London rooms, 9th June 2004, lot 16.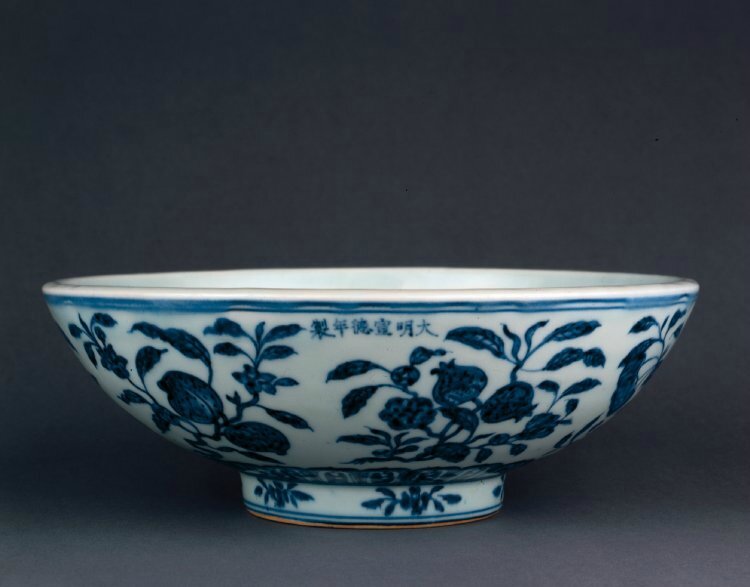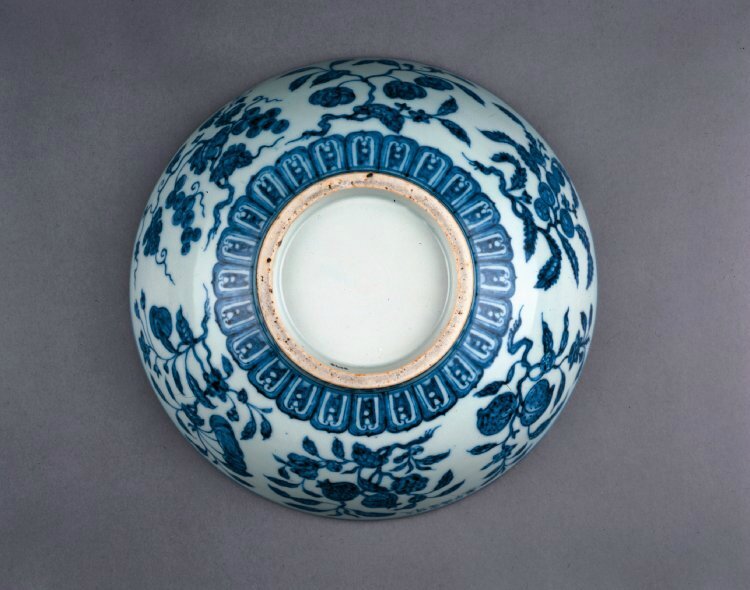 Bowl with flowering and fruiting branches, Ming dynasty, Six-character Xuande mark in underglaze blue written horizontally along the rim (1426-1435). Height: 10 millimetres. Diameter: 280 millimetres. Sir Percival David Foundation of Chinese Art, PDF B658 © Trustees of the British Museum.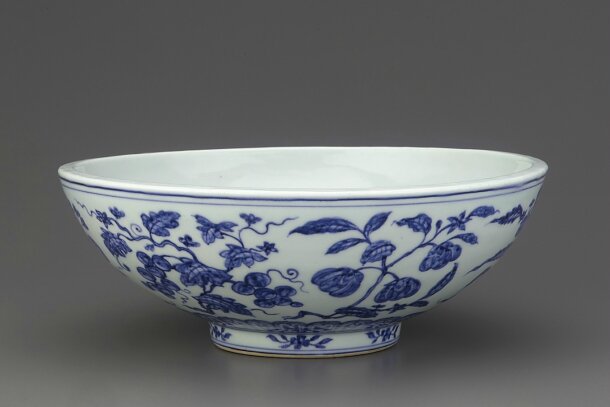 Shallow bowl with thick walls, Ming dynasty, Xuande reign, 1426-1435. Porcelain with cobalt decoration under colorless glaze. H x W: 9.6 x 26.1 cm (3 3/4 x 10 1/4 in). Purchase — Charles Lang Freer Endowment, F1952.6 © 2016 Smithsonian Institution.
Sotheby's. The Meiyintang Collection, Part II - An Important Selection of Chinese Porcelains, Hong Kong 5 october 2011