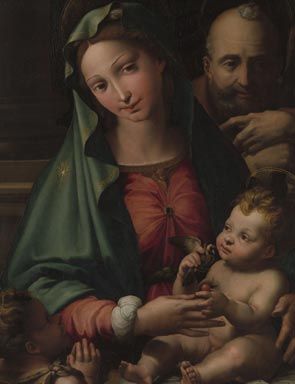 Perino del Vaga, The Holy Famiily with the Infant Saint John the Baptist. Ca. 1525. Oil on wood, 34 ¼ x 25 ½ in. The Metropolitan Museum of Art, Purchase, Acquisitions Fund, Mr. and Mrs. Mark Fisch, Denise and Andrew Saul, and Friends of European Paintings Gifts, Gwynne Andrews Fund, Mr. and Mrs. J. Tomilson Hill, Jon and Barbara Landau, Charles and Jesse Price, Hester Diamond, and Fern and George Wachter Gifts, 2011 (2011.26)
NEW YORK, NY.- Perino del Vaga (Pietro Buonaccorsi, 1501-1547), a pupil of Raphael, was a leading innovator of the late Renaissance style known as Mannerism, and one of the most influential Italian artists of the 16th century. The Metropolitan Museum of Art recently acquired a painting and a drawing by the master, and they are both featured in Perino del Vaga in New York Collections, on view from September 27, 2011, through February 5, 2012. The new acquisitions is seen alongside some 18 drawings by the artist from the Metropolitan Museum, the Morgan Library & Museum, and private collections, as well as a second painting from a New York private collection.

Perino del Vaga in New York Collections represent every phase of the Florentine-born artist's career, from his first decade in Rome, when he emerged as the preeminent fresco painter in the city in the wake of Raphael's death in 1520; to his years in Genoa as court artist to Andrea Doria; to his final decade in Rome, when he worked primarily in the service of Pope Paul III Farnese, designing frescoes, stucco, silver and other precious objects, and embroideries.

The centerpiece of the exhibition is the Holy Family with the Young Saint John the Baptist, a recently discovered masterpiece that dates from Perino's early years in Rome (ca. 1525) and is an exceedingly rare example of his activity as a panel painter. Fewer than 10 independent paintings by Perino survive, so the recent appearance of this previously unknown work is nothing short of extraordinary. The painting has been newly restored, revealing the original colors and giving insight into the artist's painting technique. It is featured with the Metropolitan Museum's other recent acquisition by the artist, which is an outstanding, highly finished drawing of Jupiter and Juno reclining on a marriage bed. A study for an important lost tapestry commissioned in the early 1530s by Admiral Andrea Doria, commander of the papal and later the Imperial fleet and ruler of Genoa, this brilliant sheet is one of the artist's most celebrated drawings and a consummate demonstration of his renowned gifts as a draftsman.

Blending influences from Michelangelo, Raphael, and classical antiquity, Perino's art, with its emphasis on grace, artifice, and effortless complexity, epitomizes Mannerism. Florentine by birth, Perino trained with Raphael in Rome and went on to become the preeminent fresco painter in that city. Following the Sack of Rome in 1527, he relocated to Genoa, where he worked for nearly a decade as court artist to Admiral-Prince Andrea Doria. His decorations in the Palazzo Doria introduced to Genoa the modern maniera all'antica, as the sophisticated, classicizing style of Raphael and his followers was known.

By 1537 Perino was back in Rome, which was undergoing a period of cultural renewal, and within a few years he had become court artist to Pope Paul III, assuming the role that Raphael had filled decades earlier for Pope Leo X. Like Raphael, Perino oversaw a large and industrious workshop, devising monumental compositions for the Vatican and elsewhere, while entrusting to his collaborators much of the execution of his frescoes and stucco reliefs, as well as the rock crystals, embroideries, medals, and myriad other precious objects he designed. Perino died in 1547 and was entombed in the Pantheon near Raphael.

Perino del Vaga in New York Collections is organized by guest curator Linda Wolk-Simon, the Charles W. Engelhard Curator and Department Head, Department of Drawings and Prints at The Morgan Library & Museum, and Andrea Bayer, Curator in the Metropolitan Museum's Department of European Paintings.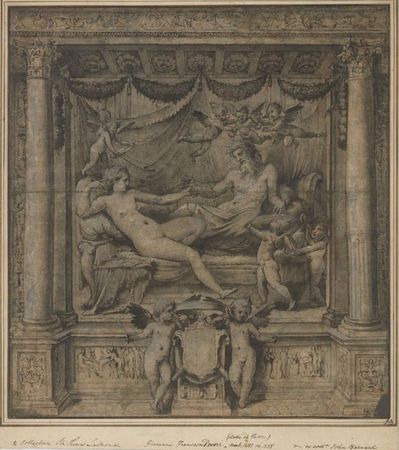 Perino del Vaga, Jupiter and Juno - Study for the 'Furti di Giove' Tapestries. Ca. 1532-35. Pen and dark brown ink with brown and gray wash, heightened with white, 17 x 15 ¾ in. The Metropolitan Museum of Art, Purchase, Acquisitions Fund and Annette and Oscar de la Renta Gift, 2011 (2011.36)