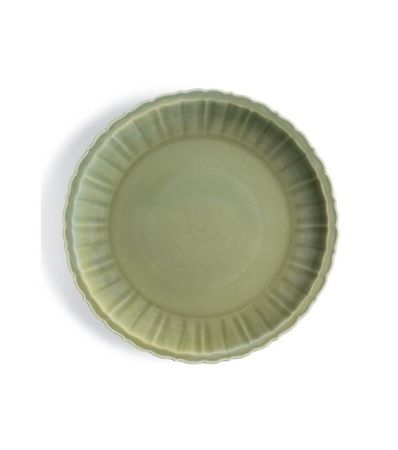 A Massive Barbed Rim Longquan Celadon Charger. Ming Dynasty, Yongle Period. Photo Sotheby's
sturdily potted on a low circular foot, the cavetto carved into sixteen equal bracket foliations below a barbed everted rim of matching form, the center left plain, covered overall with an even, thick, lustrous yellowish-green glaze, save for the wide ring on the base fired brick-red. Estimate 1,800,000-2,500,000 HKD
Provenance; Sotheby's New York, 8th May 1981, lot 253.
Literature: Regina Krahl, Chinese Ceramics from the Meiyintang Collection, London, 1994-2010, vol. 4, no. 1609, and p. 3, fig 2b.
Note: Longquan dishes of this type are among the largest ceramic dishes ever fired in China. The perfection of shape and glaze of this dish is remarkable and reflects the high quality the Longquan kilns were able to achieve during the Yongle reign, when they were producing for the imperial court under direct court control, parallel to and in direct competition with the porcelain manufactories of Jingdezhen.
Unsuccessfully fired and rejected dishes of this form, of similar and of smaller size, have been excavated from the imperial Longquan kilns at Chuzhou, Zhejiang province, see Ye Yingting and Hua Yunong, Faxian: Da Ming Chuzhou Longquan guanyao [Discovery: Imperial ware of the great Ming dynasty from Longquan in Chuzhou], Hangzhou, 2005, pp. 268-72. Another dish of this size in the National Museum of China, Beijing, is published in Zhongguo Guojia Bowuguan guancang wenwu yanjiu congshu/Studies on the Collections of the National Museum of China. Ciqi juan[Porcelain section], Mingdai[Ming dynasty], Shanghai, 2007, pl. 112; one in the Nezu Art Museum, Tokyo, is illustrated in Nezu Bijutsukan zhin shirizu 4: Seiji [Nezu Art Museum Collection Series 4: Celadon], Tokyo, 1977 (no pl. no.); two similar dishes in the Idemitsu Museum of Arts, Tokyo, are published in Idemitsu Bijutsukan zhin zuroku Chgoku tji/Chinese Ceramics in the Idemitsu Collection,Tokyo, 1987, pls. 594 and 595; and another such dish of slightly smaller size (57 cm) is in the Topkapi Saray Museum, Istanbul, see Regina Krahl, Chinese Ceramics in the Topkapi Saray Museum, Istanbul, ed. John Ayers, London, 1986, vol. 1, no. 245.
Sotheby's. The Meiyintang Collection, Part II - An Important Selection of Chinese Porcelains. Hong Kong 5 october 2011 www.sothebys.com