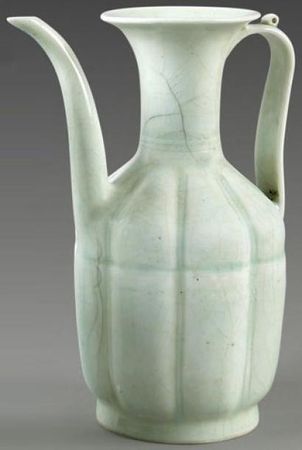 Verseuse en grès porcelaineux à couverte céladon clair. Qingbai yao. Epoque Song (960 - 1279). Photo Lafon Castandet
Une panse à huit lobes est surmontée d'un grand cou et d'un col évasé.

Melon-shaped ewer in greenish white glaze, Qingbaiyao. Song Dynasty
Elle présente une décoration minimale, les lignes incisées entre les lobes définissent la forme. Qingbai yao, dynastie des Song du Sud. (Restaurations). H. 17,7 cm.

Bibliographie : - A rapprocher d'une verseuse similaire, mais légèrement plus haute (20 cm), conservée au Victoria & Albert Museum [C. 112-1929] et reproduite dans KERR Rose, Dynasty Ceramics, Victoria & Albert Museum, Far Eastern Series, V&A Publications, 2004, n° 97, p. 97.

- Une verseuse similaire reproduite dans BARNES Amy, SCOTT Rose, Qingbai Ware : Chinese Porcelain of the Song and Yuan Dynasties, The Percival David Foundation of Chinese Art, 2002, n° 62, p. 123.

- Une aiguière de même forme, mais plus haute (25,4 cm), figure dans les collections de l'Asian Art Museum de San Francisco, op. cit., n° 296, p. 163 (ill.).
Lafon Castandet - Paris. Jeudi 24 novembre 2011 L'art de la céramique chinoise. Une collection parisienne. Drouot Montaigne - Salle Vuillard - 15, av Montaigne - 75008 Paris. Tel. 01 40 15 99 55 - www.lafon-svv.com