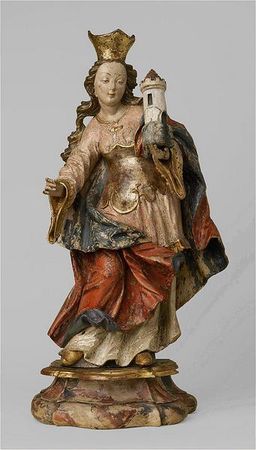 Photo De Pauw - Müller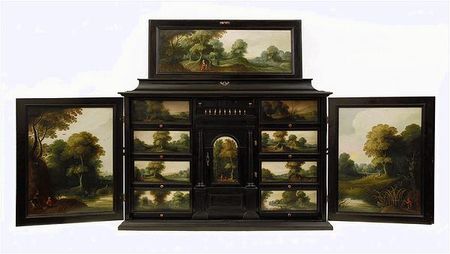 Ebony cabinet. Photo De Pauw - Müller
The central inner portico is flanked on each side by four small painted drawers. The inner surfaces of the doors and the top are also adorned with landscapes that are attributed to a painter from Antwerp, Jasper Van der Laenen (1592-1626?). H. 65 x W. 170 x D. 35 cm.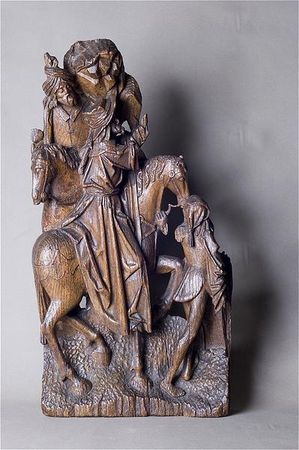 Group making part of an altar. Brabant, 15th century. Photo De Pauw - Müller
Representing two men on horseback going up mount Golgotha. Oak. H. 65 x W. 34 cm
De Pauw - Müller. Stand N°15. BRAFA'12 . Du 21 au 29 janvier 2012, à Tour & Taxis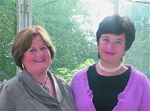 En tant que fille aînée d'une famille d'antiquaires réputés, Hedwige Müller crée en 1968 la firme 'Müller' à Alost. Celle-ci deviendra plus tard la sprl De Pauw-Müller à Gand. Elle est membre de la Chambre Royale des Antiquaires et des Négociants en Œuvres d'art de Belgique et participe chaque année à la 'Brussels Antiques & Fine Arts Fair' (BRAFA). Ses clients sont les bienvenus lors des portes ouvertes organisées annuellement à Gand le dernier week-end de novembre et le premier week-end de décembre. Depuis quelques années, elle travaille avec sa fille Inge De Pauw.
Jakobijnenstraat 2 B-9000 Ghent. Belgique. T +32 (0)9 224 36 35 - M +32 (0)475 36 26 52 - M +32 (0)474 25 54 01 - www.depauwmuller.be info@depauwmuller.be