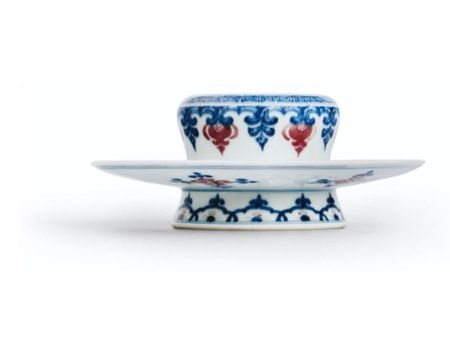 An Underglaze Red And Blue Cupstand. Mark and period of Yongzheng. Photo Sotheby's
the deep, round, hollow bowl with an incurved rim, painted in underglaze red with a row of pendent pomegranates extending from a band of blue trefoils and key-fret around the mouth, collared by a broad flat dish painted with three sprays of flowering blossoms with roses, fruit blossoms and a flowering spray with fern-like leaves, the flowers picked out in red, the underside with six florets on stylised foliage, all supported on a slightly flared foot skirted with overlapping arches each containing a red trefoil, the inner foot inscribed with a six-character horizontal reign mark; 17 cm., 6 3/4 in. Estimate 600,000-800,000 HKD. Lot 47 vendu: 1,160,000 HKD.
PROVENANCE: Collection of Dr. Carl Kempe (1884-1967).
Eskenazi Ltd, London.
LITTERATURE: Regina Krahl, Chinese Ceramics from the Meiyintang Collection, London, 1994-2010, vol. 4, no. 1716.
NOTE: Bowl stands of this design became very popular in the Qianlong period, but Yongzheng originals are extremely rare and the present piece may be the only example extant. The difficulty to master the firing of the copper-red pigment - a challenge for the Jingdezhen potters ever since they first used it in the Yuan dynasty (AD 1279-1368) - led to several different application methods. The one used for this piece, where the red motifs are all executed as silhouettes under the glaze, with details reserved in white, is very rare.
In the Yongzheng reign this shape was also used for blue-and-white and monochrome pieces. Two monochrome Yongzheng stands of this form are in the Palace Museum, Beijing, one in monochrome white with incised designs, perhaps intended to copy Song dynasty (AD 960-1279) 'Ding' ware, the other with a thick, opaque crackled 'guan'-type glaze, also perhaps inspired by a Song model, both illustrated in Geng Baochang, ed., Gugong Bowuyuan cang Qingdai yuyao ciqi [Porcelains from the Qing dynasty imperial kilns in the Palace Museum collection], Beijing, 2005, vol. I, part II, pls 94 and 165.
A similar blue-and-white example of the Yongzheng reign and a red-and-blue example of Qianlong mark and period, both from the Nanjing Museum collection, are illustrated in Xu Huping, ed., Zhongguo Qingdai guanyao ciqi / The Official Kiln Porcelain of the Chinese Qing Dynasty, Shanghai, 2003, pp. 139 and 219. Another bowl stand of Qianlong mark and period decorated in this unusual technique is in the Tokyo National Museum, from the collection of
Dr. Yokogawa Tamisuke, illustrated in Tkyo Kokuritsu Hakubutsukan zuhan mokuroku: Chgoku tji hen / Illustrated Catalogues of Tokyo National Museum: Chinese Ceramics, Tokyo, 1988-90, vol. II, no. 566
Sotheby's. The Meiyintang Collection, Part III - An Important Selection of Imperial Chinese Porcelains, Hong Kong | 04 avr. 2012www.sothebys.com