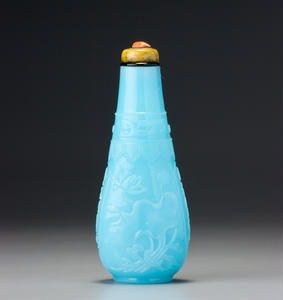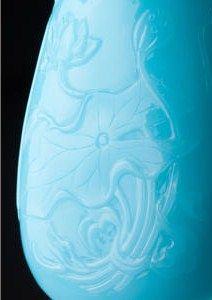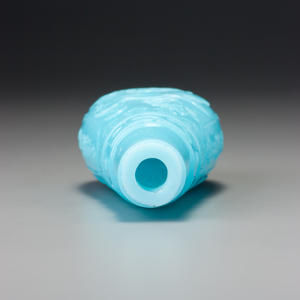 An inscribed pale blue glass 'lotus-design' snuff bottle. Probably Imperial, attributable to Beijing, Guangxu engraved four-character mark and of the period, 1874-1908. Photo Bonhams
8.16cm high. Lot 102. Sold for HK$ 275,000
Treasury 5, no. 858

天藍玻璃荷花紋鼻煙壺
擬御製品,傳北京,陰刻「光緒年製」楷書款,1874~1908

A pale blue glass 'lotus-design' snuff bottle

Semi-transparent, pale turquoise-blue, with an inner layer of translucent, milky turquoise-blue glass, the outer layer suffused with air bubbles of various sizes, some elongated; with a flat lip and protruding flat footrim; carved on each main side with an identical design of a tied bunch of four lotus stems, with a pod, a bud, a flower, and a leaf, with shoulder borders of pendant plantain leaves beneath two kui dragons and flaming pearls, the narrow sides each inscribed in relief regular script, one reading Zide xuan zhuren zhi ('Made by the Master of the Studio of Contentment'), the other, Ziguang ge yanshang ('Bestowed with a banquet in the Hall of Purple Light'), the foot engraved with the inscription, in regular script, Guangxu nian zhi ('Made in the Guangxu period')
Probably Imperial, attributable to Beijing, 1874-1908
Height: 8.16 cm
Mouth/lip: 0.72/1.60 cm
Stopper: stained walrus-ivory; coral finial; vinyl collar

Condition: Small chip to inner lip and almost imperceptible abrasion to outer lip; barely perceptible chip to stem of lotus flower and another just above the flower, same side; otherwise, workshop condition

Provenance: Paula J. Hallett
Sotheby's, New York, 2 December 1985, lot 43

Published: Kleiner 1987, no. 83
Treasury 5, no. 858

Exhibited: Sydney L. Moss Ltd., London, October 1987
Creditanstalt, Vienna, May-June 1993

Had this bottle lacked the reign mark -- carved with characteristic calligraphic awkwardness for nineteenth-century glass -- it would almost certainly have been assigned a mid-Qing date by most experts, and a confident Qianlong one by several. It is remarkably well carved, of acceptable eighteenth-century style and subject matter, and of a colour known at the eighteenth-century Imperial glassworks. It thus demonstrates the extent to which the glass-carving industry for the court had improved under the so-called 'Tongzhi Restoration', following the problems of the mid-century.

Not only does this bottle represent a major landmark in our study of glass, it is among the most spectacular examples. Its landmark status rests not only on the reign mark, which allows us to date it fairly precisely, but also the other inscriptions, which are in relief script that is reasonably well written, considering the scruffy calligraphy of the mark—an obvious anomaly. It would seem that Imperial reign marks had become so uniformly poor from the late Daoguang period onwards that even if the carver were producing a masterpiece of this calibre, a reflexively poor reign mark was perfectly acceptable. By the Guangxu period, we are unsure where Imperial glass was made. The original glassworks had been closed since before 1860, and if it had been replaced by another, its location is as yet unknown. We do know, however, that in 1887 the Empress Dowager ordered the glass house transferred to a location beyond the Xihua Gate, so one must have existed somewhere in the Imperial city.

Its narrow-side inscriptions add to the documentary value of this bottle. The Ziguang Ge ('Hall of Purple Light'), built in the early sixteenth century on the north bank of Zhongnanhai in Beijing, was the site of banquets held by the Qianlong emperor to celebrate meritorious warriors and, in 1873, it was where the Tongzhi emperor held a formal audience with the representatives of six foreign powers. It was also where officials were rewarded with gifts, including glass snuff bottles. For example, the archives for Zhongnanhai record that on 15 January 1898 (Guangxu 23/12/23), sixty glass snuff bottles were bestowed on a Mongolian delegation; on the same day, gifts were granted to four other individuals, each one receiving one glass snuff bottle. This bottle may well have been made for such purposes, though the chance that this bottle happens to figure in the events of those two particular examples of snuff-bottle largess is miniscule, of course.

The identity of the master of the Studio of Contentment is unknown, but the studio or gallery was in the Yuanming yuan, just inside the gate to an island known as Xifeng xiuse (Lovely Colours of the Western Peaks). An entry in the archival records for the Yongzheng workshops tells us that on the equivalent of 17 July 1729 (Yongzheng 7/6/22), Palace Eunuch Wang Taiping transmitted an Imperial command to set up a throne and table inlaid with wula stone (Songhua stone, from Manchuria) in the square pavilion behind the Zide xuan. Unfortunately, we do not know yet who claimed to be 'master' of the building in the Guangxu period.
Bonhams. 27 May 2012 10 a.m. Hong Kong. Snuff Bottles from the Mary and George Bloch Collection: Part V