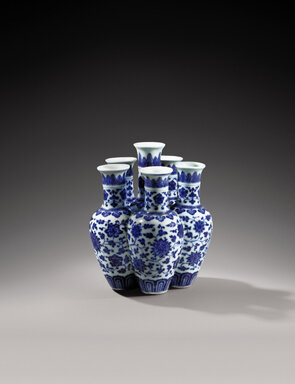 A very rare Qianlong blue-and-white porcelain six-necked vase. Sold for: €1,207,150 ($1.513.078). Photo: Sotheby's
PARIS.- The sale of Asian Art at Sotheby's Paris totalled €10,688,875 ($13.397.757), surpassing presale high expectations (estimate of €3.5-4.9 million*). The auction established extremely strong sell through rates of 75.3% sold by lot and 90.2% sold by value. 72% of lots were sold above their high estimate.
The €10.7m ($13.4m) total marks the sixth time in a row that a sale of Asian Art at Sotheby's Paris has exceeded $10m. Over the past three years (Spring 2009–Spring 2012) Sotheby's have now sold more than $100 million-worth of Asian works of art in Paris.
In the words of Caroline Schulten, who joined the Paris office in January 2012 as Head of the Asian Art Department, after working for Sotheby's in Amsterdam, London and New York: 'The Paris sale brings Sotheby's sales of Asian art to a spectacular close. Once again Asian buyers were out in force, seeking objects whose quality, provenance, market-freshness and attractive estimates have made Paris a key auction venue in the field.'
The 89-lot first session brought €6.8m ($8.6m), surpassing the sale's anticipated overall total by the end of the morning.
Highest price of both the session, and the sale as a whole, was €1,207,150 ($1.513.078) – a record price for Qing porcelain at Sotheby's France – for a very rare Qianlong blue-and-white porcelain six-necked vase, formerly owned by Jean-Antoine-Ernest Constans (1833-1913), one-time French Interior Minister, Governor-General of Indochina, and Ambassador to the Ottoman Empire (lot 69, estimate €50,000-70,000).
The German private collection of imperial jades performed beyond expectations to bring €2.7m ($3.4m), led by an exceptionally rare Imperially inscribed Qianlong spinach-green screen that quadrupled its €200,000 top-estimate on €840,750 ($1.053.821, lot 99).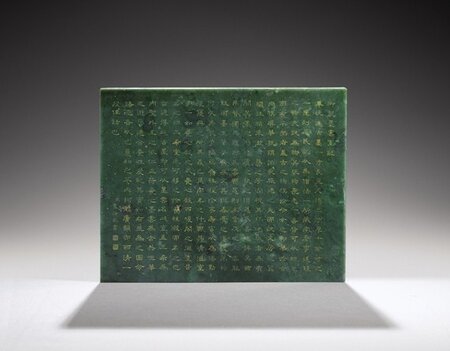 An exceptionally rare Imperially inscribed Qianlong spinach-green screen quadrupled its €200,000 top-estimate on €840,750 ($1.053.821). Photo: Sotheby's
de forme rectangulaire, une face portant une longue inscription à 19 colonnes en lishu en caractères incisés et dorés, l'autre face à décor de chauves-souris en vol parmi des nuages stylisés finement incisés et dorés, signé Dong Gao, deux sceaux Chen et Gao; 33,5 x 25,7 cm, 13 1/4 x 10 1/8 in.
Note: The poem on this plaque was composed by the Qianlong emperor and is titled Moyun shiji (Record of the Ink Clouds Room), recorded in Yuzhi wenji (Imperial Literary Works Collection), Sanji (Third Collection), compiled in the Siku quanshu (Complete Library of the Four Treasuries), 8.4a-5b. It may be translated as follows:
'Bi Yuan presented a stick of ancient ink, all of a foot in length, two inches wide, and two-tenths of an inch thick. On its box are inscribed the words "Master Chao" who records that it was made by Li Tinggui of the Southern Tang, and was preserved by the monk Fayi. Now it indeed is a "thing" and "to amuse oneself with things destroys the will," an expression that may say it all. However, there are exceptions. It may be so that ancient "things" are more plain than those of recent times, and those of recent times more elaborate than those of antiquity. And people esteem the plain and reject the elaborate. But what has any of this to do with being trapped in that error that has one lose virtue, especially when it concerns implements of the scholar's studio! Following past tradition and providing light for the future, purified in the rich fragrance of the six arts, I can see that this treasure is quite different from other playthings. As for addressing its value as ink, as form, as textured surface, and for its inscription, Master Chao accounts for all these in detail, but, though not superfluous, Chao neglects to discuss alone how its shape is carved into clouds. Just as clouds can bring rain, so ink begets blossoms from the brush, which emerge as words. So what difference exists between these and the blessings provided by the rich rains of spring that cloak the myriad things! The Yangxing Dian that I had built at the Ningshou Gong is a place for me to retire to after becoming fatigued by duties, so the meaning of its name is already apparent for the last decade. However, its cooling and warming chambers are all exactly in the style of the Yangxin Dian. One of the warming rooms at the west side of the Yangxin Dian, earlier named the Sanxi Tang, could not be moved to the Yangxing Dian nor could its name be used there. It was just then that I acquired this ancient stick of ink, and so could use "Ink Clouds" for the name for this room. The "Three Rarities" comply with the maxim, "internally a sage, externally a ruler," as ren [benevolence] exactly tallies with "nourish the mind," whereas "Ink Clouds" signifies excursion into art in which the greatest talent achieves the most splendid expression. As such, I have recorded the facts as above, as well as having a picture made for it. I ordered my ministers to express their own thoughts about it in resonance with my composition, but not restricting them to either literary form or prosody, so this too resulted in a set of fine literary works for the Xiqing library. Reverently inscribed by Your minister, Dong Gao' The inscription is followed by two seals of Dong Gao, Chen and Gao. Dong Gao (1740-1818) was a high court official whose calligraphy was greatly admired by the Qianlong emperor.
Several important people and structures are mentioned in this inscription. Bi Yuan (1730-1797) was a high provincial and court official, as well as a prominent historian. "Master Chao" refers to Chao Chongzhi (fl. ca.1126), a late Northern Song poet fluent in both classical verse (shi) and lyrics (ci) forms. The monk Fayi was a contemporary associate of Chao Chongzhi. Li Tinggui (d. 967) was a famous ink maker, whose ink sticks were considered works of art. The Yangxing Dian (Hall of Temper Cultivation), situated at the middle rear of the Ningshou Gong (Palace of Peaceful Longevity), was constructed in 1772 in imitation of the (Yangxin Dian Hall of Mental Cultivation). The Sanxi Tang (Hall of Three Rarities) is named for the three great works of calligraphy that were displayed on its walls Kuaixue shiqing tie (Clearing after Brief Snow) by Wang Xizhi (303-361), Chongqiu tie (Mid-Autumn) by Wang Xianzhi (344-386), and Boyuan tie (Letter to Boyuan) by Wang Xun (350-401). Xiqing (Clear West) is the name of the library situated in the south part of the Forbidden City where the great imperial collection of ancient bronze vessels was kept.
See an inkcake attributed to Li Tinggui, wrapped in a white brocade bag inscribed with two remarks written by the Qianlong emperor in the 56th year of his reign (1791), including the Moyun shiji, the calligraphy also by Dong Gao, in the National Palace Museum, coll. no. 001585N000000000. A jade book inscribed with the Moyun shiji, but the calligraphy by another official, Hu Jitang, is also in the National Palace Museum, coll. no. 006647N000000000.
Another outstanding price was obtained by a Qing Dynasty white and russet jade archer's ring with Qianlong yuti mark (1781): a fierce battle between bidders in the room and on the telephone propelled this to €546,750 ($685.3123) against an estimate of just €15,000-20,000 (lot 44).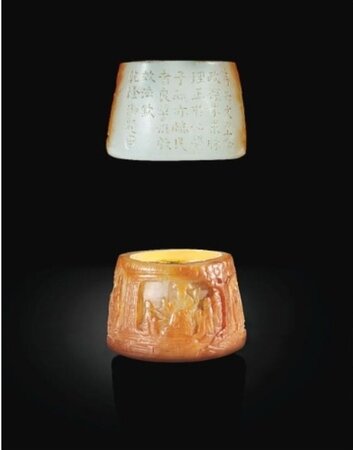 A well-carved white and russet jade and gold inscribed archer's ring, China, Qing Dynasty, Qianlong yuti mark, dated 1781. Estimate15,000-20,000 EUR. Lot sold: 546,750 EUR. Photo: Sotheby's
The imperial poem incised on the present archer's ring, is titled Yu zheng yu she (An analogy on how to rule inscribed on a jade archer's ring), composed by the Qianlong Emperor. It is included in the Poetry Collection by His Majesty (Yuzhi shiji), Fourth Collection (siji), 82:30a-30b, and may be translated as
In bow and arrow, Emperor Wen
found a profound metaphor for governing
As with woods, seek those whose grain
through the heart runs straight and true.
It is also my duty alone
to look after my subjects,
So to this fine analogy I am attentive
and follow its example with respect.
Inscribed by His Majesty, Qianlong
Seal: Qian
Emperor Wen refers to Emperor Taizong of the Tang (599-649 AD), personal name Li Shimin, the second emperor of the Tang Dynasty, who reigned from 626 to 649 AD. A passage in his Zhenguan zhengyao (Essentials of Government from the Zhenguan Era), describes how as a young man he became determined to discover all the secrets of archery and attain great skill, both as a disciple in its own right and as analogue to the training of a true sovereign.
The most popular of a series of 18th century Chinese and Sino-Tibetan gilt-bronze figures, consigned from a private European collection, proved to be unquestionably the set of twelve Qing Dynasty Zodiac figures which pulverized their €12,000 high-estimate en route to €240,750 ($310.763, lot 8).
A rare set of twelve gilt-bronze zodiac figures, China, Qing Dynasty, 18th century. Estimate 8,000-12,000 EUR. Lot sold 240,750 EUR. Photo: Sotheby's
représentant des divinités richement parées chevauchant chacune un des animaux, symboles des douze signes du zodiaque, les mains esquissant des mudras et présentant divers attributs, reposant sur une base lotiforme, les bases scellées (12); 8,5 à 10 cm, 3 3/8 x 4 in.
The second session saw a scholars' box of exceptional size and rarity (reproduced on the front cover of the catalogue), magnificently carved in high relief and with the mark of Emperor Yongle (1403-24), soar to €504,750 ($636.669, lot 142, est. €100,000-150,000).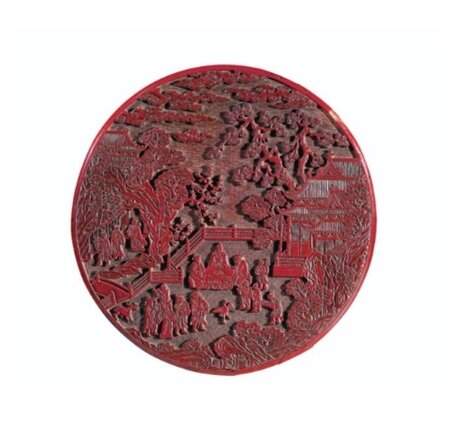 A rare large carved cinnabar lacquer 'scholars' box and cover, China, Ming Dynasty, incised six-character Yongle mark and period (1403-1424). Estimate 100,000-150,000 EUR. Lot sold 504,750 EUR. Photo: Sotheby's
de forme circulaire, l'épais laque rouge brique aux multiples couches magnifiquement sculpté en haut relief sur le couvercle d'une réunion de lettrés sur une terrasse, certains assis autour d'une table, d'autres jouant de la musique, accompagnés d'une grue et d'un daim tenant dans sa gueule un lingzhi, les serviteurs apportant divers objets, l'un présentant une tortue, au second plan trois lettrés vêtus de longues robes cheminant sur un sentier, le tout dans un paysage rocailleux planté de pins et pavillons sous des nuages stylisés sur fond géométrique, les côtés très finement sculptés de lotus, pivoines et magnolias, l'intérieur et la base laqués brun, marque à six caractères incisée à la base, étiquette d'inventaire à l'intérieur et à la base ; restaurations et repeints (2). 31 cm ; 12 1/4 in.
Notes: The present cinnabar-lacquer box is impressive for its fine and detailed carving and exceptionally large size, although a closely related box, which appears to depict the same figural scene, in the collection of the Aberdeen City Art Museum, is illustrated in Derek Clifford, Chinese Carved Lacquer, London, 1992, pl. 34. While some details in the carving of the two boxes vary slightly, the figural scene in both cases is most probably taken from a contemporary woodblock print that is yet to be identified . Clifford ibid., p. 52, notes that the Aberdeen box is an exception to the official landscapes generally found on early Ming lacquer wares and is the product before conformity was imposed on artists working for the court. While a number early Ming lacquer pieces are known from important museums and private collections, especially boxes being amongst the most popular items preserved to this day, those of this impressive large size are special and rare.
With its design of figures in a garden setting, the present box may be compared to vessels of related design of scholars and their attendants; for example, see a box included in the Tokyo National Museum exhibition of Chinese Arts of the Ming and Ch'ing Periods, Tokyo, 1977, cat.no. 499; and two further boxes from the Collection of the Nezu Art Museum, illustrated ibid., cat.nos. 497 and 498. See another Yongle box of this form illustrated in The Complete Collection of Treasures of the Palace Museum, Lacquerwares of the Yuan and Ming Dynasties, vol. 45, Hong Kong, 2006, nos 40-41 and 44. Smaller Yongle boxes carved with a figural scene have also been sold at auction; see one illustrated in Sir Harry Garner, 'Diaper Backgrounds on Chinese Carved Lacquer', Arts Orientalis VI, 1966, pls. 1,2 and 3, figs. A, B and D, sold in our London rooms, 12th November 2003, lot 186; and another sold in our New York rooms, 22/23rd September 2004, lot 233.
Also from the Ming Dynasty came a gilt-bronze figure of Avalokitesvara with a Xuande period mark (1426-35), which sold to an Asian collector for a handsome €276,750 ($346.887, lot 119, est. €80,000-120,000).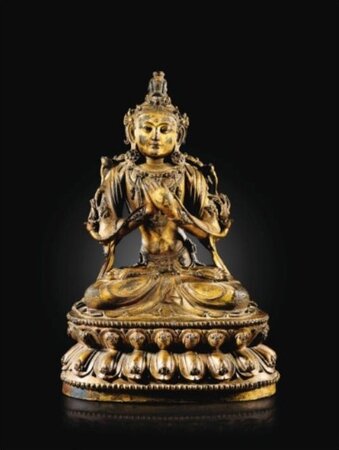 A rare gilt-bronze figure of a Avalokitesvara, China, Ming Dynasty, incised six-character Xuande mark and period (1426-1435). Estimate 80,000-120,000 EUR. Lot sold 276,750 EUR. Photo: Sotheby's
représenté assis en dhyanasana sur une double base lotiforme, les mains réunies en dharmacakramudra, vêtu d'un fin dhoti, arborant des bijoux précieux, une tige sinueuse chargée de fleurs de lotus s'enroulant autour des bras, le visage serein, le front orné de l'urna ceint d'une riche couronne retenant la chevelure ramenée en un haut chignon, inscription Da Ming Xuande Nianzhi à six caractères incisée sur le socle devant la divinité, la base non scellée ; accidents et manques; 25,5 cm, 10 in.
Note: The bronzes depicting the Vajrayana Buddhist pantheon commissioned for the Xuande emperor are amongst the most elegantly modelled sculpture of the early Ming period, meticulously cast and richly gilded. The poise and gently swaying posture of the present example is typical of this graceful style, with the deity seated on the distinctive early Ming period lotus flower pedestal with its full and rounded petals extending evenly to the back of the base. Maitreya, Manjushri and Vajrasattva hold their hands in the dharmachakra mudra, but owing to the lack of attributes that would have been borne by the partially lost flowers it is not possible to firmly distinguish this figure's identity. A marked Xuande period Manjusri in the Berti Aschmann Collection at the Museum Rietberg is remarkably similar in posture and mudra to the present figure, see Helmut Uhlig, On the Path to Enlightenment, Zürich, 1995, p. 119
In a recent survey by Ulrich von Schroeder of early Ming period sculpture held in Tibetan monastery collections only three Xuande bronzes with imperial marks were recorded in contrast to some fifty-four Yongle marked bronzes, emphasising the relative rarity of Xuande sculpture, see von Schroeder, Buddhist Bronzes in Tibet, Hong Kong, 2001, Vol. II, pp. 1237-91. These numbers seem to corroborate the official Chinese accounts of the period that make no mention of the bestowal of images on Tibetan hierarchs during the Xuande, as happened so frequently in the Yongle period. Notwithstanding the reduced patronage, the quality and splendour of Xuande Buddhist images attests to a thriving artistic continuum. The close similarities between Yongle and Xuande bronzes can be seen in the comparison of this figure with a Yongle Manjushri in the Chang Foundation, where the jewellery, crown and earring design and loose fitting clothing style remain unchanged, see Chang Foundation, Buddhist Images in Gilt Metal, Taiwan, 1993, cat. 53. The broad petal design of the lotus pedestals is identical in each statue. The vast majority of Yongle works are smaller than the present figure, on average nineteen to twenty-two centimetres high. As recorded, many bronzes produced in the Yongle workshops were made as gifts to visiting dignitaries, their smaller scale making for a more intimate gift from the emperor. Images of this smaller size do not occur in the Xuande period where the main body of works are on average twenty-five to twenty-seven centimetres high, like the present example, or larger, and it may thus be assumed that these larger scale Xuande bronzes were more likely commissioned for use in imperial palace temple worship.
The sale's biggest surprise was the huge €564,750 ($685.313) obtained for a kesi scroll (probably Song Period), complete with zitan box, that had remained in the same distinguished French family since the 19th century (lot 204).
Anonymous, a set of silk kesi panels in the style of a Song Dynasty painting, mounted as a scroll, China, Qing Dynasty, 18th/19th century. Estimate 2,000-3,000 EUR. Lot sold 564,750 EUR. Photo: Sotheby's
panneaux de soie tissée kesi dans le style d'une peinture de la dynastie Song, montés en rouleau, composé d'un panneau central représentant des papillons en vol au-dessus d'arbres et rochers, un colophon agrémenté du titre, un autre d'inscriptions dédicatoires et un cachet, boîte en bois et soie brochée à l'intérieur avec un document manuscrit décrivant l'objet (3); kesi : 33 x 76 cm ; 13 x 30 3/4 in. ; 33 x 176 cm.
Note: The four-character title reads wan shou chang chun (limitless longevity and eternal spring). The inscription may be translated as 'viewed under the Imperial order by two high officials Chen Chengzhi and Zhao Kai'.Both Chen Chengzhi and Zhao Kai are mentioned with their official titles and ranks in Wulin jiushi (Old MattersConcerning Wulin), Siku quanshu ed., juan 9:8b and 9:9b. Chen attained the jinshi in 1151, after which he rose steadily through the ranks to exalted positions, reaching the offices listed above in 1183. Zhao Kai (1146-1180) was the second son of Emperor Xiaozong, the second Southern Song emperor, who reigned from 1162 to 1189. The seal impression, suggesting that the object was in the Southern Song palace collection, seems the same as those which appear on several early paintings and pieces of calligraphy (Gu Kaizhi, Wang Xizhi, among others).