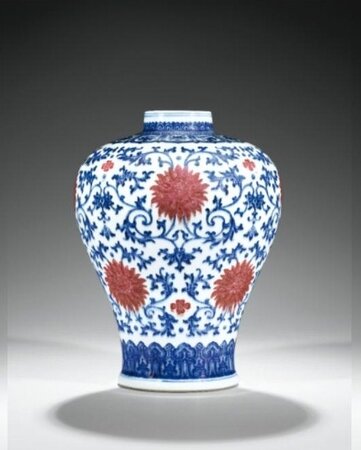 An underglaze-blue and copper-red porcelain vase, Meiping, China, Qing Dynasty, Qianlong seal mark and period (1736-1795). Photo Sotheby's
la panse du vase renflée allant en s'élargissant et se terminant par un col plus étroit, à décor de fleurs de lotus épanouies en rouge de cuivre parmi des rinceaux feuillagés, l'épaulement souligné d'une frise de pétales stylisés, motifs géométriques et petites palmettes stylisées enserrant le col, le pied agrémenté d'une frise de têtes de ruyi stylisées, marque en cachet à six caractères à la base. Estimation 70,000-90,000 EUR. Lot vendu: 90,750 EUR
PROVENANCE: Sotheby's Hong Kong, 5th and 6th November 1996, lot 783.
NOTE DE CATALOGUE: Compare a meiping vase decorated with an overall undulating lotus scroll design in underglaze blue and red and also bearing a Qianlong seal mark, in the collection of the National Palace Museum, Taipei, Taiwan, illustrated in Emperor Ch'ien-lung's Grand Cultural Enterprise, Taipei, 2002, p. 171, cat.no. V-3 ; another sold in our London rooms, 16th June 1999, lot 801 and again at Christie's London, 10th May 2011, lot 276, a third sold at Christie's Hong Kong, 30th April 2000, lot 527, and a last one in these rooms, 15th December 2011, lot 60.
The design of this vase is based on the Xuande originals by painting the lotus blooms in copper red, a highly volatile pigment which demanded both painting and firing technical precision of the craftsmen. The combination of copper red flower blooms against an underglaze blue leafy scroll appears to have been first explored during the Yongzheng reign.
Sotheby's. Arts d'Asie. Paris | 13 juin 2012 www.sothebys.com