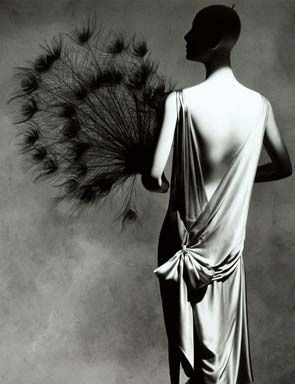 Irving Penn (American, 1917-2009), Gelatin silver print, "Vionnet Dress with Fan, New York" 1974, 13″ x 13″, estimate of $20,000 to $40,000.
OAKLAND, CA.- Each September, Clars Auction Gallery presents a two-day sale sourced from distinguished private collections and museums from across the country. The museums that will be represented in this sale include The Museum of Fine Art, Houston; The Montclair Art Museum (New Jersey) and the Honolulu Art Museum.

This important annual event, which will be held on Saturday and Sunday, September 8th and 9th, will offer clients and collectors the opportunity to acquire exceptional works in fine art. This remarkable sale will feature important works in photography, works on paper, prints and American paintings.

THE IMPORTANT PHOTOGRAPHY
Two photographs by Irving Penn (American, 1917-2009) will be offered, each with an estimate of $20,000 to $40,000. Penn is best known for his fashion photographs beginning with his 1950s series of the Paris collection. The first of the Penn offerings is the photograph is entitled Rock Band (Big Brother and the Holding Company and the Grateful Dead) and the second being his Vionnet with Fan. (Provenance, Fahey/Klein Gallery, Los Angeles)
Irving PeIrving Penn (American, 1917-2009), Platinum-Palladium print, "Rock Groups- Big Brother and the Holding Company and the Grateful Dead" 1967, 19" x 19.5"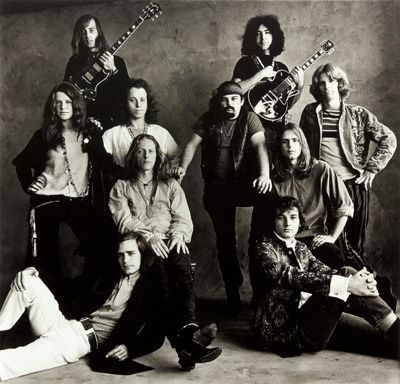 A portfolio of 15 gelatin silver prints entitled Big Shots by Garry Winogrand (American, 1928-1984) is estimated to sell for $30,000 to $50,000 with the highlight of the portfolio being the Marilyn Monroe Seven Year Itch photograph, (Provenance, Newspace Gallery, Los Angeles)
Among the other important photography will be Horst P. Horst's (German, 1906-1999) gelatin silver print entitled Round the Clock I, New York followed by Julius Shulman's (American, 1910-2009) gelatin silver print entitled Frey House, Palm Springs, California, which is estimated to earn $10,000 to $20,000. (Provenance: from the private collection of Pierluigi Serraino, AIA. A noted California architectural writer as well as architect, Mr. Serraino wrote the book, "Julius Shulman - Modernism Rediscovered (Taschen Publications, 2001)," which was a collaboration with Mr. Shulman). And finally, estimated to sell for $15,000 to $20,000 is the photograph entitled Martine Franck, Paris by Cartier-Bresson. There will also be a selection of unusual mid-19th century photographs , many by British photographer Francis Frith (1822-1898). (Provenance: Museum of Fine Art, Houston, TX).
Also to be featured will be several lots of early surfing photographs of Malibu, Santa Monica Pier, Huntington Beach and many others from 1960 by LeRoy Grannis (Californian, 1917-2011). Grannis was known for his iconic surfing images of the 1960s and 1970s. He was a co-founder of Surfing Magazine and was inducted into the Surfing Hall of Fame in 1999.

THE WORKS ON PAPER
The outstanding work in this category will be a framed graphite drawing on paper by Gustav Klimt (Austrian, 1862-1918). Entitled Kopf des Wohlgerusteten Starken", Ornament und verzweifelter, knieder, nackter Mann, this work has been assigned the presale estimate of $40,000 to $60,000.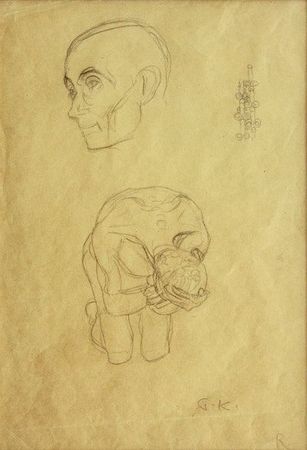 Gustav Klimt (Austrian, 1862-1918), Kopf des "Wohlgerusteten Starken", Ornament und verzweifelter, knieder, nackter Mann, Graphite drawing on paper, 18″ x 12″ (45.7 x 30.5 cm)
THE IMPORTANT PRINTS
The impressive offering of prints will include Orestia of Aeschylus, a lithograph from Francis Bacon that is estimated at $8,000 to $12,000 followed by Freeway Curve by Wayne Thiebaud (California, b.1920) which is expected to earn $7,000 to $9,000. Roy Lichtenstein's lithograph and silkscreen entitled Study of Hands is estimated at $6,000 to $8,000 as is the color lithograph by Wassily Kandinsky entitled Lithographie Bleu.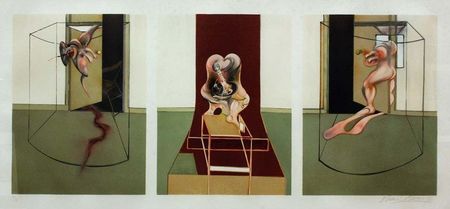 Francis Bacon, Orestia of Aeschylus, lithograph. Estimate $8,000 to $12,000.
THE IMPORTANT PAINTINGS
American artists will headline the paintings category at Clars in September. Beginning with Maynard Dixon (American, 1875-1946), his gouache on paper entitled Defending His Bounty, 1934, is estimated at $25,000 to $45,000. Joseph Rusling Meeker's (American, 1827-1889) oil on canvas, Near Bayou Plaquemine (Louisiana), 1880, is both signed and dated and carries an estimate of $15,000 to $20,000. From Arthur Fitzwilliam Tait (American, 1819-1905) will be his signed and dated Young Ruffed Grouse, 1967. Originally purchased in the late 19th century in New York, this work has descended through the family to the current owner. (Estimate: $10,000 to $20,000) Rounding out the highlights of the paintings category will be an oil on board by Albert Bierstadt (American, 1830-1902). Entitled Lake Scene, Niagara, this work is estimated to sell for $10,000 to $20,000

Additional painters of note to be represented in this sale include Stanton Macdonald Wright (California, 1890-1973) with his oil on board, Clouds of Cherry Blossoms; James Henry Dougherty's (American, 1889-1974) oil on linen entitled Five Figures and Louis Comfort Tiffany (American, 1848-1933) with his watercolor Bonzarea, Algeria.

WORKS BY BARRIAS AND FIASCHI WILL HIGHLIGHT THE IMPORTANT SCULPTURES
As Clars attracts an international audience for their fine art sales, they routinely feature very fine 18th through 20th century sculptures and the September sale will be remarkable in this area.

In European works, a 19th century bronze by Louis Ernest Barrias (French, 1841-1905) comes into the sale with an estimate of $20,000 to $40,000. Entitled Nature Revealing Herself to Science, this exceptional work measures 22.25 inches high.

From Italian sculptor Emilio Fiaschi (1858-1941), his marble sculpture entitles Napolean Bonaparte measures 44.5 inches high and carries an impressive estimate of $10,000 to $20,000.

From 20th century American sculptors, Tom Otterness (b. 1952) will be represented by his bronze entitled Cup and Spoon, 1986, which is estimated at $7,000 to $9,000. From California specifically, Fletcher Benton's (b. 1931) painted steel sculpture, Untitled #90, 1980, measures over 42 inches high and is expected to sell for $5,000 to $7,000. Carrying the same estimate is Hedgehog, a stone sculpture (one of 2 to be offered) by Beniamino Bufano (1898-1970). And finally, three stunning bronze sculptures by American West artist Edward Fraughton (American, b.1939), including "Vaquero," a dynamic sculpture of a cowboy and horse, are estimated at $4,000 - $6,000.

For information on all the fine art that will be offered Clars September 8 and 9, 2012 Fine Art and Antiques Sale, please visit www.clars.com, call (510) 428-0100 or email: info@clars.com.

Previews for Clars important September sale will be held Friday, September 8th from 1pm to 6pm and 9am each auction day. A complete catalog will be available online one week prior to the sale.

Bidding for Clars auctions is available in person, by phone, absentee and live online @ www.clars.com, and through www.liveauctioneers.com. Clars Auction Gallery is located at 5644 Telegraph Avenue, Oakland, CA 94609.