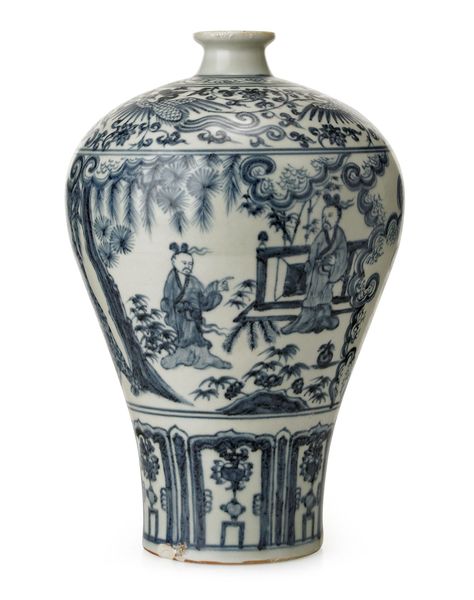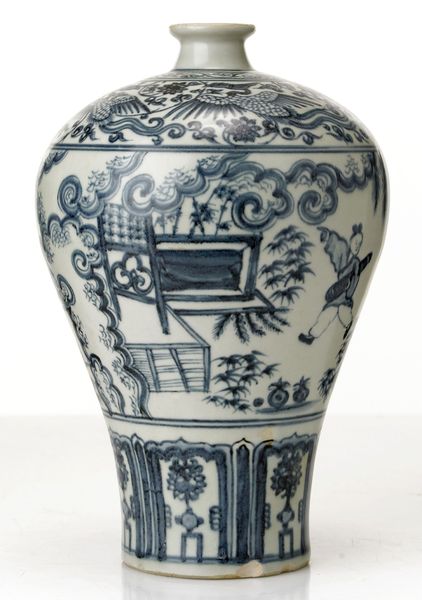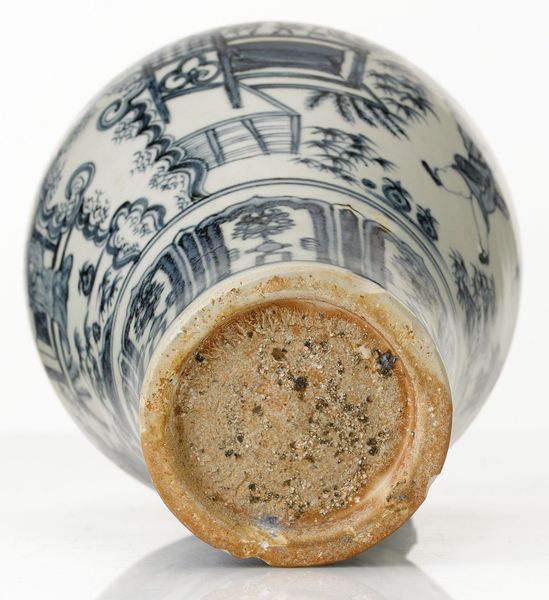 A Blue and White 'Meiping' Vase, late Yuan-early Ming Dynasty. Photo Stockholm Auktionsverk
painted in 'windswept' style, decorated with the two poets Bai Juyi (772-846) and Yuan Zhen (779-831) and an attendant with a qin, the shoulders painted with four phoenix-birds amongst lotus branches, height 28 cm; nicks to the base (probably from the fabrication), minor loss of glaze. Estimate SEK 125 000-150 000 (€ 15 200-18 200)
Thermoluminescence Report from Laboratory Ralf Kotalla, 26 August 2012, (550 years +/- 20%)
NOTE: The two famous Tang dynasty poets Bai Juyi and Yuan Zhen were close friends all their life. Consequently, they became symbols, representing the fifth of the Five Confucian Relations - the relation between friend and friend, and its associated virtues: Trust, Honesty and Confidence (Xin).
The willow tree is a symbol of friendship since an intellectual used to break a twig of a willow tree in order to show his deep affection for a friend when one of them was leaving the other for a long journey, or, sent in exile, as was the case of the two famous poets on the vase. The pine tree is a symbol of faithfulness and endurance in times of misfortune.
Chinese classical poems were originally composed to a certain melody and performed by singing to the accompaniment of a Qin lute. Therefore, the attendant on the vase is running with a Qin under his arm pointing at the poets.
LITERATURE: Compare with; Christie's catalogue, 'Fine Chinese Ceramics And Works of Art', New York, 19 March 2008, lot 574
Compare with; Orientations, November/December 2012, 'Yuan Blue-and-White Porcelain: New Insights from Chinese Scholars', by Li Zhongmou, p 103-112
Stockholm Auktionsverk. Fine Art & Antiques. 4-6 December 2012. http://auktionsverket.com