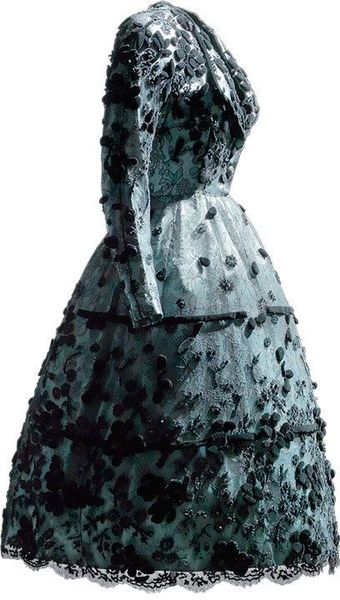 Balenciaga. Dress in blue rayon satin and machine-made black silk lace, with smooth velvet appliqués and chenille embroidery, ca 1947. CBM 05.2002 © 2013 Cristóbal Balenciaga Museoa
Worn by Blanca Fernández de Rivera, Marchioness of Garcillán.
Mid-calf-length dress cut at waistline. The fitted bodice, with collar and lapel, fastens at the front with self-fabric buttons. Kimono sleeves. The skirt is made with three gores at the front and back and fastens on the left side with a gold metallic zip. Decorated with rich embroidery in floral and vegetable motifs, more concentrated on the lapels, shoulders and the lower part of the skirt.
Made in Spain for the 1947 winter collection, model number 7. In line with the style of the 1940s: long skirt, narrow waist and prominent, reinforced shoulders. Balenciaga's collections from this decade stood out for their numerous goyesque references.