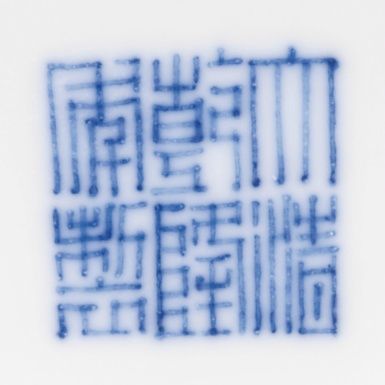 A fine famille-rose enamelled yellow-ground 'medallion' bowl, Qianlong mark and period - Sotheby's
the rounded sides rising from a short foot to a flaring rim, the exterior decorated with four circular medallions enclosing various flowers, divided by four peach branches tied with a wan symbol above a band of breaking waves, all reserved on a yellow sgraffiato ground, the interior painted in underglaze blue with a central medallion of lingzhi and bamboo growing from rocks rising from crashing waves beneath two ribbon-tied wan emblems, all encircled by four composite floral sprays in the well, the base inscribed with a six-character reign mark; 14.8cm., 5 7/8 in. Estimation: 80,000 - 120,000 GBP
NOTE: Exquisitely enamelled with flower medallions on an ornately decorated yellow ground, bowls of this design were pioneered by artists of the Qianlong period and grew in popularity, particularly during the reign of Daoguang. The sophistication of bowls of painting techniques with traditional Chinese motifs. The peaches adorning the yellow ground, masterfully rendered in various tones to create a three-dimensional effect, reveal the influence of Jesuit painters at court. Threedimensionality is reinforced through the sgraffiato technique, another Qianlong innovation, with this complicated and laborious needle-point etching adding a textural and almost brocade-like quality to the piece.
No other Qianlong bowl of this pattern appears to have been published; for a Jiaqing example see one included in Francis van Noten, Chinese Porcelain of the 19th and 20th Centuries, Lochern, 1977, pl. 7; and another sold in these rooms, 7th/9th June 1995, lot 90. See a Daoguang version from the Olmer collection in the Roemer Museum,Hildesheim, illustrated in Ulrich Wiesner, Chinesisches Porzellan, Mainz am Rhein, 1981, pl. 149; and another sold in our New York rooms, 20th March 2007, lot 827
Compare Qianlong medallion bowls of this type, but with varying colour grounds and decorative motifs, such as a pair of blue-ground bowls enamelled with floral medallions separated by floral scrolls, from the collections of Lord Loch of Drylaw, Alfred Morrison, and the Rt. Hon. Lord Margadale of Islay, sold at Christie's London, 9th November 2004, lot 31, and again in our Hong Kong rooms, 8th October 2010, lot 2606; another pair of blue-ground bowls painted with landscape medallions and leafy scrolls, in the National Palace Museum, Taipei, published in Stunning Decorative Porcelains from the Ch'ien-lung Reign, Taipei, 2008, pl. 13, together with a yellow version, pl. 14; and two further bowls also decorated with landscape medallions, one on a yellow ground and the other on a ruby ground, in the Palace Museum, Beijing, illustrated in The Complete Collection of Treasures of the Palace Museum. Porcelains with Cloisonné Enamel Decoration and Famille Rose Decoration, Hong Kong, 1999, pls 103 and 104 respectively. See also two ruby-ground examples, with medallions enclosing antiques, one sold in our Hong Kong rooms, 20th May 1986, lot 146, and the other sold in our New York rooms, 30th March 2006, lot 352.
Sotheby's. Fine Chinese Ceramics and Works of Art. London | 15 mai 2013, www.sothebys.com