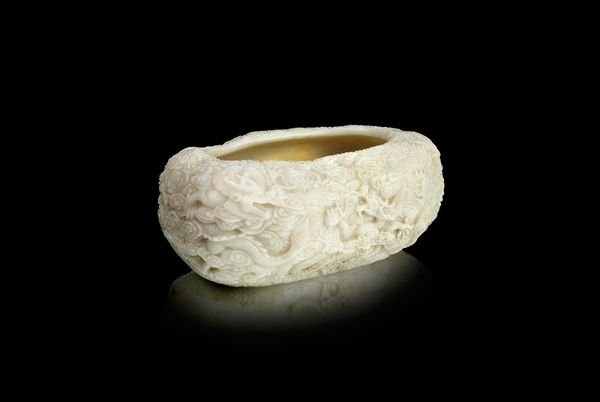 Impressive and large carved pale celadon jade 'dragon' brush washer, Qing Dynasty. 24cm long, 9.5cm high, 14.5cm deep. Estimate £150,000-250,000. Photo: Courtesy of Lyon and Turnbull.
EDINBURGH.- Auctioneers at Lyon & Turnbull have a rare Chinese jade brush dish which is valued between £150,000 and £250,000, it is one of the highlights in their upcoming auction of Asian antiques on the 12th June 2013 in Edinburgh.
The impressive large carved jade 'dragon' brush washer comes from a private collection and was purchased some years ago from a private collector in the States. It dates from the Quing Dynasty and is a squared oval shape with six carved coiling five-clawed dragons chasing flaming pearls, set amongst a cloud-filled ground. The base is engraved with a calligraphy poem inscription and Imperial Qianlong seal marks.
Lee Young Director and Asian Specialist at Lyon & Turnbull said "The large size, pale colour, and fine carving on this impressive brush washer shows all the technical and artistic skill of the jade carvings produced during the reign of the emperor Qianlong. The 'dragon amongst clouds' motif is one that can be found on related Imperial wares and are related to the famous 'black jade' wine bowl in the Round Fort in Beijing, created during the Yuan dynasty (1279-1368) and once considered one of the wonders of the Mongol court"
Brush washer is a tool used to wash the ink remaining on the brush after it is used. It is widely favoured for its delicate shape, tremendous variety and exquisite design. Materials used to make the brush washer varied a lot, including porcelain, jade, agate, enamel, ivory and rhinoceros horn all of which were quite rare and precious. The most common seen are the porcelain brush washers, of which those made of blue and white porcelain take up the majority. They are usually in a round flat shape, on which various flower patterns are decorated, presenting an appeal of simplicity, elegance and sedateness.