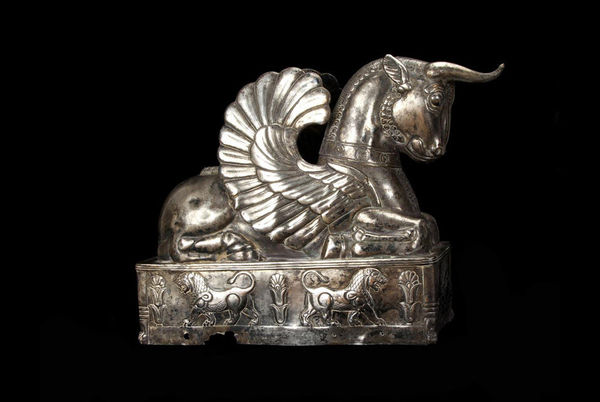 A magnificent large Achaemenid figure of a winged bull, the mythic beast depicted sitting with his legs folded beneath him, he is seated upon a rectangular base decorated in relief with lion and flowers. 16 1/2 in. h. x 23 in. l. x 7 in. w. (42 x 58.5 x 18 cm). Estimate $ 8,000-10,000. Sold for $32,200.
VANCOUVER, BC.- A magnificent Achaemenid figure of a winged bull fetched $32,200 and was a highlight of the 571 lots for sale at Maynards Antiques, International & Asian Art Auction today. The large silver figure was part of a group of 14 silver pieces owned by the late Iranian philanthropist and collector Mr. Habib Sabet. The fine silver pieces originated from the Sassanian and Achaemenid Dynasties, and were decorated with themes representing various royal dignities and courtly love.

Also successful was a bust of a Sassanian King, thought to be Shapur II (A.D. 310-379) that sold for $20,700, and the large dish depicting scenes of kingly prowess, which fetched $10,925. Sabet's 14-piece Sassanian silver collection sold for a total of $129,375.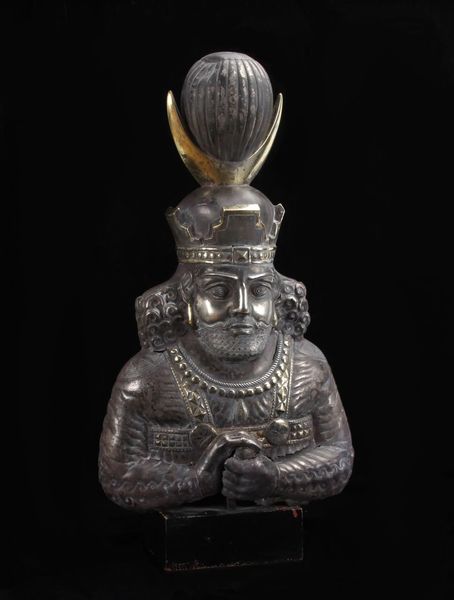 A bust of a Sasanian King, perhaps Shapur II (AD 310-379), silver with mercury gilding, raised from a sheet of silver with chased and repousse details. The bearded King wears lobed earrings and wears a typical crenelated crown with striated orb mounted in a gilt crescent. height: 19 3/4 in. (50 cm). Estimate $ 8,000-10,000. Sold for $20,700.
"We're delighted with these prices," says Hugh Bulmer, vice president of Maynards and Asian art specialist. "These pieces rarely come to market and it was exciting to see the level of participation from all over the world. We hope to offer more international pieces like these in the months to come."
The Sassanian pieces are the second group of items from the Sabet collection at Maynards. The first collection contained jade antiques which made dramatic six-figure record-breaking sales at the auction house in March 2013.
In addition to the Sabet collection, a number of rare Chinese pieces were featured at today's auction, including a Chinese Tianhuang stone mountain which fetched $41,400. A unique Chinese ivory carving of noted poet and beauty Li Qingzhao was also bought for $16,100, double its estimated value.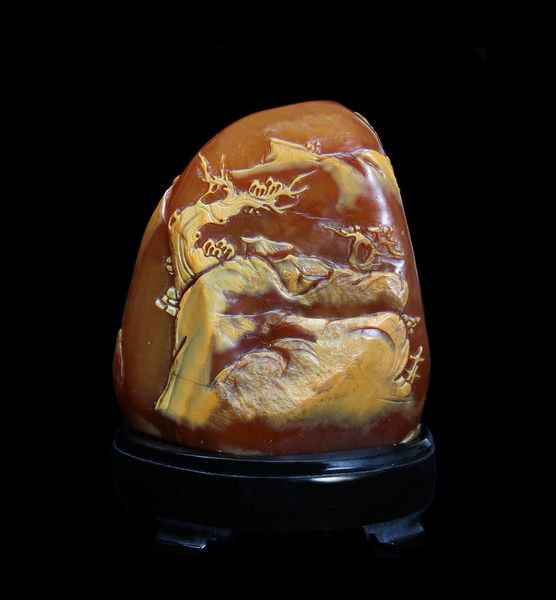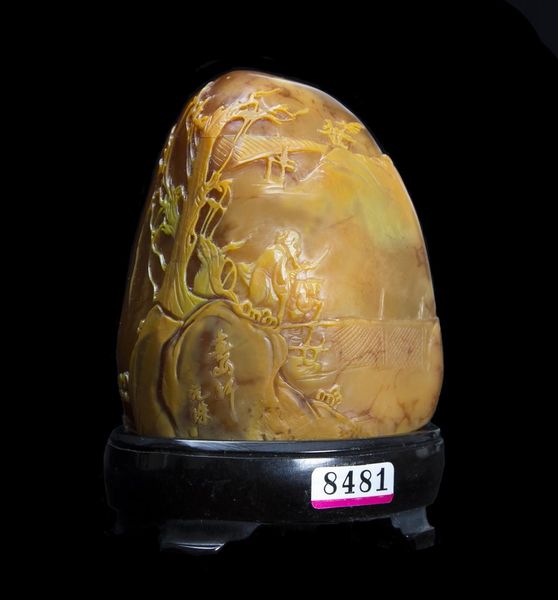 A Chinese Tianhuang stone mountain, carving in low relief with mountains, trees, bridge, and scholar with student walking on the way, and artist's signature of Yuan Zhu (Lin Yuan Zhu), Chun Shan Xing (On the Way in Spring Mountains), reverse side in low relief carving with landscape, with a Certificate of Gem Identification. Lin Yuanzhu (1864-1935), the second generation master stone carving artist of Fuzhou East Gate school, famous at seal head carving and relief; 2 3/4 in. h. x 2 1/2 in. l. x 1 1/2 in. w. (69.39 x 62.06 x 36.25 mm). Estimate $ 40,000-60,000. Sold for $41,400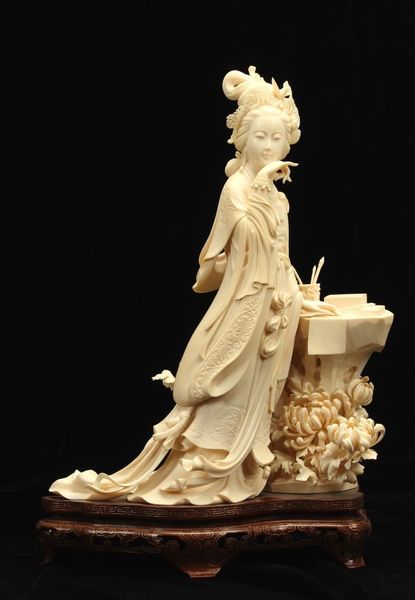 A fine Chinese ivory carving, of Li Qingzhao, a noted beauty and poet depicted standing by a table with a scroll, inkstone and brushes height: 13 in. (33 cm). Estimate $ 6,000-8,000, sold for for $16,100.
Possibly the most eye-catching lot up for bid was the lifelike replica, 1/32 scale, of the fully functioning HMS Royal William ship built over six years by local model-enthusiast, Victor Yancovitch. The unique ship exceeded its $9,000 to $12,000 estimate, selling for $18,400 to a bidder on the floor. Mr. Yancovitch says the majority of the sale will be donated to his wife's local church, St. Peter and St. Paul Parish in Vancouver.
Two notable pairs of Kenyan rhinoceros horns were auctioned off. One pair originated from a rhino that was shot by Robert F. Keeling in Kenya in 1906, when such activities were legal. The pair was then mounted by Richard Ward of Piccadilly London in 1964. It sold for above its estimate for $126,500. The other extraordinary set of Kenyan horns measures 11 ¼ inches in length and six inches wide. It also sold well above its estimated price at $74,750 at today's auction. The entire rhinoceros horn collection sold for $262,200.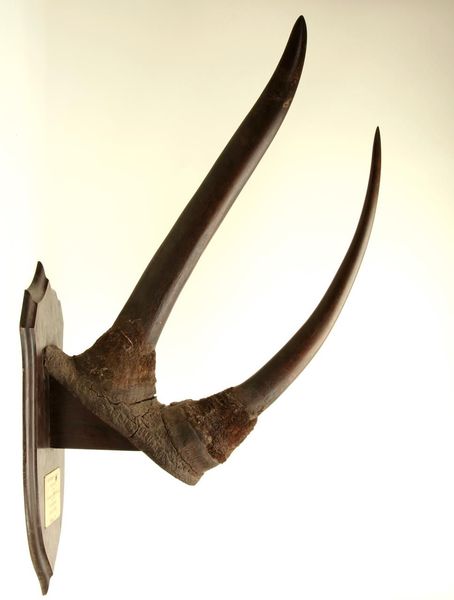 A mounted pair of rhinoceros horns, shot in Kenya in 1906 by Robert F. Keeling, mounted by Rowland Ward of Picadilly London (paper trade label and carved). Estimate $ 80,000-90,000. Sold for $126,500.
A pair of Kenyan rhinoceros horns, circa May 1964 length: 11 1/4 in. (28.5 cm) and 6 in. (15 cm). Estimate $ 15,000-20,000. Sold for $74,750
"We're delighted with today's results," says Bulmer. "This was our first 11:00 a.m. start in several years and with it brought solid interest. We look forward to repeating this success at the next sale."
There was a total of more than 175 people who participated live at Maynards' Vancouver office, with hundreds more taking part online and on the phone from more than 20 countries around the world, including the United States, China, Japan, Malaysia, Hong Kong, Britain and France.